On Thursday, 22-time Grand Slam winner Serena Williams announced her engagement to Reddit's co-founder Alexis Ohanian.
The 35-year old Williams started a Reddit thread called "isaidyes", where she posted: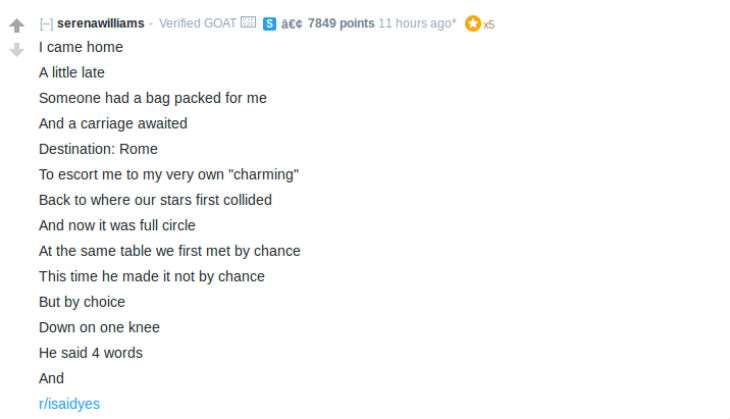 Screenshot: Serena's Reddit thread
To this 33-year-old Alexis Ohanian responded:
"And you made me the happiest man on the planet.
Edit: you're also a really cute Snoo. As I was drawing this for you, I thought, 'our Snoos should go out on a date sometime.'"
Congratulating the couple, Women's Tennis Association tweeted:
Congrats to @SerenaWilliams and @AlexisOhanian on their engagement! 💍 💑 pic.twitter.com/mRVchROPx9

— WTA (@WTA) December 29, 2016
The couple did not reveal a wedding date.
Williams, world's No 2 tennis player, has been dating Ohanian for about two years. She is notoriously private about her personal life.
According to reports, the pair met in Rome. The couple was spotted dining together in San Francisco in November, 2015. The surveillance video of their dinner date came out in public after a man stole Williams phone from the table and rushed out of the restaurant. The moment she realised what had happened, she quickly got up and caught up with the man outside, who returned her device. Williams resumed her meal with Ohanian.
Later, Ohanian posted on Twitter:
Thank you for all the kind words--esp from all my Armenian brothers & sisters debating when they can claim Serena as Armenian. 😂🇦🇲 GL

— Alexis Ohanian 🗽 (@alexisohanian) December 30, 2016