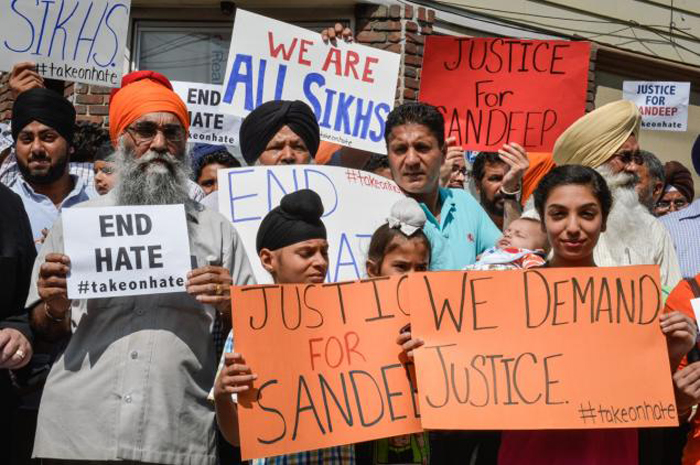 Donald Trump\'s hate speech against Muslims has drawn outrage from across the world.
However, there are some who seem to echo his sentiments.
This video of an elderly Sikh man is the latest in a series of incidents of abuse and violence against the Sikh community in the US.
When Darshan Singh, an elderly Sikh man, took a JetBlue flight from New York to California recently, he had no idea he would spark such an intense debate online. A co-passenger filmed Singh when he was sleeping and posted the video on YouTube under the title "would you feel safe?" The description reads "flying with Bin Laden."
It was Singh's daughter who saw the video and reported it to United Sikhs, an NGO in the US for minority rights. "This act of ignorance is the latest in a series of anti-Sikh hostility in the days following the horrific shooting in San Bernardino, California on 2 December," said Manwinder Singh, Director of United Sikhs.
The NGO has since been trying to get the video removed from YouTube.
Jaspreet Kaur, staff Attorney at United Sikhs also criticised the incident:
"Incidents like this are shocking. No one, Sikh, Muslim, or otherwise should be afraid to travel. These types of incidents only weaken the fabric of our nation. It's everyone's responsibility to be aware of acts of ignorance around them and to report them when they see them. Only then can we unify ourselves against hate, ignorance and discrimination."
The 39-second clip has been viewed over 90,000 times since it was first posted on 9 December. "Sikhs are known to be fearless warriors and ones who are willing to give up their lives for others, so you should feel safe," read one of the comments.
The incident comes in the wake of increasing hate crimes against members of the Sikh community in the United States, especially in the aftermath of Paris terror attacks and the California shooting. On 6 December, anti-IS graffiti was used to vandalise a Gurudwara. In a separate incident, four Sikhs were prohibited from entering the premises for a football match because of their turbans the same day.