Donald Trump had recently mocked a Sikh man wearing a turban for protesting in one of his rallies. He had taken jibes and made fun of the turban.
So, why does Donald Trump hate Indians (add other communities as per your choice. He hates everyone except white-privileged-male race equally) but love India?
Economics \'TRUMPS\' bigotry?
Republican presidential front-runner Donald Trump not just takes the cake, but perhaps the entire bakery as well. He perhaps is the only one who can so blatantly hate certain communities while praising their countries of origin purely on the basis of plain economics.
In his first comments on India after he entered the US presidential race, Trump announced that "the country is doing great but no one is speaking about it". (Just so you know, everyone including Barack Obama and Hillary Clinton have actually spoken about India and have been working on a robust foreign policy approach towards South Asia.)
"India is doing great," Trump told the CNN in an interview on Monday.
However, this was just after he mocked a Sikh man at one of his rallies and had the latter escorted out. So what really gives? India's economic growth is praiseworthy for Trump, but apparently Indians, essentially Indian immigrants, aren't.
Trump targets Sikh man. Makes fun of Turban:
This comes close on the heels of Trump mocking a Sikh man and making fun of his turban recently for protesting during the GOP candidate's rally.
The Sikh man was escorted out of a Donald Trump rally in Muscatine High School, Iowa. The man's crime? He interrupted Trump's speech by displaying a banner that read 'Stop Hate'.
Trump then pointed to the crowd, referring to the protester and another person accompanying him, and said, "He wasn't wearing one of those hats, was he? And he never will, and that's OK because we got to do something folks because it's not working."
Prior to this, Trump had targetted a Muslim woman, a man of colour and even refugees in his previous speeches, thereby drawing flak worldwide.
America not respected, says Trump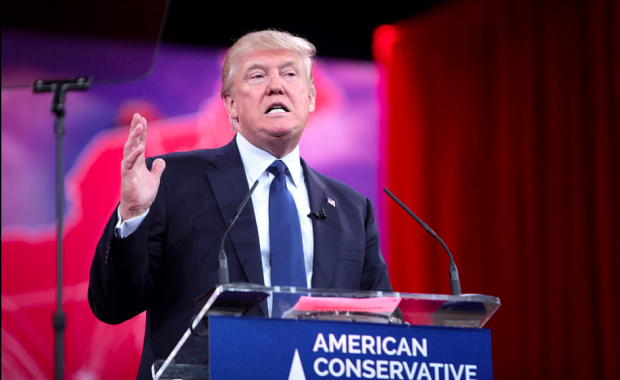 "Just look at this country. We have gone from this tremendous power that was respected all over the world to somewhat of a laughing stock," he said, commenting on his so-called 'American supremacy' theory.
"All of a sudden, people are talking about China and India and other places, even from an economic standpoint. America has come down a long way, a long way. The United States has come down a long way, and it's very, very sad," Trump said while reiterating his 'Let's make America great' campaign motto.
We're not respected, he further lamented.
Perhaps it may help if you start respecting others, Mr Trump.