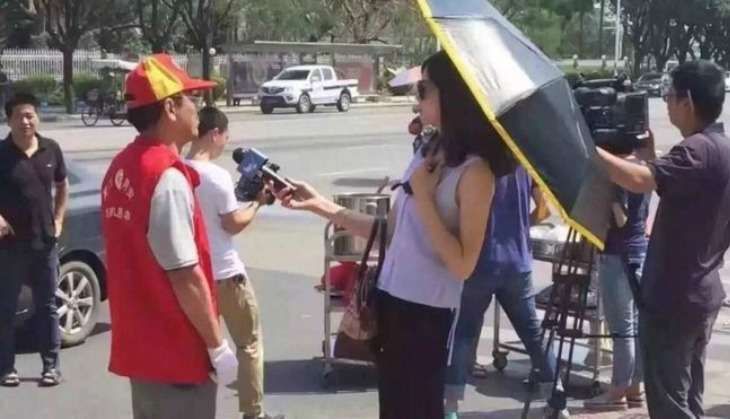 Typhoon Meranti, which hit China this September, caused massive wreckage in Zhejiang and Fujian provinces. The loss of property and lives due to the typhoon left Quanzhou, Zhangzhou, Yongchun County and Xiamen cities reeling.
In the backdrop of this, an unnamed Chinese journalist from Xiamen TV was sent to ground zero in Xiamen city. A photo of her talking to the typhoon survivors and relief volunteers has since then gone viral, causing massive outrage on Chinese social networking site, Weibo.
The image of her wearing sunglasses and holding an umbrella, while interviewing a relief volunteer caused many to question her professionalism and lack of compassion.
Xiamen TV station suspended her on the grounds that she "didn't obey our rules and misconducted in an interview. That damages the image of [the] journalist and causes a negative impact to the public".
Social media, however, is divided over the photo and the punishment meted out to the journalist. According to the BBC, Yanping Zyang who was one of the few to first share the image on her wall has also come under intense criticism since the journalist was suspended.
Talking to them, Zyang said she only wanted to put across the point that wearing sunglasses and carrying an umbrella while interviewing was 'disrespectful'. But she feels that "an internal verbal warning" and not a suspension was the answer.