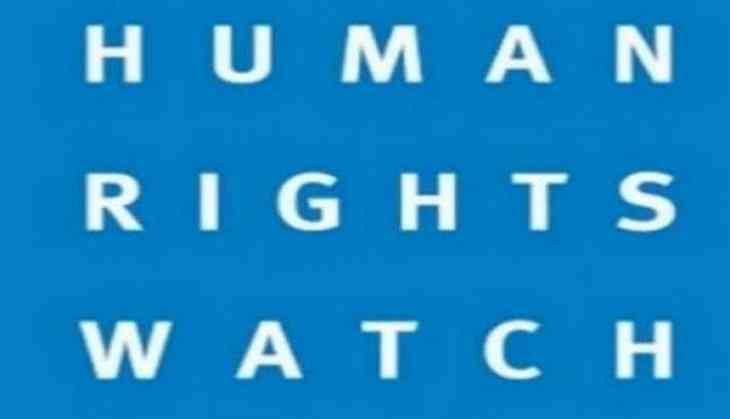 China must stop weakening United Nations mechanisms that promote human rights, the New York-based rights watch dog Human Rights Watch (HRW) has said in a report.
"China's crackdown on human rights activists is the most severe since the Tiananmen Square democracy movement 25 years ago," The New York Times quoted Kenneth Roth, Director, HRW, as saying in Geneva on Tuesday
"China engages with the UN on human rights but often with the goal of aggressively silencing criticism and eroding access for activists who work on China," said Roth.
"China is not the only country that acts terribly at the UN, but its Security Council membership, global influence, and fierce crackdown on civil society at home make it a model of bad faith that challenges the integrity of the UN rights system," he added.
The 96-page report titled "The costs of International Advocacy: China's Interference in United Nations Human Rights Mechanisms," details China's efforts to harass independent activists, primarily those from China.
The HRW said Chinese officials have photographed and filmed activists on UN premises in violation of rules and restricted travel by mainland activists to the UN Human Rights Council in Geneva.
China has also used its membership on the Economic and Social Councils Committee on Non-Governmental Organizations (NGOs) to block NGOs critical of China from being granted UN accreditation, and it has sought and succeeded in blacklisting accredited activists from participating in UN events.
The report is based on interviews with 55 people who have direct knowledge of China's interactions with UN human rights mechanisms, including 20 UN officials and experts, 15 foreign diplomats, and 20 civil society representatives.
"The whole UN machinery tries to make space for civil society while China's machinery works the other way, trying to shrink space for NGOs," one expert told Human Rights Watch.
The report in HRW mentions that China sharply limits the visits of UN experts to the country, pressurises the UN to exclude from committees potentially critical experts, and rarely provides substantive answers to queries by the UN human rights bodies.
"China is slated for its next Universal Periodic Review in 2018, but Cao Shunli's death (in 2013) has sent an enduring, chilling message to Chinese activists: participate at your own risk," Roth said.
The UN, however, has been dubiously known to capitulate to Chinese pressure, presumably to avoid confrontation, and therefore weakens its position to question China's rights record, the HRW said.
"The UN system offers one of the few remaining channels for activists from China to share their views and press for improvements in Beijing's abysmal rights record. Unless the UN and concerned governments put a stop to China's efforts to manipulate or weaken UN human rights mechanisms, the UN's credibility, and indeed its ability to defend rights in China and around the globe, are at risk,"Roth said.
The Chinese foreign ministry predictably responded by saying that it attaches great importance to promoting and protecting human rights.
"All bear witness to our contributions to the sound development of the international human rights cause. We urge the relevant organization to remove the tinted glasses, perceive China's human rights development and contributions to the international human rights progress in an unbiased manner, and stop groundless criticism on China,"spokesperson Geng Shuang said.
-ANI