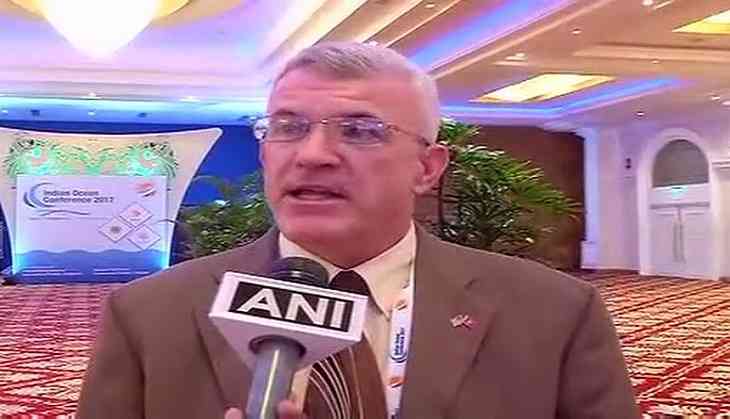 A United States army official has expressed concern over China's militarizing of artificial islands in the South China Sea and alleged that Beijing was increasing its armed presence in the area.
"China is putting on those man-made islands, which they have made, features are becoming militaristic, they are growing military on these man-made island in South China Sea," Major General James S. Hartsell, mobilisation assistant to the commander U.S. Pacific command, told ANI, on the sidelines of the Indian Ocean Conference 2017 here on Friday.
"America takes no territorial ...We do take a strong feeling and position on keeping open on global comments and so we would continue to fly, sail and operate wherever international law allows that includes south China sea," he added, while referring to China's military presence in South China sea.
Maj. Gen. Hartsell expressed concern over the issue of privacy in the Indian Ocean and said that lot of work has come together over the years to reduce privacy in the region.
Referring to terrorism in the region, he said the United States is working with lot of progress with its allies in the region to counter terrorist organisations which are trying to reconstitute, regroup in this part of the world and South East Asia particularly.
"Code of conduct is for the whole world and America hears to the code of conduct where we go and that's why we demonstrate free navigation operations because it's not about any one particular country, it is about the whole world's global comments," he said.
He further said that the international rule of law should apply on regions such as South China Sea which have an issue of concern and fear at some places when.
He suggested that dialogue needs to take place on such issues and to demonstrate resolve to present that from happening and one such place where it is happening is south China sea.
In response to a question on India's role in combatting terrorism, Maj. Gen. Hartsell said that there is a great grand relationship between India and America, and the two nations are also indulging in different military exercises.
Noting that U.S. President Donald Trump and Indian Prime Minister Narendra Modi are very close and are working together, he said that seems like the two are fastening a good relationship which is a good time for both sides.
-ANI