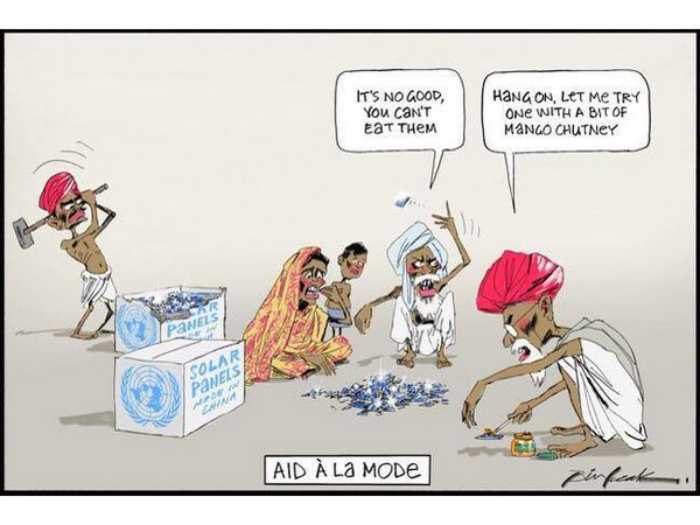 Dear Bill Leak,
We know you're not new to provocative cartoons. In fact, we doubt there is much else you do with your time. If we're going to list the offensive cartoons you've published in the past, we wouldn't know where to begin. (Your children of Gaza cartoon maybe?)
But here's why your cartoon, on 14 December in The Australian, depicting starving Indians attempting to eat solar panels is going viral.
India and other developing nations are too stupid to handle renewable energy and should stick to coal. pic.twitter.com/XfN8buwQwt

- Bill Leak explained (@BLeakEksplayned) December 13, 2015
Associate professor of sociology at Macquaire University, Amanda Wise told the Guardian's Jason Burke that "India is the technology centre of the world right now." She said:
"This cartoon is unequivocally racist and draws on very base stereotypes of third world, underdeveloped people who don't know what to do with technology."
The Guardian article also quoted Catch News editor-in-chief Shoma Chaudhury who said, "This only demonstrates the extreme illiteracy and provincial ignorance of the cartoonist and publication."
"India has not only been a sophisticated negotiator on climate change, insisting "developed" nations pay their dues for destroying the planet, it has also voluntarily started adopting renewables like solar energy in hundreds of villages. It has not needed to be browbeaten into climate intelligence or consciousness, unlike many developed nations."
"In truth, the bewildered farmers in Leak's cartoon could probably teach him a thing or two about solar panels, while treating him to the indisputable pleasures of mango chutney."
(Click
here
to read the full
Guardian
story.)
It looks like you don't know much about India's solar power efforts, Mr Leak. Here are some facts to get you started:
As of 31 July 2015, India reached an installed solar power capacity of 4.1 GW, coming in right after Australia.

Australia has been criticised for not making full use of solar energy - considering the extensive sunshine the country receives.

While Australia has the world's largest number of homes with solar power, the country appears to be less enthusiastic about large-scale solar power projects - as compared to other countries.

Meanwhile, India ranks among the world's top most attractive investment environments for renewable energy.

And why not? According to data from the Union ministry of new and renewable energy, as of June 2015, Rajasthan has an installed capacity of 1,167 megawatt, while Gujarat comes in at 1,000MW.

India is also home to the world's first airport to be operated on solar power - the Cochin international airport. Not bad, eh?
While we're still on the topic, here's a refresher on India's sophisticated climate change negotiations for you:
Ahead of the UNCOP 21 talks, India vowed to cut emissions by 33-35 per cent over 2005 levels by 2030.

In comparison, Australia pledged to cut emissions by 28 per cent of 2005 levels by 2030 - something the US has also vowed to do.

During and before the UN Conference on Climate Change, India had demanded that developed countries must have a greater responsibility to accept emission reduction targets.
So much so, that India was portrayed as a country obstructing the climate change talks. Earlier this month, the New York Times published and subsequently apologised for a cartoon on this issue.
We love us some satire, Mr Leak. But your ignorance about the world's largest growing economy is rather appalling.
Oh, and here's a sneak peek of the attention you were seeking to receive with this cartoon:
Is Bill Leak unaware of the Sardar Patel Renewable Energy Institute founded in 1979? That's 36 years ago, Bill. https://t.co/HnKisGiNlT

- Mr Denmore (@MrDenmore) December 13, 2015
Hey Bill Leak, some facts on India's renewable energy sector. They're a lot smarter than your cartoons are funny. https://t.co/3hkkSwpmk3

- Mr Denmore (@MrDenmore) December 14, 2015
Bill Leak's Wikipedia updated. pic.twitter.com/X5w6XVUoG1

- elbows out tweeting (@illywhacker_) December 14, 2015
*the basement of hell*[screaming]"And what did you do, little man?""I cut out Bill Leak cartoons and taped them to the office corkboard."

- Damon Young (@damonayoung) December 13, 2015
The Australian has refused to comment on your cartoon so far.
But you may send us your apology soon, Mr Leak. We'll send you a few jars of scrumptious mango chutney in return.