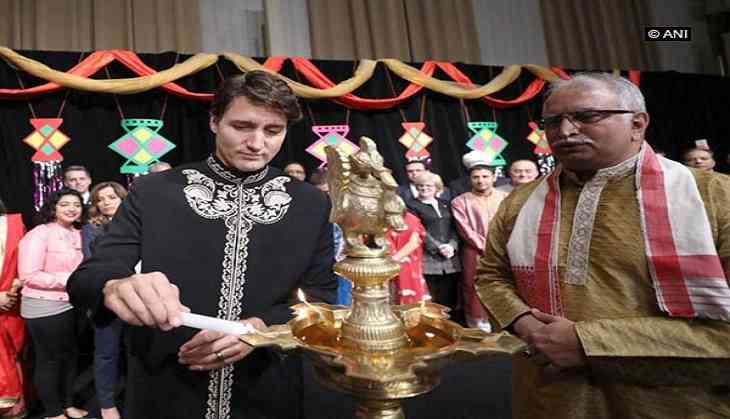 Canadian Prime Minister Justin Trudeau who is known for winning the heart of public with his small gesture was recently trolled on Twitter for wishing everyone Diwali on micro-blogging site.
Recently, the popular Canadian PM took it to Twitter and wrote, "Diwali Mubarak! We're celebrating in Ottawa tonight. #HappyDiwali!."
Although his intentions were pure but still many users of micro-blogging site were not happy with Trudeau because he used word Mubarak in his tweet while wishing for Diwali. Mubarak is an Urdu word, the origin of the word is Arabic.
In his tweet, Trudeau has shared a picture lighting a lamp, in which he is seen wearing a black colored sherwani. Canadian PM has 3.71 million followers on Twitter. The picture he shared was reshared on Twitter 800 times and 3.5K users have liked this picture.
Diwali Mubarak! We're celebrating in Ottawa tonight. #HappyDiwali! pic.twitter.com/HBFlQUBhWX

— Justin Trudeau (@JustinTrudeau) October 17, 2017
It's not "Diwali Mubarak", it's "Diwali Ki Badhai" ... Correct it ..

— Bhavesh K Pandey (@bhaveshkpandey) October 17, 2017
There isnt anything muslim about Mubarak..Its a Urdu word and people say this on congratulating others...Get a life !!

— Sameer (@QmSameer) October 17, 2017
Mr Trudeau. Please don't disrespect Hindus. We would love to celebrate our most sacred festival without your Arabic "Diwali Wishes".

— Ashish (@Ak_Ashii) October 17, 2017
I am not sure about the kind of education you have had but it definitely does not agree with the facts. "Hindu" is not an Arabic word. pic.twitter.com/eS2VTSUoKO

— Ashish (@Ak_Ashii) October 17, 2017
@Ak_Ashii "Hindu" itself is an Arabic word..why do you use it if you find Arabic so disgusting? At least JT is not Hindu..🙄🙄

— Madhu Smita (@Madhusmita1974) October 17, 2017
They think everything is Arab 😁😁😁 but only one book what can u expect... 😏😏😏😏

— Elena (@cerci_elena) October 17, 2017
Guess so... sounded mu**¥ so commie for sure ... sadly pic.twitter.com/Aslu1viCws

— Elena (@cerci_elena) October 17, 2017
that's arabic, justin. but we'll let it pass because we love you

— oneli 🌺 (@OnieXOX) October 17, 2017
October 17, 2017