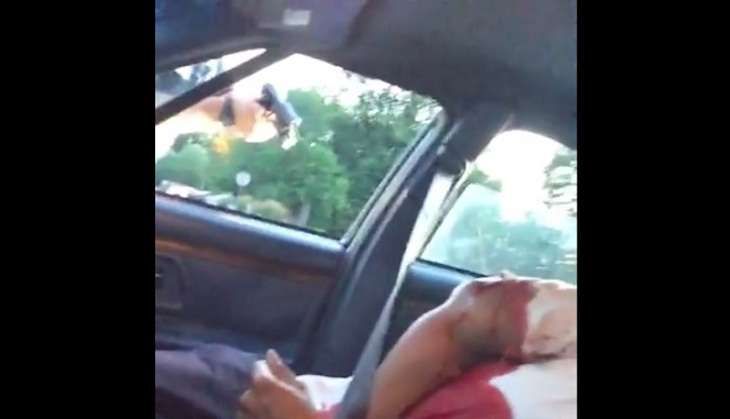 Do you recall that scene in Oscar-winning movie Crash? The one where a black couple was pulled out of their car, humiliated, threatened, and molested by officers on duty not because they had flouted traffic rules, but because the officers assumed that they were doing 'something wrong'. Real life events are no longer far removed from TV shows or movies. Racist attacks are as real as they get and sometimes worse than one can fathom.
On 7 July, the chilling footage of a 32-year-old man lying slumped in the front seat of his car, his shirt soaked in blood, his girlfriend by his side and a policeman pointing a gun straight at him took the internet by storm. Philipe Castille and his girlfriend Lavish Reynolds were driving down Falcon Heights in Minnesota when they were asked to pull over by the cops for having broken taillights.
When asked for registration and license, Castille let the policemen know up-front that he had a firearm on him, one that he had the permit to carry. As Castille reached for his license and registration, the officer put four bullets in him. Reynolds, sitting next to Castille, caught the aftermath of the shooting on camera, with her hands on the dashboard, recording all the while as Castille slumped back on his seat, groaning in pain.
The video footage captures the heartbreaking sight of Reynolds being asked to leave the car and being detained, while the police took 'control' of the situation. Castille succumbed to his wounds on being brought to the hospital. The 32-year-old was shot at without provocation and lost his life to an outright racist attack.
Here's the footage:
WARNING : Graphic imagery
If you were under the impression that racist attacks were a thing of the past, a little over 24 hours prior to Castille's death, another life was claimed in Louisiana in a similar string of events, leading to the death of 37-year-old Alton Sterling, also black.
On 5 July, Sterling was shot and killed, after police responded to a complaint about an armed man threatening people outside a convenience store. A cellphone video footage captured Sterling pinned to the ground and then being shot at by two officers from point blank range. The video bears proof of the fact that there was no apparent threat from Sterling's end, but he got shot anyway.
Here's the footage:
WARNING : Graphic imagery
Between 5 July and 7 July 2016, two black men in America were gunned down by the police for no apparent reason. A Washington Post report claimed that Sterling's was the 505th fatal police shooting in the US by an on-duty officer in 2016 alone, making Castille's death the 506th incident.
The nation has been mourning the deaths of Alton Sterling and Philando Castille, two black men in their thirties, whose lives were claimed by on-duty police officers, reinstating the need for the 'Black Lives Matter' movement. The chilling footage of both the incidents was made available online, and accessible to the masses, sparking worldwide outrage over the irresponsible, 'racist' attacks unleashed by the American police force.
The movement that was triggered by the incident that unfolded in 2014, when Michael Brown, an unarmed black teenager was gunned down by a white police officer in Ferguson, has been gaining ground over the years. But lives are still being claimed, over one's physical features. Racially motivated attacks are proof that prejudice still reigns large, as people are deemed to be threats, and killed because of the color of their skin.
We watch, with our hearts in our mouths, when TV shows like Orange is the New Black give us a glimpse into incidents of racist attacks claiming the lives of our favourite characters. But when we watch the bone chilling footages on social media of the kind of atrocities that abound in real life, the realities of racially motivated attacks hit home harder.