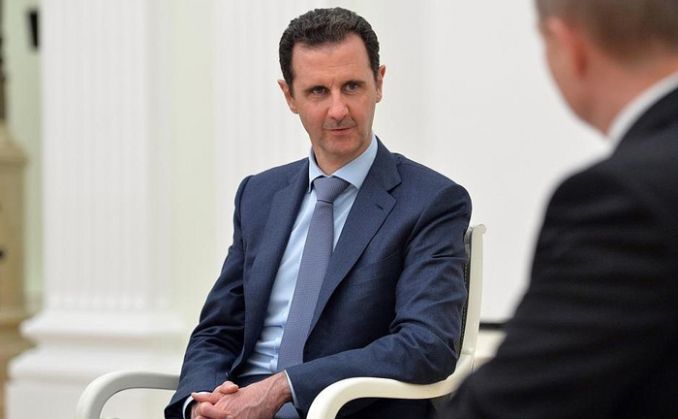 Even as condolence and solidarity messages poured in from across the world in the aftermath of the devastating terror attacks in Paris, Syrian President Bashar-al-Assad has a different take on the carnage.
When asked about his reaction to the attacks in France's capital that killed over 120 people on Friday, Assad said: "Yesterday France has known what we have been living in Syria over the past five years."
The remark was reported by Europe 1.
The comment comes as the death toll in the terror attacks that simultaneously hit six places in Paris on Friday rose to 127, according to AFP.
Islamic State claimed responsiblity for the attack on Saturday. French President called the attacks an "act of war by the IS". France has been carrying out airstrikes against the militant group in Iraq and Syria as part of a US-led coalition. Reportedly, the attackers shouted anti-Hollande slogans during the attack.
How did other political leaders across the world react to the incident?
This is an attack not just on Paris, it's an attack not just on the people of France, but this is an attack on all of humanity and the universal values that we share. - US President Barack Obama
On behalf of the Iranian nation that has been a victim of the scourge of terrorism itself, I strongly condemn these crimes on humanity... The most important message of the world in the face of such atrocities is a more serious will and determination for a collective fight against terrorism. - Iranian President Hassan Rouhani
In France and Australia, all around the world, we stand shoulder to shoulder with the people of France and with all free peoples in the battle against terrorism. - Australian Prime Minister Malcolm Turnbull
Terrorist crimes are not and cannot be justified. The Paris tragedy requires of us all to unite in the fight against extremism, to bring a strong answer to terrorists' actions. - Russian Prime Minister Dmitry Medvedev
In our time of need, France and her people stood shoulder to shoulder with the Philippines in the wake of Typhoon Haiyan. We stand with France now, in the firm belief that the light must never dim in Paris. - Philippines President Benigno Aquino
This attack on freedom is not only aimed against Paris. It's aimed against us all. Europe will stand united to defend its values. We know that our free life is stronger than terror. - German Chancellor Angela Merkel
Our hearts and thoughts and prayers go out to our French cousins in this dark and terrible time. - Canada Prime Minister Justin Trudeau
Israel stands shoulder to shoulder with French president Francois Hollande and with the people of France in our common battle against terrorism. - Israel Prime Minister Benjamin Netanyahu
These criminal acts of terrorism ... run counter to all teachings of holy faith and humanitarian values. - Kuwait emir Sheikh Sabah Al Ahmad Al Sabah
Revolted to see that France is at this same moment hit by the most odious terrorism... I trust the authorities and the French people to overcome this new ordeal together. - European Commission President Jean-Claude Juncker
Pakistan stands firmly behind the people and Government of France in this hour and extends its support to bring the perpetrators to justice. - Pakistan Prime Minister Nawaz Sharif
The brutal attacks in Paris prove that global terrorism does not recognise borders... Afghan people have for many years been the victims of terrorist attacks. They feel the pain of Parisians, and share the grief of the victims' families. - Afghanistan President Ashraf Ghani
We must not give space for fear and intolerance. - Finland's Prime Minister Juha Sipila
We aren't facing a war of religions, but a battle between civilization and barbarism. They may hurt us, but they can't beat us - Spain Prime Minister Mariano Rajoy
It's clear that real joint efforts of the entire international community are necessary to effectively fight this evil. - Russia President Vladimir Putin
At the sorrowful moment of the French people, I, on behalf of the Chinese government and the Chinese people, and personally, condemn in the strongest terms the barbaric acts. - China President Xi Jinping
I am shaken, I don't understand these things, done by human beings... There cannot be justification, religious or human. It's inhuman. - Pope Francis

Strongly condemn terrorist attacks in Paris, India stands firmly by France, my heart goes out its people. - Indian President Pranab Mukjerhee

What happened in Paris yesterday is an attack on humanity and the world should accept that it is not an attack France but an attack on humanity. - Indian Prime Minister Narendra Modi