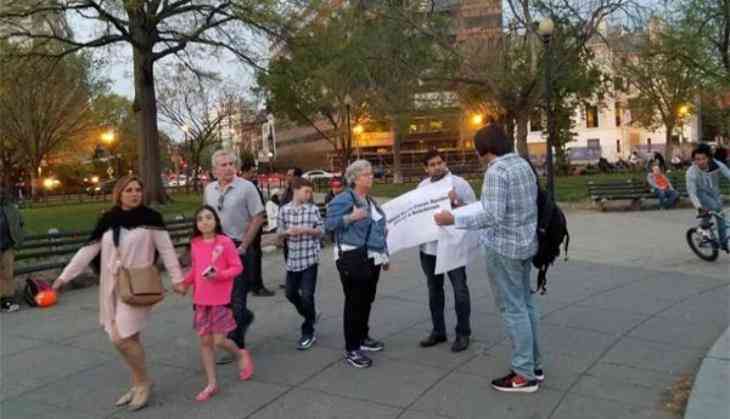 Anti Pakistan protest in Washington DC against death sentence to Kulbhushan Jadhav (ANI)
The pro-independence American Friends of Balochistan (AFB) organized a candlelight vigil for victims of Pakistan's crimes against humanity in Balochistan at the Dupont Circle in Washington D.C. last evening, and also called on the global community to stop Pakistan from executing Indian national Kulbhushan Jadhav
The protesters including Baloch, Indian, Afghans and various Jewish groups together condemned the death sentence to Kulbhushan Jadhav by a Pakistani military court.
Ahmar Mastikhan of the American Friends of Balochistan said, 'I strongly condemn Pakistan military for giving death sentence in a military court. It is a violation of international law to try someone in a military court. Kulbhushan was arrested in Iran and transported to Pakistan. Now, they are saying that he was supporting the freedom of Balochistan.'
The AFB also said the irony of the day is that the 'Butcher of Balochistan', General Pervez Musharraf, who started a brutal military operation against the Baloch people in 2005, will be in Washington DC to speak at the Johns Hopkins School of Advanced International Studies, just one block away from Dupont Circle.
'Pakistan Generals, though in bed with China, regularly visit U.S. to seek funds for their rogue army that has put tears in the eyes of millions of Baloch people, Afghans, and Indians,' the AFB said.
'Gen Musharraf, who ordered the assassination of Balochistan governor and chief minister Nawab Akbar Khan Bugti, also launched the Kargil war against India in 1999, profusely bled Afghanistan by backing the Taliban and also hosted the No. 1 enemy of the US- Osama bin Laden,' it added.
The AFB further noted that the Pakistan army, Inter-Services Intelligence (ISI), Military Intelligence and Frontier Corps are committing war crimes and crimes against humanity in Balochistan, violating more than two dozen items of the 30 items of the Universal Declaration of Human Rights.
'Thousands of Baloch patriots have been killed and dumped in recent years and upwards of 20,000 of them are either victims of enforced disappearances or have been buried in mass graves, simply for demanding freedom for their homeland,' the AFB said, adding that Pakistan army's 'Hitler-style' brutalities have largely gone unnoticed in the world and the AFB vigil seeks to create awareness about them.'
The AFB, while calling upon Afghan Americans and Indian Americans to stand shoulder to shoulder with Baloch victims of crimes against humanity in Balochistan, pointed out that Balochistan was illegally annexed by Pakistan in March 1948, but Islamabad failed to crush the Baloch desire of freedom.
The AFB said, 'Pakistan in the past in its dealings with the US, which upholds the ideals of liberty, freedom and the right to the pursuit of happiness, always hoodwinked Washington for dollars. 'Islamabad's greed for USA funding is unmatched but on top of it, Pakistan army and Inter-Services Intelligence protected Osama bin Laden, who attacked the financial and military nerve centers of America on the fatal day of 9/11, aiming to bring down the US to its knees. Little did they know, Americans were resilient enough to quickly come back.' The AFB added, 'Islamabad has tested and abused the niceties of US taxpayers who gave billions of dollars to Pakistan, thinking, they would help them fight terror, but they kept the very enemy of the USA, Osama bin Laden, in their own bedroom in Abbottabad.'
The AFB also called upon the Trump administration to cut off US military help to Pakistan. 'How long will the USA continue to serve these jackals, who don't care two hoots about the lives of freedom loving American and Baloch people or for that matter Afghan and Indian lives--, but only care about the greenbacks.'
Afghan feminist Habiba Ashna and founder of Afghan Women in Dialogue, called upon Afghan Americans and all people who believe in justice and freedom for all to attend the vigil.
'Balochistan with its high concentration of natural resources, including oil, coal, gold, copper and gas reserves, which generates substantial revenue for the Pakistan establishment -and the only deep-sea port at Gwadar, which is also being controlled by Pakistani establishment- is the poorest province where people lack basic necessities,' Ashna said, adding that Pakistan army and ISI have been brutally targeting Baloch patriots demanding freedom, while protecting terrorists in Balochistan.
'Any Baloch who stands up for their rights is targeted by the Pakistan Army and ISI. As humans, it is our duty to raise our voices and stand up for our Baloch brothers and sisters,' the Afghan feminist urged.
Nabi Baloch, a founding member of the AFB, recalled that the organization was launched in the US in fall 2006 in the backdrop of Pakistan army commandos' assassination of Nawab Akbar Bugti on Musharraf's order.
'Not a single Baloch is safe in Pakistan. Islamabad's state terror and crimes against humanity are most unconscionable and need to stop,' he said.
Nabi Baloch thanked the Afghan American and Indian American communities for standing in solidarity with the Baloch victims of Pakistan atrocities in Balochistan.
-ANI