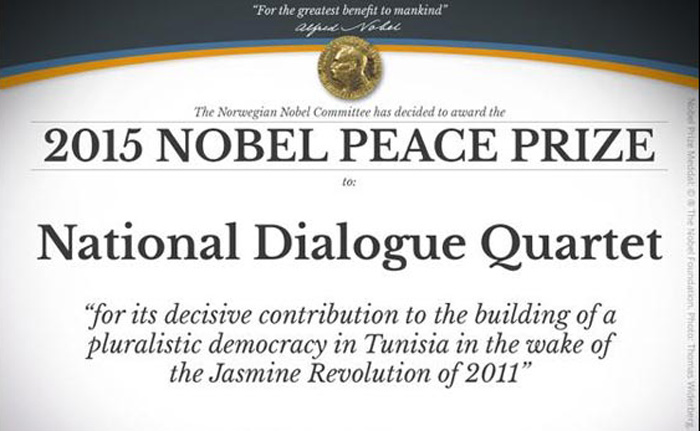 The Norwegian Nobel Committee has conferred the Nobel Peace Prize on the Tunisian National Dialogue Quartet.
The group was given the high profile honour 'for its decisive contribution to the building of a pluralistic democracy in Tunisia in the wake of the Jasmine Revolution of 2011.'
The Tunisian revolution also called the Jasmine revolution, was a month-long agitation against the Ben Ali government of Tunesia and ended with the overthrow of president Zine El Abidine Ben Ali and dissolution of the ruling party Democratic Constitutional Rally (RCD).
The National Dialogue Quartet comprises of four key organisations in Tunisian civil society: the Tunisian General Labour Union, the Tunisian Confederation of Industry, Trade and Handicrafts, the Tunisian Human Rights League, and the Tunisian Order of Lawyers.
The group, due to its representation of a wide section of Tunisian society and its value, was able to act as a mediator and 'driving force to advance peaceful democratic development in Tunisia with great moral authority,' the committee said.The prestigious award was selected by the Norwegian Nobel committee headed by Kaci Kullmann Five from a group of 273 nominees - 205 people and 68 organisations.