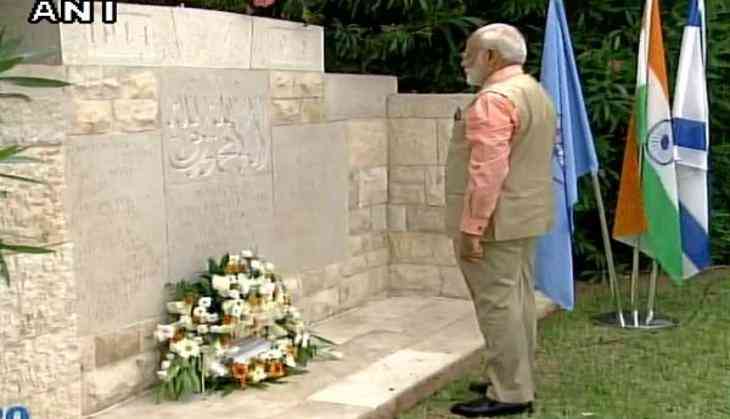 After rapping up his Israel visit, Prime Minister Narendra Modi office has posted a tweet on the old connection between Haifa and India.
Haifa is the third-largest city of Israel after Jerusalem and Tel Aviv and it's connection with India goes far back during the WW I i.e. in 1918 when Indian soldiers fought along the British Empire troops as part of the 15th Imperial Service Cavalry Brigade for liberating the city from the Ottoman Empire of Turkey in World War 1 and came under British rule.
Haifa city is situated on the Israeli Mediterranean Coastal Plain, the historic land bridge between Europe, Africa, and Asia, and the mouth of the Kishon River.
The Indian Brigade was part of the Allied Forces which swept northwards through Palestine in 1918. Indian troops fought at the Western front in Europe, in Africa, Mesopotamia and the Middle East. 95,000 Indian combatants served at the Sinai-Palestine front where approximately 10% were killed. In 1914-1918 period, they fought the Ottoman Empire and the German armies at Gallipoli, the Suez Canal, and crucial battles in Gaza, Jerusalem, Jaffa, Haifa, Nablus and Megiddo.Eventually, the Indian cavalry brigades fighting under the leadership of British General Edmund Allenby helped liberate Haifa from the clutches of the Turkish-German forces.
In a highly sombre atmosphere, Prime Minister Narendra Modi and Israeli Prime Minister Benjamin Netanyahu jointly unveiled a plaque commemorating Major Dalpat Singh, who led the Jodhpur Lancers.
Prime Minister Narendra Modi along with his Israeli counterpart Benjamin Netanyahu on Thursday paid homage to fallen Indian soldiers of World War I at the Haifa Cemetery,thefinal resting place for 44 of the Indian soldiers who sacrificed their lives during to liberate the city.
"Hailing the hero of Haifa. The leaders unveiled plaque commemorating Major Dalpat Singh whose bravery in this battle is folklore," External Affairs Ministry spokesperson Gopal Baglay tweeted.
The Indian Army celebrates September 23 as Haifa Day every year, and pays respect to the two Indian Cavalry Regiments, Jodhpur Lancers and the Mysore Lancers.
The Talpiot neighborhood in Jerusalem is the burial site for 79 Indian soldiers who died here fighting for the liberation of Jerusalem in 1917. Another cemetery for the Indian soldiers is in Haifa, the Jerusalem Post reported.
Prime Minister office post a tweet that Indian Diaspora in Israel have expressed joy on the announcements made by PM Modi . Moreover, Israeli companies were invited to take part in the start up India programme.
A new chapter has been opened in India-Israel relations. The driving force is opportunities for betterment of lives of people," Prime Minister Narendra Modi said while addressing the chief executives of India and Israel.
-ANI