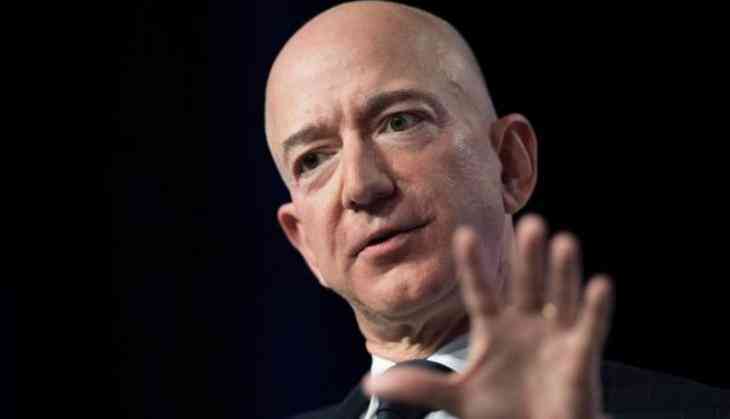 Amazon CEO and Washington Post owner Jeff Bezos has accused America Media Inc. (AMI), for allegedly receiving threats from the parent company of the National Enquirer to publish his personal photos and text that has been sent by the billionaire to his mistress if he did not stop the investigation into tabloid's alleged links with Saudi Arabia.
However, these reports come after the months when the tabloid reported that Bezos was in a relationship with former news anchor and entertainment reporter Lauren Sanchez and also they have accessed their private text messages.
Also, Bezos revealed on Thursday via a post on blogging platform Medium that National Enquirer publisher AMI had approached him which is led by David Pecker, and threatened him to publish his photos if he didn't stop the investigation into the motives behind the leak.
He also added that the publication demanded from him and security consultant Gavin de Becker, who is investigating probe, publically state they had 'no knowledge or basis for suggesting that AMI's coverage was politically motivated or influenced by political forces.'
Becker also said that in a recent Daily Beast interview that 'strong leads point to political motives'.
Bezos also wrote in a post that 'I was made an offer I couldn't refuse.'
However, in an email purportedly from AMI chief content officer Dylan Howard, he wrote to an attorney for De Becker that the photos have been obtained during the newsgathering several other unpublished selfie photos of Bezos and Sanchez in sexually suggestive settings.
In an email purportedly from AMI Chief Content Officer Dylan Howard, he writes to an attorney for De Becker that the company had obtained the private pictures of Bezos and Sanchez during a new gathering.
Also read: Shocking! Amazon founder Jeff Bezos and his wife MacKenzie all set to divorce after 25 years of marriage