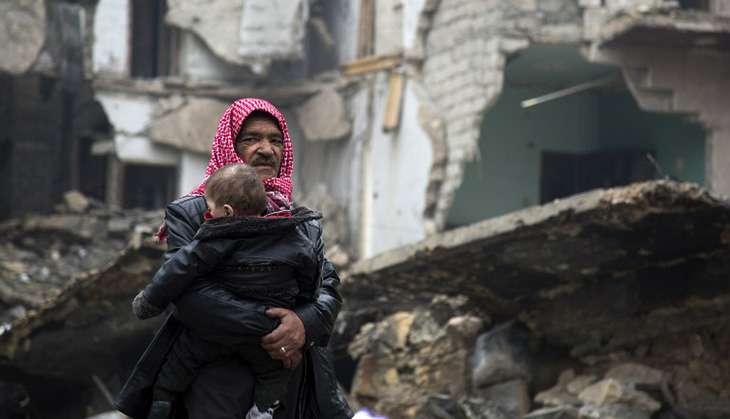 Aleppo live-tweeted as it burned (AFP / Karam Al-Masri)
Arab Spring? No. It is winter who ultimately claimed Syria.
When the first rebels raised their voice against the authoritarian regime of President Bashar al-Assad in 2011, this was probably not the end they envisioned. In trying to overthrow one man, Syria unwittingly opened its arms to militant extremists, vested foreign interests, and years of horrifying genocide. The magnitude of which is such that the world's superpowers should take themselves permanently off the high pedestal they love so much.
How it began:
In 2011, when rebels overthrew Egyptian President Hosni Mubarak and Tunisian President Zine El Abidine Ben Ali, the pro-democracy brigade optimistically called it the 'Arab Spring'.
Encouraged by the initial success of these rebels, the first of the many protests began in Syria. The fight, however, rapidly ceased to be a tussle between the existing government and the pro-democracy early rebels - it soon became a brutal fight between President Assad's Shia Alawite sect and the Sunni majority of the country (backed by Turkey). Taking advantage of the confusion in the country, and rising foreign involvement, the Islamic State gained ground.
Throw into this already complicated mix the United States who waged a war against ISIS in 2014, and Russia who were requested to 'help' by the Syrian government in 2015 and conducted relentless airstrikes, reportedly killing thousands of civilians ever since.
Five years of savage, bloodthirsty fighting later, the war has claimed over 250,000 lives and forced 11 million to become refugees. And as collateral damage that can only bring grief to Syria and the world in the future is the Syrian Civil War's collateral damage: the Islamic State.
Connected by social media, disconnected by lack of empathy:
Since war peaked in east Aleppo especially, pleas for help and harrowing tales of destruction from citizens on ground zero doubled up on Twitter and Facebook.
If you're on social media, you cannot possibly claim ignorance.You read, you saw, you retweeted and you moved on.
Endgame: Inheritance of loss
The words of Wael Ibrahim sum up the tragedy of the Syrian Civil War: 'To get rid of one bad man, you open the door to many.'
One of the early rebels who dreamed of a democratic Syria, Wael's reputation preceded him in Aleppo. Unfortunately, like the short-lived 'reign' of the early rebels, Wael's rebellion didn't last long either. He was last heard of in 2013, when he was allegedly detained and threatened by the Islamic State for six months. He has not been heard of since.
The fall of east Aleppo (west Aleppo never joined in the rebel cause), and the tragedy of Syria doesn't just lie at the doorsteps of the country's internal conflict. When the world was willing to be a silent accomplice to war crimes as they happened real-time - be it rape, murder, brute torture, sex slavery and kidnapping of Kurdish women, blockage of food, essentials, kidnappings, public executions, amputation as punishment and firing of chemical weapons (nerve agent sarin rockets, sulphur mustrad bombs et al) on civilian ground - we are as much to blame.
What happens now:
"People are saying the troops have lists of families of fighters and are asking them if they had sons with the terrorists. (They are) then either left or shot and left to die... There are many corpses in Fardous and Bustan al-Qasr with no one to bury them," said Abu Malek al-Shamali a resident of Seif al-Dawla, one of the last rebel-held districts in Aleppo.
UN spokesman, Rupert Colville said: "The reports we had are of people being shot in the street trying to flee and shot in their homes. There could be many more."
Even though Russian forces along with the Syrian army have refuted claims of torturing captured rebels and keeping 'over 100,000 people in east Aleppo as human shields', rebels say otherwise.
According to Reuters, "for all of them, fear of arrest, conscription or summary execution added to the daily terror of bombardment."
Assad's war ally Russia and the rebel's main ally, Turkey, may have reached a ceasefire agreement but evacuation has been delayed until Thursday. And, while control of Aleppo might be in Assad's hands, with ISIS retreating to the north of Syria (and retaking Palmyra), the resolution of this conflict anytime soon seems highly unlikely.
The question right now really is: why was everyone silent as a nation burned itself to the ground and generations of people were forced to become refugees?
Is it because disassociating the dark, looming presence of the Islamic State (as one of the rebel parties) from the rapidly dying civilians (the other side rebelling) was too painstaking a task? Or was it because the power of human ignorance and the willingness of the masses to be swayed by any propaganda that allows them to sleep easy at night, is far greater than we imagined?
But is it also not entirely possible that Syrian genocide thrived for five years without once becoming breaking news that triggered any actual action because Syria is neither in the west, nor white?