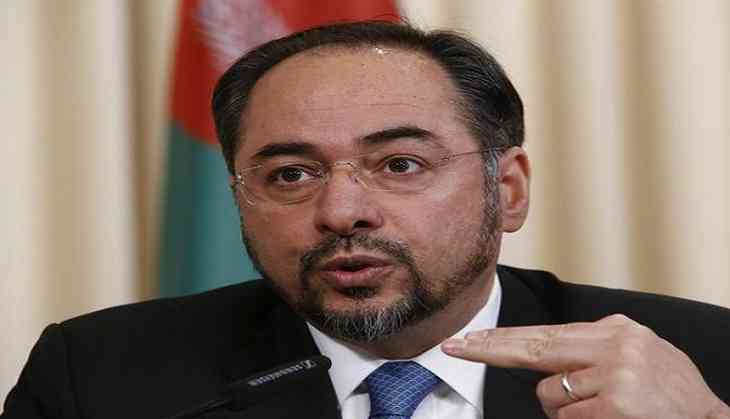 Afghanistan Foreign Minister Salahuddin Rabbani will visit India next week.
During his visit, he will call on Indian Prime Minister Narendra Modi and will also hold bilateral talks with External Affairs Minister Sushma Swaraj.
The visit comes weeks after US President Donald Trump announced a new policy on Afghanistan and sought sought more help from India in Afghanistan.
Speaking from the Fort Myer military base in Arlington Trump had said, "We will develop a deeper strategic partnership with India, but we want them to help us more in Afghanistan."
"Another part of South Asia strategy for America to further develop its strategic partnership with India, the world's largest democracy and key security and economic partner of US. We appreciate India's important contribution to bring stability in Afghanistan. But, India makes billions of dollars in trade with the United States and we want them to help us more with Afghanistan especially in the area of economic consistence and development," Trump said.
Afghanistan's Ambassador to India Shaida Mohammad Abdali hailed United States President Donald Trump's new policy for Afghanistan and urged Pakistan to join the fight against terrorism sincerely to sustain peace in the region.
"President Trump's remarks were very clear. It has still open the window for cooperation and partnership, but clearly the lack of that...he also hinted at a strong action. I think this is an opportunity for everyone, including Pakistan to adhere to the principles of state government, to fight terrorism sincerely, for the sake of everyone in the region," Ambassador Abdali told ANI.
"If there is genuine fight against terrorism for peace and stability, there is still an opportunity for partnership, but if that's not there, the words were clear and we hope that words are also transferred into action, and if there is lack of sincerity in the fight against terrorism, action will be as it was spoken in his (Donald Trump) remarks," he added.
Describing Trump's policy as a very comprehensive strategy, the envoy said it focused more on terrorism and it is very multifaceted.
Emphasising that India has been a genuine partner, the envoy said New Delhi has been standing alongside Afghanistan, especially after fall of Taliban.
"India's assistance is in multifaceted ways. You can see India's assistance in development of peace , security, economic, culture and education in many fields, there is always room for more ....and we hope India will do more," he said.
Speaking about Trump asking India's help in Afghanistan, the envoy said, "I am glad, I wish this had been the case long time back, that India to be partnered with on peace and stability in Afghanistan and the wider region. I am glad right now, the U.S. in this current strategy has focussed more and we look forward to a strong India-U.S. partnership with Afghanistan."
India has also welcomed Donald Trump's new policy on Afghanistan and said that New Delhi shares the concerns and objectives as entailed by the former in his recent address.
"We welcome President Trump's determination to enhance efforts to overcome the challenges facing Afghanistan and confronting issues of safe havens and other forms of cross-border support enjoyed by terrorists. India shares these concerns and objectives," India's External Affairs Ministry spokerperson Raveesh Kumar said, in a press statement.
"We are committed to supporting the Government and the people of Afghanistan in their efforts to bring peace, security, stability and prosperity in their country. We have been steadfast in extending reconstruction and development assistance to Afghanistan in keeping with our traditional friendship with its people. We will continue these efforts, including in partnership with other countries," the statement added.
-ANI