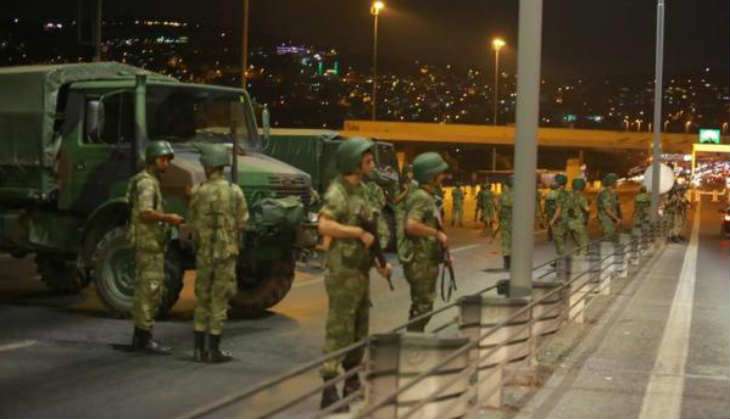 Ninety people, including civilians and 17 police personnel, have been killed in the Turkey coup attempt. Speaking to local TV, Turkey PM Binali Yildirim informed that a General has been killed and 200 soldiers have been detained.
Sections of Turkey's army on Friday attempted a coup, but President Tayyip Erdogan, backed by the people of Turkey, is fighting back.
According to CNN, three bombs were thrown at the Turkish Parliament.
It is still unclear on who is in control of the country.
Turkish Prime Minister Binali Yildirim said the "situation in the country is largely under control" after elements of the Turkish military backed, by tanks, staged an attempted coup against the government of President Recep Tayyip Erdogan on Saturday, sparking bloody clashes in major cities.
Amid turmoil, Prime Minister Yildirim said a national curfew was announced, and other security forces had been called in to "do what is necessary".
President Erdogan said the uprising was carried out by a "minority" within the military opposed to national unity. He claimed some in the military had been taking orders from the US-based cleric Fethullah Gulen, and that the attempted coup showed the Gulen was heading an armed terrorist organisation. Gulen has denied involvement, reported theguardian.com.
"I am calling on our nation. Go to squares, let us give them the best answer," Erdogan said in a video message from a cell phone that was broadcast on a cell phone connection from what appeared to be a private residence. "I do not believe this coup attempt will be successful. No coup-plotter in history has ever succeeded," Anadolu, a Turkish news agency, reported the President as saying.
Erdogan said there had not been any attempt against him and the Turkish presidency has said the president is at a secure location.
President Erdogan, who was greeted by a large crowd as he emerged from a vehicle at the Istanbul's Ataturk Airport, said Prime Minister Yildirim has given orders to "eradicate" those who are shooting from the air, reported AP.
Following the claim by the group gunfire rang out, troops stormed government buildings and jets roared over the Turkish capital of Ankara. Police were seen arresting army officials.
Scores of people waving Turkish flags gathered in major squares in Istanbul and capital Ankara to express their solidarity with the elected government.
Airports have been shut and access to internet social media sites has also been cut off.
Meanwhile, Indian External Affairs Ministry spokesperson Vikas Swarup tweeted: "Our Embassy in Ankara advises Indian nationals in Turkey to avoid public places and remain indoors until the situation there becomes clearer."
Swarup also tweeted emergency contact numbers for Indian nationals in Ankara: +905303142203; and in Istanbul: +905305671095.
- ANI