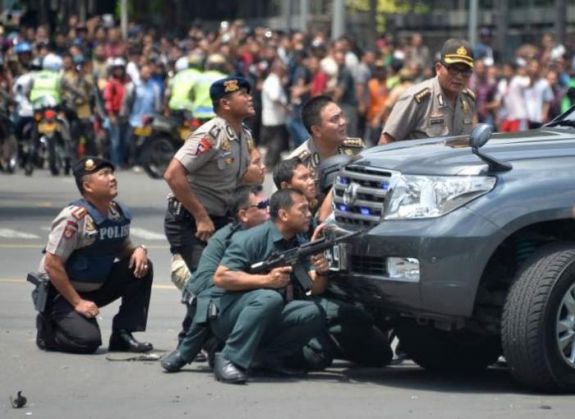 Central Jakarta was hit by a number of explosions on the morning of 14 January, Reuters reported.
According to media reports, one of the explosions took place in front of the Sarinah mall of the city centre,
ANI reported that at least six people, including three police officials had been killed.
The explosions reportedly went off at around 100m near the UN office in Jakarta. United Nations Regional Representative Jeremy Douglas live tweeted the incident, recording about six explosions. He also reported gunfire.
Quiet over a hour. Latest from the window is media drifting closer to operations. Told lockdown to last pic.twitter.com/s6FaPpeT5V

- Jeremy Douglas (@jdouglasSEA) January 14, 2016
Associated Press reported that at least three suicide bombers had set off their explosive vests at a Starbucks cafe in the area.
The explosion triggered a gunbattle between the perpetrators and the police personnel.
According to an ABC report, one staffer in the United Nations office on the street may have sustained injuries.
ABC also reported Indonesian police as blaming the attack on the Islamic State. "We have previously received a threat from Islamic State that Indonesia will be the spotlight, Reuters quoted Jakarta police spokesman Anton Charliyan as saying.
The roads leading to Sarinah mall have been cordoned off. Tanks and security personne have been deployed to the area and office workers in downtown Jakarta have been asked to remain indoors.
Counter terrorism personnel have been deployed to the incident area pic.twitter.com/MP5gOIQENO

- Saifulbahri Ismail (@saifulcna) January 14, 2016
Indonesian President Joko Widodo has cut short his official visit to Java to return to Jakarta, Reuters reported. Widodo has urged the public to refrain from speculating over who might be responsible for the attacks.
Associated Press quoted Indonesian media as saying that at least three more explosions were heard in Cikni, Silpi and Kuningan neighborhoods, near the Turkish and Pakistani embassies - after the central Jakarta explosions. AP reported that the explosion was caused by a suicide bomber.