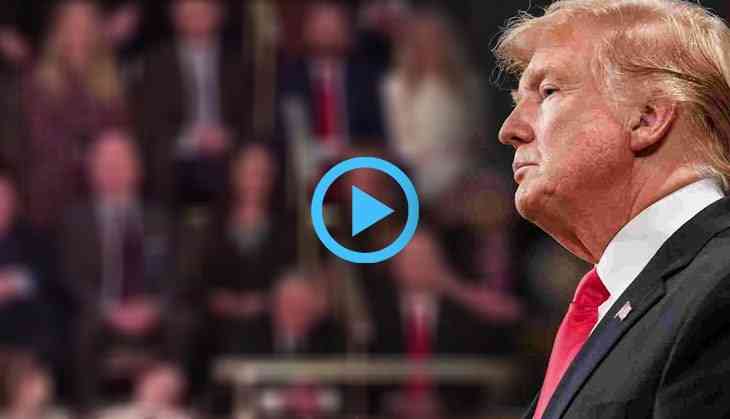 An amazing video is getting viral on the social media in which Trump can be seen sleeping during the State of Union speech. Wait! If you are thinking about US President Donald Trump then, allow us to correct you that it's an 11-year-old boy named Joshua Trump.
In the viral video, Joshua Trump can be visible enjoying snoring at the State of Union address by US President Donald Trump on Wednesday (6th February). Let us tell you that Joshua has been bullied for his surname. Moreover, he was one of the special guests for Trump's State of Union address.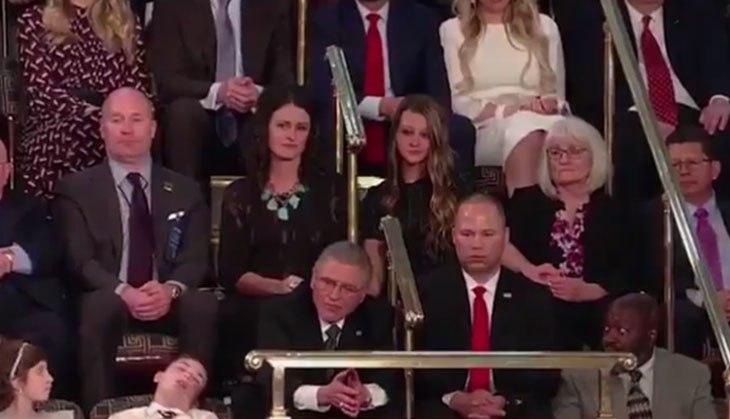 Let us describe more about Joshua, he is a sixth-grade student from Wilmington, Delaware who had been invited to the event by first lady Melania Trump. Melania had invited him because he thought that his presence would send an important message that's in line with an anti-bullying platform of her Be Best initiative.
In the viral video of Trump, you can seen enjoying an open-mouth sleep and didn't seem to be careful about the flashing cameras and loud applause of the Parliamentarians and also the 82-minute long speech of the Donald Trump.
See video:
Joshua Trump is the hero the U.S. deserves, but not the one it needs right now. So we'll hunt him. Because he can take it. Because he's not our hero. He's a silent guardian. A watchful protector. A Dark Knight. #StateOfTheUnion #SOTU #StateOfTheUnion2019 pic.twitter.com/qyCzrMc1Mr

— TJ Cooney 🚀 (@TJ_Cooney) February 6, 2019
The video of Joshua Trump won the hearts of social media users.
Check out Twitterati reactions:
Proud of Joshua Trump, my hometown hero at last night's SOTU. Good work. #JoshuaTrump @realDonaldTrump pic.twitter.com/LqNXRJ9B1f

— Marcus Blake (@iammarcusblake) February 6, 2019
Joshua Trump, the young kid Trump brought to the SOTU to use as a prop, fell asleep during Trump's long-winded liefest. I'm not criticizing this kid because I'm sure I would have fallen asleep if I were there. We are all Joshua Trump! He's our latest hero! #ExecutiveTime pic.twitter.com/WF6OA4suQS

— Mark J.K. Penzkover (@MarkPenzkover) February 6, 2019
Joshua Trump is a national hero https://t.co/QqtjnIzRuA

— Daphne (@Daphne11919) February 6, 2019
Joshua Trump handled this beautifully

He's my new hero pic.twitter.com/q6Vg2JtQPZ

— Jonathan Jewel (@jonathanjewel) February 6, 2019
Also read: Blunder! Donald Trump pronounced Nepal as 'nipple' and Bhutan as 'button' and thought it was a part of India; see video