Hardik Patel detained ahead of 'Ekta Yatra' in Surat, Gujarat
Patidar Anamat Andolan Samiti (PAAS) leader Hardik Patel along with his 78 supporters has been detained by the Surat Police in Gujarat.He has been detained ahead of his scheduled 'Ekta Yatra' which was previously named as 'Reverse Dandi March'. Patel was trying to take out the march to press the government for reservations for the Patel community.After he was detained Patel blamed the police and said that the police will be responsible if things turn violent.
Enforcement Directorate registers case against Robert Vadra in land grabbing case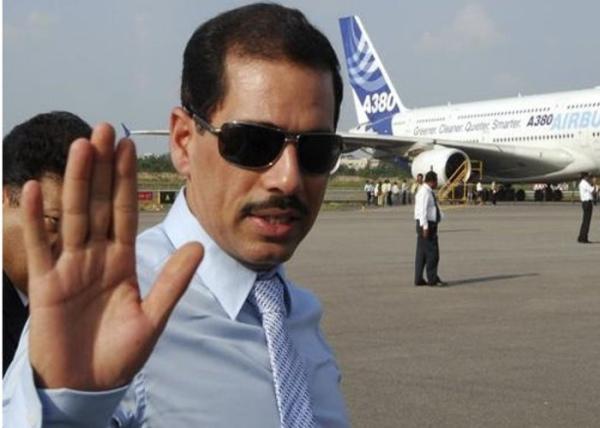 After Robert Vadra's name was removed from 'no-frisking' list, he has landed into a fresh trouble after the Enforcement Directorate (ED) has registered a money laundering case arising out of a land grab case in Bikaner in Rajasthan involving a firm allegedly linked to him.
"A criminal case under the Prevention of Money Laundering Act ( PMLA) has been registered by the ED. It will soon issue summons and question the accused involved including some unknown private entities," reported PTI. Reportedly ED has taken cognisance of the earlier media reports that had referred to a firm linked to Vadra, son in law of Congress President Sonia Gandhi, which had purchased some of these lands.
HS Phoolka resigns from all party posts in AAP
HS Phoolka, senior advocate and former Aam Aadmi Party leader from Punjab has resigned from all the party posts he holds on 19 September. Phoolka joined the party in January 2014, ahead of the General Elections and contested from Ludhiana seat on AAP ticket.
According to reports, he was a prospective Chief Ministerial candidate of the party for 2017 Punjab elections. He is popularly known for his long-standing efforts to gain justice for the victims of 1984 anti-Sikh riots.
Hizbul Mujahideen militant found dead in Barmulla district, Kashmir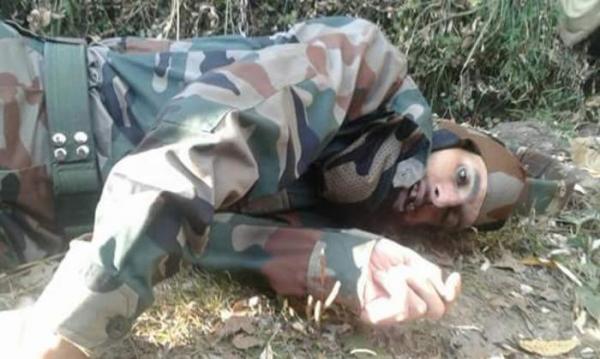 A bullet-riddled body of a Hizbul Mujahideen (HM) militant was found today in north Kashmir. Cops are suspecting that the break-away faction of HM, Lashkar-e-Islam (LeI), is behind the murder. LEI is an outfit floated by Abdul Qayoom Najar, the longest surviving militant in north Kashmir.
The group is also believed to be behind killing of few separatist activists this year in Sopore area of the district. The dead militant has been identified as Fayaz Ahmad Bhat who was a 'commander' of the outfit, and a resident of Wailo Pattan. His body was recovered from a forest in Devbug Tangmarg in Barmulla district.
Himachal Pradesh: three labourers trapped inside under-construction tunnel since one week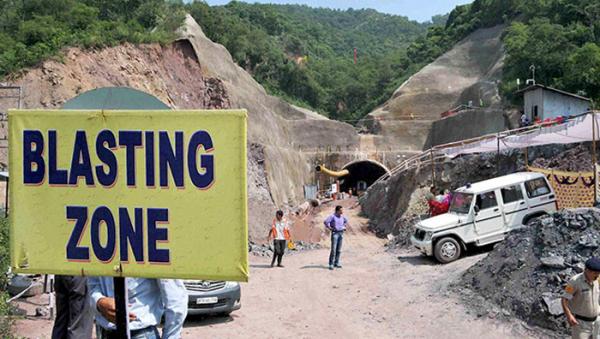 Three labourers of Himalayan Construction Company (HCC) working on the Kiratpur-Ner Chowk four lane national highway project have been trapped from last seven days after a portion of the tunnel caved in.
A huge quantity of debris and muck has blocked the 100-metre patch of the tunnel and the condition of the trapped workers is not known. The workers were digging the tunnel when a portion caved in due to landslides on 12 September 2015.
A drill machine has been taken to the top of the tunnel and it will be used for drilling a hole of one-metre diameter to pull them out ."If all goes according to plan, the workers will be out in the next two to three days," said Bilaspur deputy commissioner Manasi Sahay Thakur.
Rahul Gandhi addresses rally in Champaran, attacks Modi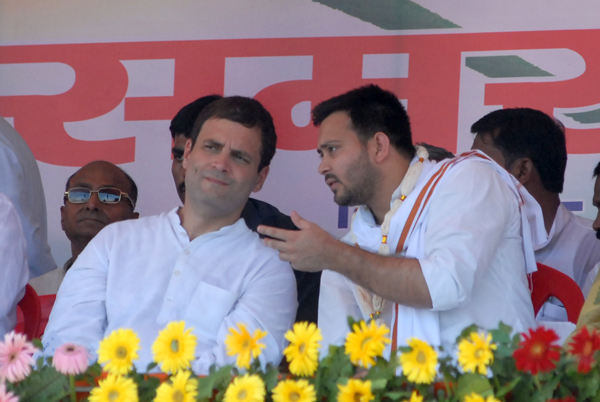 Congress Vice-President Rahul Gandhi, on 19 September, addressed a rally in West Champaran for the forthcoming Bihar elections campaign. During his speech, he launched a scathing attack on Prime Minister Narendra Modi and called him a 'Feku'. "In the Parliament, I had mentioned that this government is 'suit-boot' government and is not for the poor; PM Modi now only meets with those people who wear suits," he said.
Lalu Prasad Yadav and Nitish Kumar were not present on the stage with Gandhi. However, other party leaders from Janta Dal (United) and Rashtriya Janta Dal were present to support him and Chief Minister Nitish Kumar received him at the airport.
Mahagathbandhan announces seat-sharing plan, SP forms a new alliance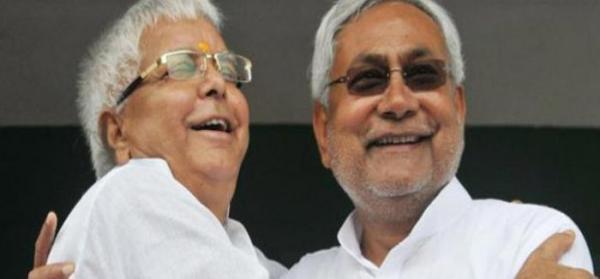 The grand alliance of Janta Dal (United), Rashtriya Janta Dal and Congress announced their seat sharing plan on 19 September. JD(U) state president Vashishtha Narayan Singh announced the allocation of seats at a press conference in Patna. The Samajwai Party also announced formation of a new six-party alliance for the forthcoming Bihar assembly elections. The alliance consists of NCP, Samarth Samaj Party, NPP, Jan Adhikar Party of Pappu Yadav, and Samajwadi Janta Party. Congress Vice-President Rahul Gandhi also addressed a rally in West Champaran earlier in the day and launched an attack on Prime Minister Narendra Modi and his party.
Mahesh Sharma's cultural cleansing drive continues
After vowing to cleanse India of western culture and stating that late-President APJ Abdul Kalam was a nationalist "despite being a muslim", Union Culture Minister Mahesh Sharma is at it again. The new target of his ire? Women.According to Sharma, women going out at night is not part of our culture. "Girls wanting a night out may be all right elsewhere but it is not part of Indian culture," Singh told a private news channel. Singh, a first time MP from Noida and an RSS man, has been in the news recently for a string of comments that have caused controversy. Despite all the criticism that has come his way since, Sharma has remained steadfastly unapologetic.
A 3D printer capable of printing houses!
Massimo Moretti, an Italian innovator, has come up with a 3D printer capable of printing nearly zero-cost housing out of mud. The 3D mud printer, BigDelta, is the culmination of Moretti's 2-year-long efforts with World Advanced Saving Project (WASP), an organisation dedicated to finding affordable housing solutions. Inspired by a wasp called the mud dauber that builds its home with mud, the 40-foot-tall printer is capable of printing a mud house in a matter of weeks. Moretti envisions it as the solution to housing in disaster-struck and poor areas where the most easily available resource is earth. Amazingly, it takes only tens of watts to operate.
Playing American football leads to brain disease
A high number of deceased former NFL players, 87 out of 91, have tested positive for brain disease according to a study by the US Department of Veterans Affairs and Boston University. The study looked to identify cases of a degenerative brain disease called chronic traumatic encephalopathy (CTE) among former American football players, both at a school and college level as well as professionally. Researchers found its presence in 96% of NFL players and 79% of all players. CTE is hard to identify while patients are still living and can only be definitively identified post-mortem. That being the case, the data is arguably skewed as many of the players who have donated their brains for testing suspected that they had the disease while still alive. Even so, the numbers are reasonably reflective of past estimates.
New Delhi superbug NDM 1 now in 70 countries across the world
In a worrying finding in the first State of the World's Antibiotics report 2015, prepared by the Washington-based Centre for Disease Dynamics, Economics and Policy (CDDEP), a drug-resistant superbug, first discovered in Delhi, has spread to 70 countries across the world. The New Delhi metallo-betalactamase (NDM 1), which is highly resistant to almost all known antibiotics, has also been found in environmental samples from water sources in Vietnam, Times of India reported on Thursday, 17 September. The superbug had been found in the water supplied to Delhi homes. Students from Cardiff University had earlier identified the the presence of the NDM 1 gene in the bacteria responsible for cholera and dysentery in India.
Delhi to record most number of premature deaths in the world due to air pollution by 2025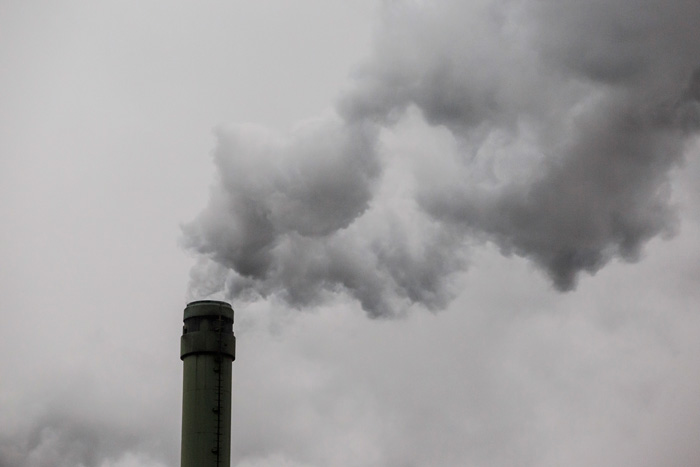 Delhi will account for the highest number of premature deaths due to air pollution in a decade's time, a study in the journal Nature has warned. A team of researchers, led by Professor Jos Lelieveld, from the Max Planck Institute for Chemistry in Mainz, Germany, conducted the study, which warned that 32,000 people will die in Delhi due to inhalation of polluted air. However, by the year 2050, Kolkata will overtake Delhi as the city with the highest number of air pollution-related premature deaths. It is projected that Kolkata alone will account for 54,800 deaths by that time, 2800 more than Delhi. At present, around 3.3 million people prematurely die worldwide due to effects of air pollution.