SC to hear Yakub's petition on 28 July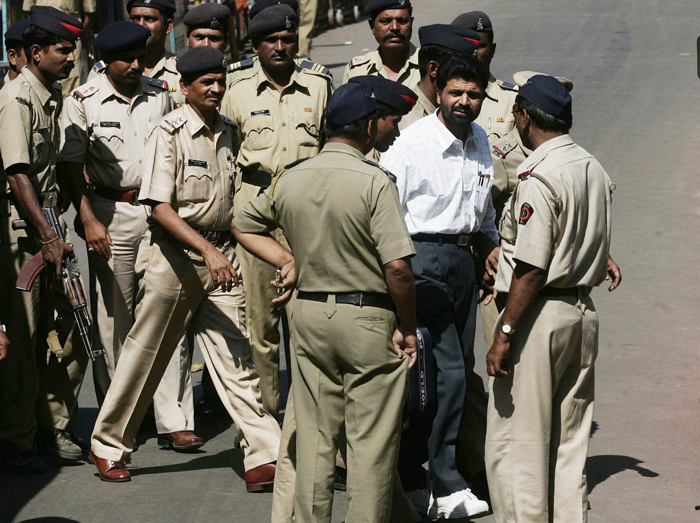 The Supreme Court decided on Monday to look into Yakub Memon's mercy petition once again and will now take it up on 28 July. At the same time, political and thought leaders submitted a petition to President Pranab Mukherjee urging him to waive the death sentence of 1993 Mumbai blasts accused Yakub Memon. The signatories to the 15-page petition include Shatrughan Sinha (BJP), Mani Shankar Aiyar (Congress), Majeed Memon (NCP), Sitaram Yechury (CPI(M)), D Raja (CPI), T Siva (DMK), Brinda Karat (CPI(M)), and eminent personalities like Naseeruddin Shah, Mahesh Bhatt, MK Raina and Tushar Gandhi. The petition says: "We most humbly request your excellency to consider the case of Yakub Abdul Razak Memon and spare him from the noose of death for a crime that was master-minded by someone else to communally divide the country..."
SC issues notice to Jayalalithaa over acquittal by the Karnataka High Court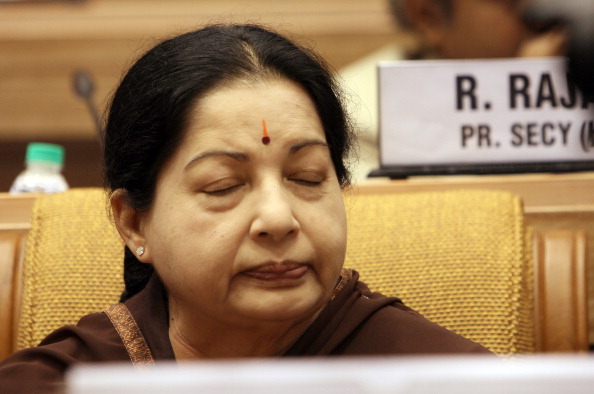 The Supreme Court on Monday refused to stay the Karnataka High Court order acquitting Tamil Nadu Chief Minister J Jayalalithaa and three others in the disproportionate assets case. The apex court also issued notices to Jayalalithaa, her aide Sasikala and two others. Earlier in May, the Karnataka High Court had acquitted her of all corruption charges in the 19-year-old case. The high court had said that the value of disproportionate assets was Rs 2.82 crore which was not enough to convict them on charges of corruption. However, the Karnataka government decided to challenge Jayalalithaa's acquittal in the Supreme Court as the Special Court had computed the value of disproportionate assets at approximately Rs 53.6 crore.
Salman triggers controversy over Yakub's innocence, creates furore and apologises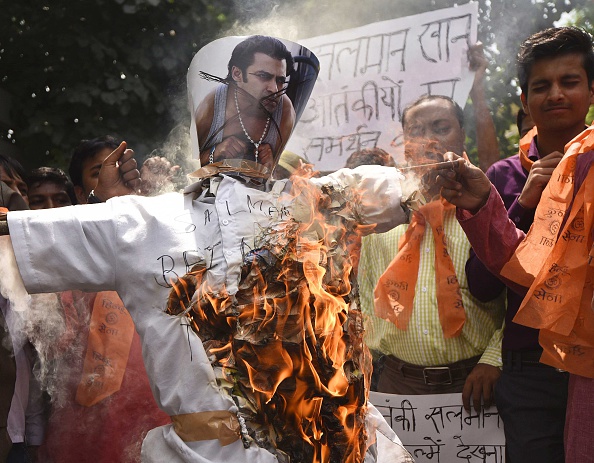 In a series of tweets, Bollywood superstar Salman Khan created a storm by describing Yakub Memon, the Mumbai blasts convict scheduled to be hanged on 30 July, as innocent. One of his tweets said: "Get tiger (Tiger Memon), hang him. Parade him not his brother." The tweets immediately had BJP workers protest outside Khan's residence in Mumbai. A Shiv Sena spokesperson Manisha Kayande even called the actor anti-national. However, Khan deleted the tweets and said that his father Salim Khan, veteran Bollywood scriptwriter, asked him to retract his tweets as they had the potential to create "misunderstanding." He apologised and added that he has complete faith in the judicial system of the country.
Mann ki Baat: Modi wants cashless treatment for road accident victims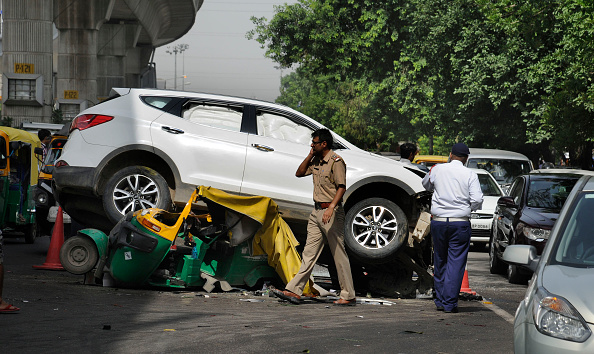 In his monthly radio address - Mann ki Baat, Prime Minister Narendra Modi said that the government will initiate a cashless treatment plan for road accident victims across the country. He said that cashless treatment for up to 50 hours will be provided to accident victims on all national highways. Saying that the government would soon bring a road transport and safety bill in Parliament, Modi said: "It is a matter of concern that every minute, one road accident takes place in the country and that in every four minutes, one person dies."
Hillary Clinton pledges half a billion solar panels for US if she wins office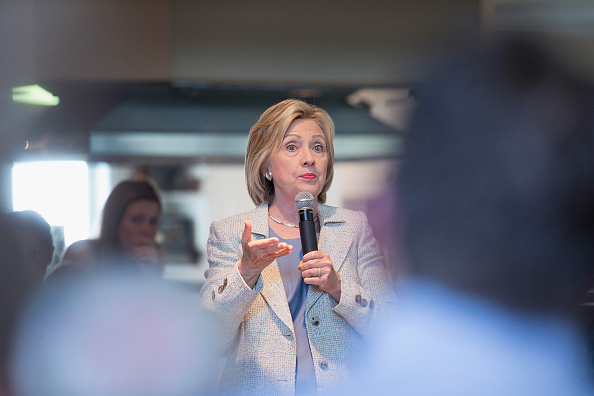 The Democratic presidential candidate has put stress on battling climate change saying that she would power the US to generate enough renewable energy for every home within 10 years. Clinton also wants to install more than half a billion solar panels nationwide within four years of taking office. Making climate change a key element of her presidential campaign, she says that her goals would lead to a 700 per cent increase in the installed solar capacity from current levels, and could eventually generate at least one-third of all electricity from renewable sources. Clinton will discuss the proposals in Iowa, one of the leading wind energy producers and the state which will kick off the 2016 presidential nominating race soon.
Source: The Guardian
On Kargil Vijay Divas, Hazare lends voice to OROP stir in Delhi, meets Kejriwal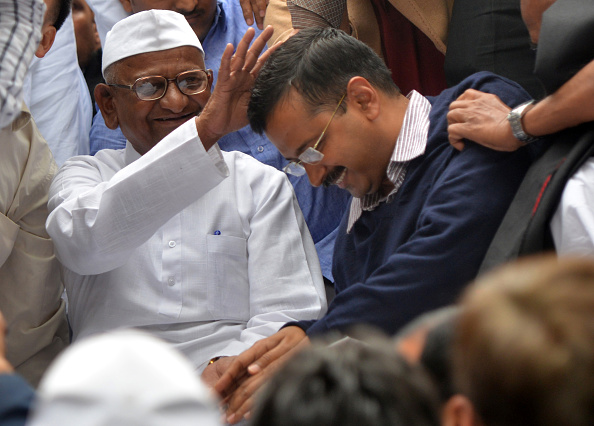 Gandhian activist Anna Hazare joined One Rank One Pension (OROP) protestors at Jantar Mantar and reminded the government about its promise of implementing it. Hazare said that he will visit other states and hold rallies in favour of OROP and his protest will culminate on 2 October at Raj Ghat. He also hit out at the government for not prioritising its fight against corruption and black money. Hazare met Delhi Chief Minister Arvind Kejriwal and Deputy CM Manish Sisodia where they briefed him over the Delhi government's face-off with the Modi government. Hazare was also critical of the split in the Aam Aadmi Party, saying: "Differences can be sorted out but people should be ready to discuss issues and clarify misunderstandings."
Gurdaspur attack: Modi meets ministers, security tightened on Indo-Pak border and parliament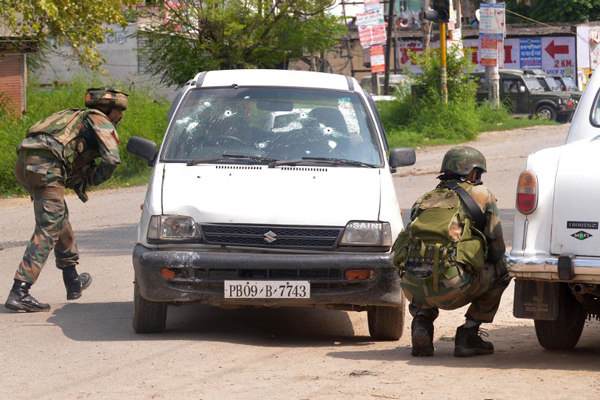 Six people, including two home guards were killed by terrorists dressed in army uniforms in Punjab's Gurdaspur district early on Monday morning. Also, five live bombs were recovered from a rail track after which the police began conducting a check on all trains and tracks. The terrorists, believed to be four in number, are hiding inside an abandoned police station. Special forces from the Punjab Police, commandos and army personnel have been rushed to engage the terrorists. The Intelligence Bureau says that the terrorists had crossed over into India from Pakistan. Prime Minister Narendra Modi held a meeting with senior ministerial colleagues in parliament. Home Minister Rajnath Singh is in touch with Punjab Chief Minister Prakash Singh Badal over the situation in Gurdaspur.
At 83, former president APJ Abdul Kalam passes away in Shillong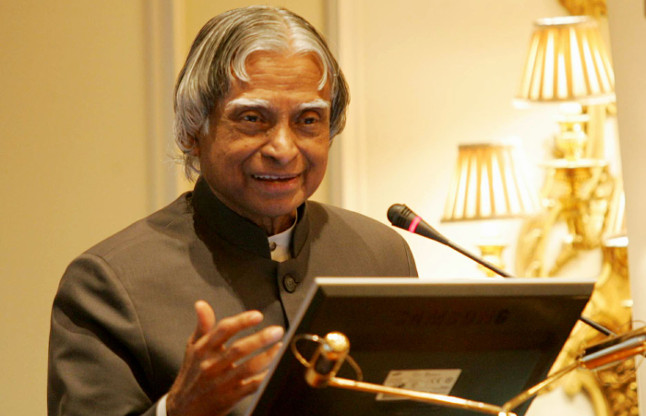 India's 11th president Dr. APJ Abdul Kalam passed away in Shillong today. He was speaking at an event at IIM, Shillong when he collapsed due to a cardiac arrest. He was taken to Bethany Hospital in the city, where a team of army doctors had been called to look after him. His death was confirmed at around 9 pm. He will be laid to rest in his hometown Rameshwaram.
Iranian leader tweets graphic of Obama with gun to his head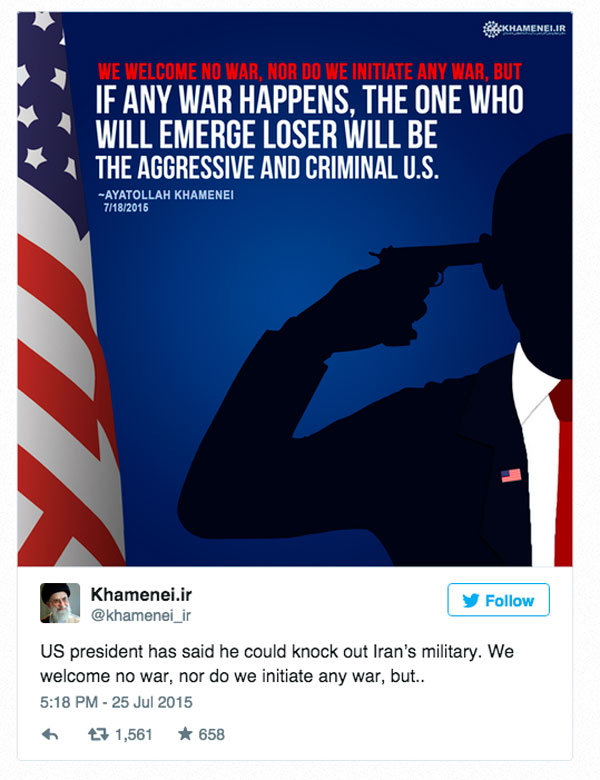 Ayatollah Ali Khamenei, Iran's supreme leader, on 25 July tweeted a graphic that depicts US President Barack Obama holding a gun to his head.
"US president has said he could knock out Iran's military. We welcome no war, nor do we initiate any war, but if any war happens, the one who will emerge the loser will be the aggressive and criminal US," the tweet reads.
The account @Khamenei.ir is unverified by Twitter but believed to be Khamenei's. On 17 July, he tweeted: "US pres. said he could knock out Iran's army. Of course we neither welcome, nor begin war, but in case of war, US will leave it disgraced."
Peatonito: Mexico's masked defender rails against cars and fights for pedestrians
Mexico's capital city gets its own superhero in a hooded, caped, black and white ensemble as Peatonito, the 'Little Pedestrian,' pushes back cars, jumps on them and creates zebra crossings with white paint. His black and white cape resembles a pedestrian crossing and he feels that "we live in a car dictatorship." So, Peatonito jumps on cars that are parked on sidewalks, pushes back those that block the free passage of pedestrians, paints cirles around holes on sidewalks and uses a white spray can to create zebra crossings. In real life Peatonito is Jorge Canez, who works with an NGO and emerges as the 'Little Pedestrian' twice a week. His zebra crossing dress has been inspired by wrestling, which is a big pastime in Mexico.
ESA and Airbus to hunt for life on Saturn and Jupiter's four moons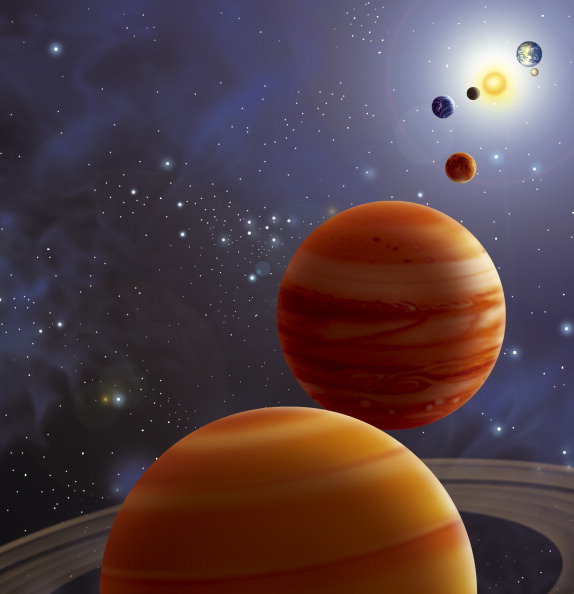 The European Space Agency (ESA) and Airbus will jointly launch a space probe in 2022 to look for alien life on Titan, Saturn's largest moon, and also Europa, Ganymede and Callisto - the moons of Jupiter. Called 'Juice' (Jupiter Icy Moons Explorer) spacecraft, the mission will try to find out whether the frozen worlds that surround the two giant gaseous planets could support extra-terrestrial life. The probe will spend seven and a half years around the Earth, Mars and Venus to pick up enough speed to get to the Jupiter system. For three and a half years, the spacecraft will sweep around the giant planet, exploring its turbulent atmosphere, enormous magnetosphere, tenuous set of dark rings, as well as studying the icy moons -- Ganymede, Europa, and Callisto.
Assam's tea gardens to serve as mini sanctuaries, to create wildlife corridors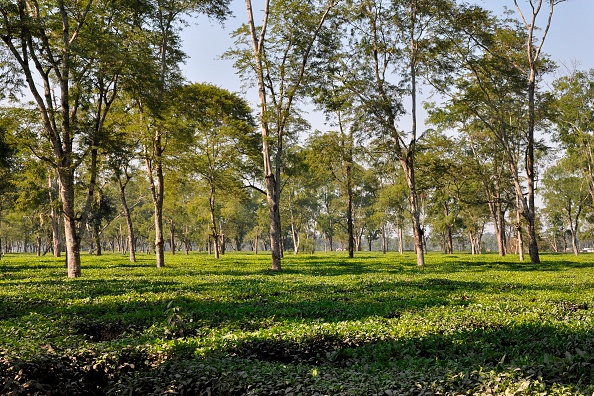 A number of tea plantations in Assam would soon be converted into wildlife havens to protect its fauna and reduce cases of man-animal conflict. Some of Assam's largest tea producers will make corridors for elephants on their tea estates which can be later used by other animals such as leopards and deer to move between various sanctuaries and forests. Wildlife experts say that tea gardens are like a secondary forest for wild animals and these host many animals and migratory birds. Among the large animals, leopards are frequently sighted hiding amidst tea bushes while elephants use tea estates for fodder, passage and shelter. The move by Apeejay Tea and Amalgamated Plantations will also help reduce human-elephant conflict.
Dead crocodile found on Goa beach, the second one in a fortnight
A dead crocodile in a decomposed condition was found on Goa's Miramar beach on Monday morning. This is the second spotting of a crocodile in less than a fortnight. Forest department officials said that it might have died elsewhere and got washed at the Miramar beach. The beach is located on the mouth of Goa's longest river, Mandovi and often crocodiles are washed towards the shore by tides. The fresh water crocodiles in Goa are reported to be harmless.
82-year-old Sikh activist's fast enters seventh month, refuses pre-conditions for talks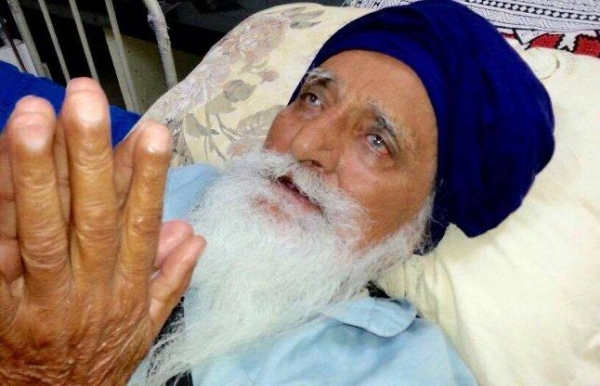 Sikh activist Surat Singh Khalsa, who is on a indefinite hunger strike since 16 January demanding release of political prisoners, has refused pre-conditions for talks. He had been approached by Ludhiana DGP Sumedh Saini to end his fast so that talks could be initiated. However, Khalsa stuck to his stand that he would not take food or give blood and urine samples for medical examination. He also threatened to discontinue the intravenous feed if the government laid conditions for initiating talks. Senior Congress leader Amarinder Singh too has supported Khalsa's demands, saying: "it is against the law and Constitution to keep someone behind bars who has completed his sentence".
Frequent cloudbursts in July give disaster management authorities a scare in J&K
With eight incidents of the extreme weather phenomenon taking place in Jammu and Kashmir in July, the state authorities are feeling rather uneasy. Eight people have lost their lives and scores have gone missing. According to a study, the high impact areas in J&K prone to cloudburst are Budgam, Leh, Udhampur, Ramban, Doda, Reasi, Bandipora, Kulgam, Rajouri and Srinagar districts. Disaster management experts in the state say that cloudbursts cannot be predicted. But they point out that the Himalayas are prone to global as well as local climate change events which lead to frequent cloudbursts as well as extreme weather phenomenon like flash floods.