Airhostess alleges sexual misdemeanour against Pappu Yadav, he claims 'political conspiracy'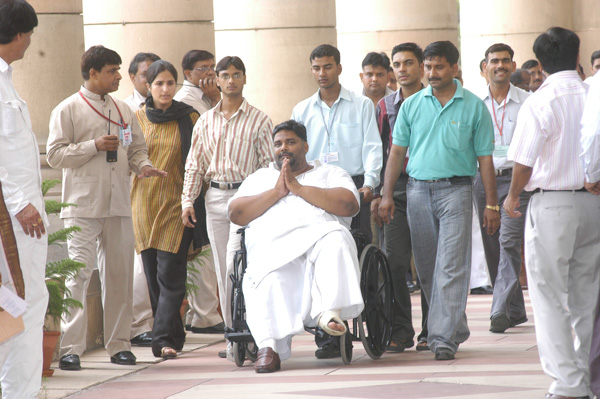 Pappu Yadav, an MP from Bihar, on Tuesday allegedly misbehaved with an airhostess on a Jet Airways flight from Patna to Delhi. The incident reportedly happened when the airhostess asked the lawmaker not to throw the leftover food in the aisle.
The captain of the aircraft had reportedly informed the Air Traffic Controller in Delhi and, on arrival, Yadav was led away by security officers.
Delhi Police plan to chargesheet AAP chief Arvind Kejriwal and 20 of his MLAs
The Aam Aadmi Party (AAP)'s image could soon take a big dent. The Delhi Police plan to chargesheet AAP chief Arvind Kejriwal and 20 of his MLAs in 25 cases.
The Delhi chief minister has been named in six of these cases. His deputy, Manish Sisodia, has been booked for violating a prohibitory order by participating in a protest at Rail Bhavan.
Former Law Minister Jitender Singh Tomar, who is already in police remand for furnishing a fake degree, faces a case of forgery.
Several other senior AAP leaders are being probed for allegedly instigating a farmer, Gajendra Singh, to commit suicide at the party's Kisan Rally at Jantar Mantar in March.
AAP leader Ashutosh called the police's plan a ploy by the Narendra Modi government to divert attention from the Sushma Swaraj-Lalit Modi controversy.
Source: IBN Live
Govt says can't give third gender option in UPSC forms, doesn't know definition
The Narendra Modi government won't introduce the "third gender" option for transgenders in UPSC examinations forms anytime soon.
The Delhi High Court, acting on a PIL by Jamshed Ansari, had earlier questioned the government and the Union Public Services Commission about the absence of the "third gender" option in the forms.
On Wednesday, the Centre passed the buck, saying the Supreme Court was yet to clarify the definition of the "third gender". And until it does, the government can't frame the rules for including this option.
Akali Dal leader shot dead by police in Punjab, party calls it murder
Apparently mistaking him for a gangster, the Punjab Police shot dead Mukhjit Singh alias Mokha, a leader of the ruling Akali Dal near Amritsar Tuesday evening.
The police claim they received information about a gangster who was driving around in a car without a licence plate. When they waved him down at a checkpoint, Singh allegedly fired at them from inside the vehicle.
The police retaliated and killed him. Singh didn't have any criminal record. The Akali Dal has called it a murder and demanded action against the police personnel responsible. The state has set up a Special Investigation Team to probe the killing.
Chhagan Bhujbal raided by ACB, booked for corruption, cheating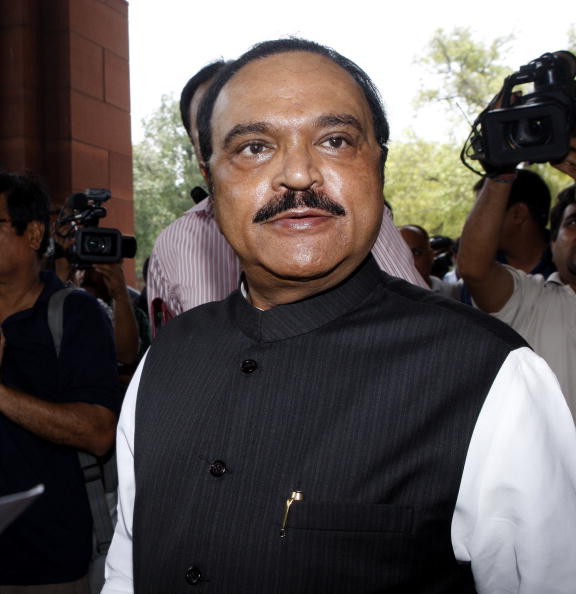 The Maharashtra Anti-Corruption Bureau Tuesday raided former works minister Chhagan Bhujbal and booked him on charges of corruption and cheating.
As many as 15 ACB teams raided 16 properties owned by the senior NCP leader, his son Pankaj and nephew Sameer after getting permission from a court in Nashik.
Most of the raided properties are in Mumbai. The sleuths did not find any gold or cash there, only documents.
The raid is seen as a major setback to not just Bhujbal, but NCP chief Sharad Pawar as well. Given that Pawar has warm relations with Prime Minister Narendra Modi, such strong action against his senior aide came as a surprise.
Modi Govt should release the letters written to the UK govt on the Lalit Modi case: Chidambaram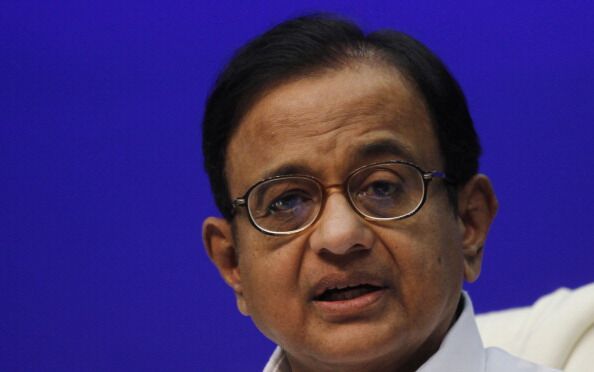 Weighing in on the Sushma Swaraj-Lalit Modi controversy, Senior Congress leader P Chidambaram has demanded that the government release the letters it sent to the British authorities on the issue. "In the interest of transparency, the Government of India should release the letters written to the UK Chancellor on the Lalit Modi case," he tweeted.
In 2013, when he was finance minister, Chidambaram had asked Britain's Chancellor of the Exchequer George Osborne to deport Modi to India to face charges of money laundering. Chidambaram said he had asked British authorities how Modi continued to stay in their country when his passport had been impounded in India and his UK visa had expired.
Napoleon's getaway ship found
Australian filmmaker Ben Cropp has found what is believed to be a ship belonging to one of history's most famous dictators, Napoleon Bonaparte. The ship - Swiftsure - is said to have been used by Napoleon to escape his exile from Elba, an island off Italy. He sailed to France, confronted the soldiers of King Louis XVIII and forced the king into exile. The ship was captured by England after the battle of Waterloo and put to sail on the England-Australia shipping route. It is believed to have sunk after hitting a coral reef en route from Sydney to Mauritius in 1829.
Latest in airport security - sniffer rats!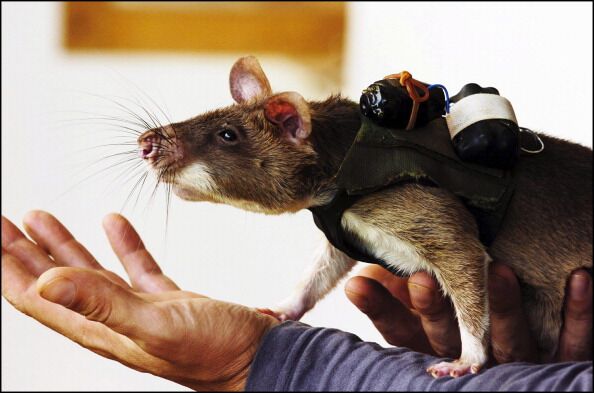 Are we getting more paranoid or is airport security actually getting better? After body scanners, sniffer dogs and patdowns at airports, say hello to sniffer rats. Israeli security firm BioExplorers has developed a bomb-detecting device using mice. The device looks like a metal detector and has concealed cartridges, each of which house eight specially-trained mice. The mice work four-hour shifts, sniffing air pumped in from outside. When they pick up traces of explosives or drugs, they flee to a side chamber, triggering an alarm.
Scientists believe mice are more adept at sniffing than dogs, with 1,120 genes related to sniffing as against 756 in dogs. Also, unlike sniffer dogs, they do not require constant interaction with their trainers to stay motivated. These rat-based devices will likely be cheaper than body scanners and are expected to be on the market by the end of this year.
There will be an extra second to one minute on June 30
Thanks to the weird event called leap second, the world will experience a minute that will last 61 seconds at 23:59 Greenwich Mean Time (GMT) on June 30.
This is in fact the moment when timekeepers adjust high-precision clocks so that they are in sync with the Earth's rotation, which is affected by the gravitational tug of the Sun and the Moon. It might not be a big deal for us but for horologists - those who study the science of measuring time - it is serious consideration whether that extra second is vital or can be scrapped.
To be clear, the leap second is not something that needs to be added to that old clock on your mantelpiece. There have been 25 occasions since 1971 when the leap second was added to the 'world clock', as it were, in an effort to simplify Coordinated Universal Time (UTC), the official moniker for GMT.
Airtel 4G trial to begin in Delhi on 18 June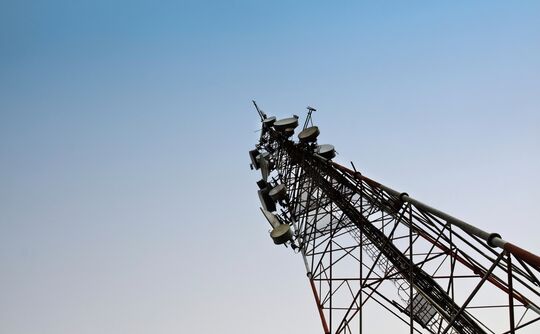 India's largest telecom service provider, Bharti Airtel, will commence trials of its 4G services in Delhi from 18 June. The company has already set up the network in the capital and has intimated customers about the availability of 4G SIM cards. Reliance Jio Infocomm is also rolling out 4G services across the country by December this year.
Airtel first launched 4G services in 2012 in Kolkata. The services are now available in Bengaluru, Chennai, Pune, Amritsar and Chandigarh. Apart from Airtel and Reliance Jio, Aircel has also already launched LTE services in limited parts of the country.
Special forces officer brags about Myanmar ops, courts trouble
According to sources, action is being taken against a subedar in the Indian army who was interviewed by a leading South Indian daily about covert Myanmar operations. Subedar Raghupathi UM from 21 Parachute Regiment (SF), claimed in an interview to Deccan Chronicle to be part of the operation against terrorists responsible for the 4 June attack against Indian army soldiers. He claimed that 50 terrorists were neutralised in the operations. Sources in the army say that the subedar 's Commanding Officer is being questioned. The army has refused to acknowledge or deny Raghupathi's statements.
360-degree profiling of all taxpayers soon, evaders to be targeted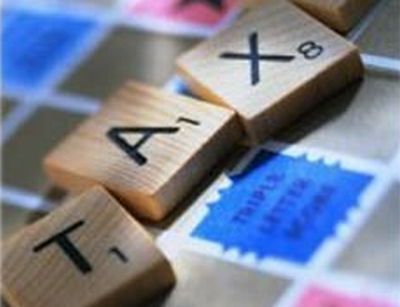 The Central Board of Direct Taxes (CBDT) will soon come up with a single-window financial information database that will do a '360-degree' profiling of all income-tax payers.The new system - called Income-Tax Business Application - will be completely rolled out by 2016. All information acquired will be available to assessing officers to see when a case is selected for scrutiny.
According to CBDT Chairperson Anita Kapur, the income tax department plans to go harsh on tax evaders with the move."We try to ensure that our tax regime remains non-intrusive... but there are certain people or cases against whom intrusive action is required. Collection should be taken to a logical conclusion, which is that an evader not only pays penalty (on the tax evaded) but is also prosecuted," Kapur said.