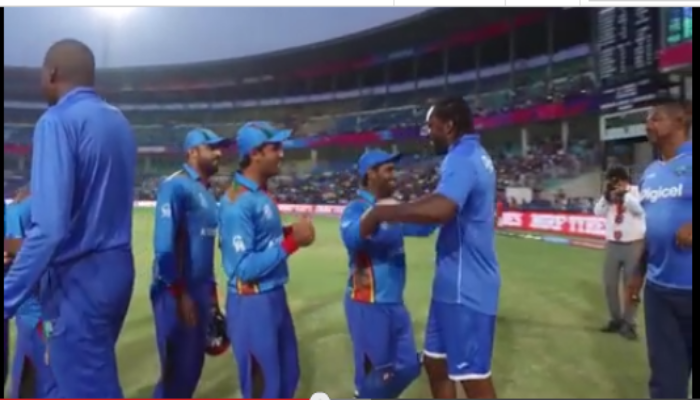 Yeah, yeah, we know. The Indian team is out of the tournament.
But that can't stop cricket fans in the country from jumping into all the excitement that surrounds this World T20 Cup. And the big party calls for a timely flashback.
Because as far as viral videos go, these T20 delights are top of their game.
From MS Dhoni's fun filled press conference to the victory dance of the West Indies team, relive all the action here:
MS Dhoni and reporter part I
What are the chances of captain cool Dhoni losing his temper? Close to none apparently.
However, in a rare moment of general humanness Dhoni actually lost his temper over a reporter. After clinching a nail-biting victory against Bangladesh, Dhoni was asked by a reporter if he was satisfied with the team's performance. Dhoni immediately lashed out at the journo and said it seems you are not happy with the victory. Burn.
MS Dhoni and reporter part II
This time, Dhoni had it all together. Australian journalist, Sam Ferris, suddenly popped a question about his retirement at a post match press conference after India's semi final loss to West Indies.
Ferris asked Dhoni about his retirement plan. And in response, Dhoni asked the scribe to join him on the stage, where he then turned the wheels on Ferris and asked him his own set of questions. "Don't you think I am fit?" Dhoni asked him. "Do you think I will be able to survive till World Cup 2019?" he questioned.
When Ferris muttered a "Yes", an elated Dhoni said, there, that's your answer.
West Indies victory celebration
Shattering millions of desi hearts, the West Indies cricket team beat India in the T20 World Cup semi-finals at the Wankhede Stadium on 31 March.
Sure, there were no fire crackers being burst across India, but the Caribbeans weren't ones to keep themselves from celebrating their well deserved win. Ascending from the team bus after their monumental win, the Windies grooved all the way to their hotel, speakers in hand.
Don't be surprised if you find yourself dancing the victory dance after this one.
Chris Gayle dancing with Afghanistan
West Indies lost just one match in the tournament, and that too against underdogs Afghanistan. Caribbean opener Chris Gayle sportingly participated in the Afghan team's celebrations by wearing their team jersey and grooving Windies style.
Shoaib Akhtar vs anchor
The match between India and Pakistan is always a battle, of both bats and wits, and so far history has favored India in the World cup clashes. Former Pakistan player Shoaib Akhtar lost his cool at a TV show after he was asked about the same. Akthar asked the anchor to be respectful.