Have a few days off and desperately looking to go on a vacation? Here are a few options that the brow-beaten Delhi folks could escape to on a weekend.
1. Hans Resort, Rewari

This is perfect for a corporate retreat. Far from the maddening crowd, the view is spectacular and with a bar, pool, gym et al, it makes for a lovely place to unwind.
Address: 91, Milestone,On Delhi-Jaipur Highway, Near Kosola Chowk, Rewari - 123401, Haryana
Distance from Delhi: 84.6 kms via NH 8
What to do: Eat, sleep, party, be merry.
Total property area: 3 kms
Cost: Rs 2,832 - 5,866 (for a standard room)
Contact: 01274-266616, 011-26677103
Website: www.hansresorts.com
2. Lebua Lodge at Amer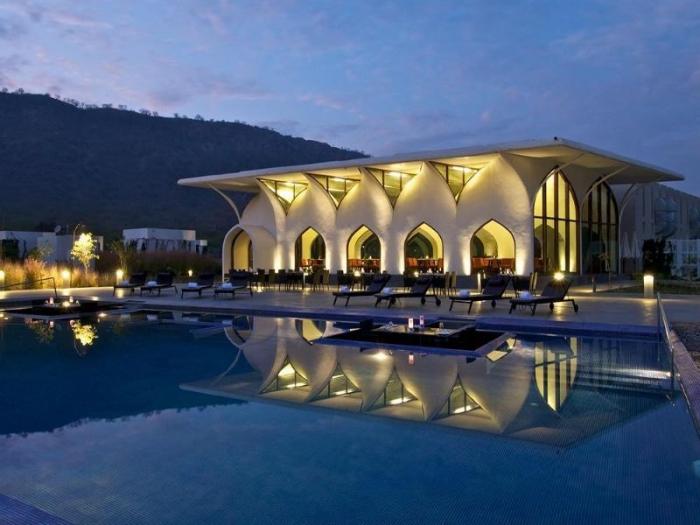 Managed by L'occitane, Lebua Lodge Resort's spa is a memorable affair. If a relaxing weekend after the bustle of city life is what you're looking for, you need not look any further. Nestled in a lush green jungle, Amer Fort is barely 8 kms from the resort. The accommodation is camp-style, with luxury tents.
Address: Kunda, NH-8, Tehsil Amber, District Jaipur - 302028, Rajasthan
Distance from Delhi: 248 kms
Distance from Jaipur: 15 kms
What to do: Visit the Fort of Amer, indulge in camel rides, nature walks, hikes, or just a date at the spa.
Cost: Rs 4,787 - 16,249 ( for a standard room)
Contact: +91 141 3057211, +91 141 4157211, +91 141 3057357
Website: http://www.lebua.com/lebua-lodge-amer
3. ITC Grand Bharat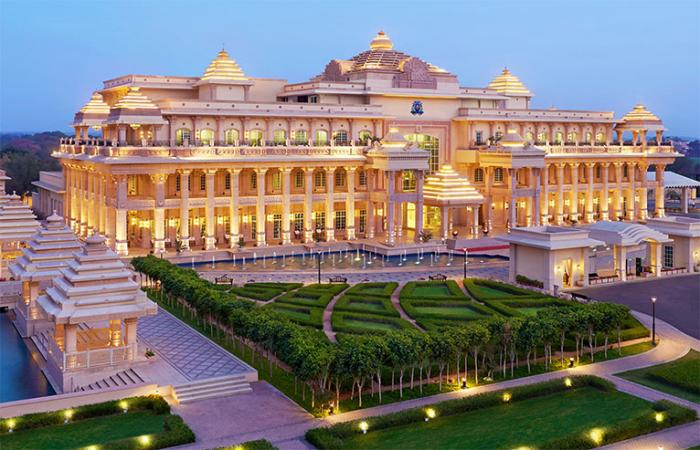 For the golfers, for the exhausted city dweller, and for those who just need time off - ITC Grand Bharat may just be the place. It looks like a Rajasthani palace, and it certainly has the requisite services to make you feel like royalty. This gorgeous five-star property requires a pretty deep pocket though.
Address: Hasanpur, Tauru, Mewat District, Gurgaon - 122105, Haryana
Distance from Delhi: 48.7 kms via NH8
What to do: Play golf, rappel, segway, hikes, rock climbing, volleyball, tennis, squash/volley ball, badminton, nature walks, zorbing, and even mountain biking. For birding enthusiasts, there's plenty to see here. You could also just laze around the pool with a glass of whatever-rocks-your-boat, if you so wish.
Total property area: 1.2 square kms
Cost: Rs 22,519 - 32,430 (for a standard room) , Rs 50,000 and above for rooms with a terrace.
Contact: 1-800-102-2333, 01267-285500
Website: www.itchotels.in/itcgrandbharat
4.The Tree House Resort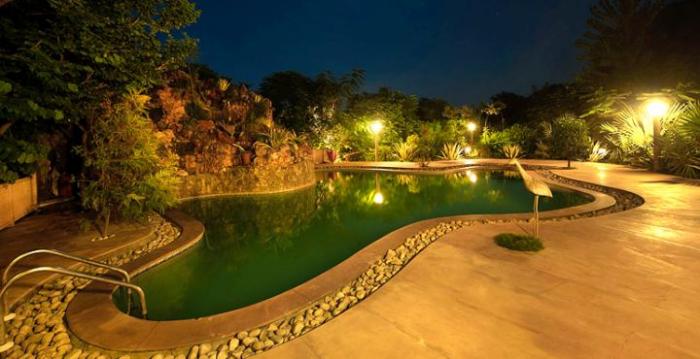 This isn't your typical spa cum resort. This resort will give you jungle vibes while still being luxurious enough to make you feel pampered. Trees, trees everywhere, with a spa here and a gym there and food and drinks to go with it.
Address: Nature Farms, Opp Amity University, 35th Kilometer stone, NH-8, Jaipur
Distance from Delhi: 7.3 kms via Shankar Road
What to do: Relax and catch up on beauty sleep, lounge in the spa or go visit the nearby Nahargarh Tiger Fort and Amber Fort.
Cost: Rs 15,508 - 27,712 (for a standard room)
Contact: +91-9001797422 / +91-9799490390
Website: http://www.treehouseresort.in
5. Kikar Lodge Resort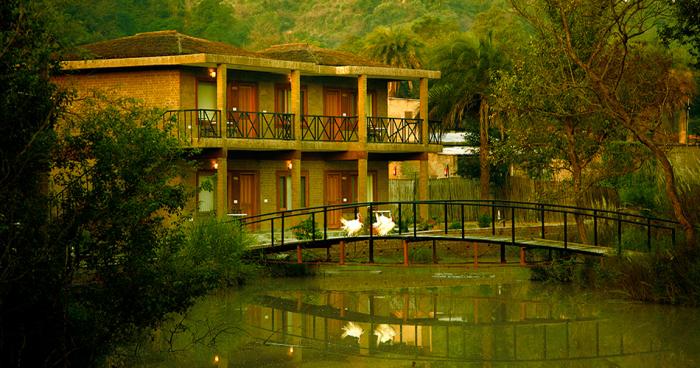 Kikar Lodge is drop dead gorgeous, there's no other way to describe it. The Lodge is nestled in the hills of Punjab, and has every amenity you'd expect in an adventure camp as well as a five-star resort.
Address: Kangar village, Nurpur Bedi, District Ropar - 140117, Punjab
Distance from Delhi: 315 kms via NH1
What to do: You can go bird-watching, zipping, zorbing, on horse safaris, play paintball, or just laze around. The hotel provides plenty of indoor and outdoor activities for a fee.
Total property area: 7.2 sq kms
Cost: Rs 9,103 - Rs 11,867 (for a standard room)
Contact: +91 9478964971, 01887 251001
Website: www.thekikarlodge.com/
--
Edited by Abha Srivastava