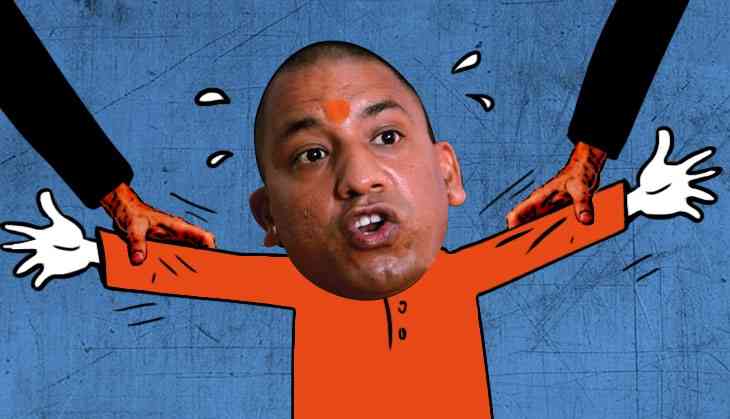 It is said that in Gorakhpur, Yogi Adityanath does caste politics for four years and ten months and plays the Hindutva card two months before elections. This doesn't work all the time. This time, his own proteges have pulled the rug from under his feet. And this has put the Yogi on a sticky wicket.
"This election will decide Adityanath's stature within the BJP," says a political observer, who wanted to remain anonymous, lest he gets harassed by the Yogi's Hindu Yuva Vahini.
Despite the BJP's desperate efforts, the Hindu Yuva Vahini has fielded candidates in 14 seats in Gorakhpur and Basti divisions. In six seats, they are supporting rebel candidates. Rebels have also made matters difficult for BJP. In eight seats spread across four districts in the Gorakhpur division, the BJP isn't just up against the Samajwadi Party-Congress combine and BSP but also against its own rebels. This is obviously harming its prospects. By failing to withdraw their nominations before the last date, these rebels have disturbed the BJP's calculations in the sixth phase of polling on 4 March.
Yogi Adityanath has appealed to the rebels to withdraw their candidature but that did not happen. In retaliation, Adityanath issued a diktat removing the Vahini's state unit chief Sunil Singh in addition to several other office bearers.
Sunil Singh's response to the Yogi's directive bordered on rebellion. "I'm the Vahini's state unit chief. It is a registered political organisation, with a constitution. There are procedures for the removal of senior office bearers. It can't be done through a mere press note. Several senior office bearers such as the general secretary are campaigning along with me in the elections," Singh told Catch.
What does the Hindu Yuva Vahini stand for?
There are two elements to the Yuva Vahini's politics – Hindutva and caste politics. The latter is largely about Adityanath's promotion of Thakur politics in the area.
From top to bottom, the Yuva Vahini is dominated by Thakurs. Ever since it came into existence in 2002, the Vahini has consistently been flexing its muscle in the time of elections. Adityanath has even used it as a blackmailing tool with the BJP, for instance to secure more tickets for his supporters. But his success has been limited and it also harmed his credibility.
The political ambition of the Yuva Vahini members rears its head time and again, only to be suppressed by Adityanath under the party's pressure. This has added to the discontent within the Vahini against its founder.
Sunil Singh says, "Yogiji is our leader. The Vahini was formed because he was being insulted within the BJP. In 2002, our candidate defeated BJP candidate Radha Mohan Agrawal from the Gorakhpur Sadar seat. Now we don't know what black magic the BJP has done over Yogiji".
The BJP's "insult" of Adityanath is a common perception in the Vahini and Singh claims even Yogi admits it in private. For instance, Manoj Tiwari – who contested against Adityanath on an SP ticket in 2009 and lost – is now the chief of the BJP's Delhi unit. Several leaders, much junior to Adityanath, have been rewarded with ministerial berths in the Modi government. But the five time MP from Gorakhpur has been left out.
According to Singh, "Yogiji works to unite Hindus and the BJP rules on the basis of the votes he brings. The Vahini was formed in opposition to the BJP. We don't know what pressure Yogiji is now under".
"He is our guru, but he will have to break away from the BJP," he added.
BJP's woes: rebels and renegades
On the other side, the BJP is facing trouble from its rebels as well. The party leadership has axed half a dozen leaders who violated its diktat. This includes candidates from Padrauna, Siswa and Shauhratgarh.
The discontent with BJP's ticket distribution was visible even earlier. This is largely because of the BJP allocating tickets to turncoats who recently joined the party.
To add to the party's woes, the Hindu Yuva Vahini has fielded candidates in 14 constituencies and given support to rebels in six other seats.
Till the last moment, the BJP tried to win over the rebels, but in vain. BJP national president Amit Shah, UP in-charge Om Mathur, state unit chief Keshav Maurya reached out to the rebels in person but most of them didn't agree. Some did withdraw, such as Ashwini Tripathi who was contesting from the Sahajanwa seat in Gorakhpur. The son of former minister Deepak Mishra also withdrew from the Barhaj seat.
But the leadership wasn't able to win over Nand Kishore Mishra and Shrikant Mishra in the Tamkuhi seat in Kushinagar. Both are fighting the elections in full force. In the Padrauna seat, former MP Ramnagina Mishra's son Parshuram Mishra and Hindu Yuva Vahini leader Pappu Pandey are in the fray. In Khadda, Yuva Vahini's Ajay Govind Rao Shishu is fighting as a rebel. This list is a long one.
BJP rebels:
Campierganj: Gorakh Singh
Pipraich: Anita Jaiswal
Nautanwa: Sadamohan Upadhyay
Tamkuhi: Nandkishore Mishra and Shrikant Mishra
Khalilabad: Ganga Singh Saithwar
Padrauna: Parshuram Mishra
Siswa: RK Mishra
Shauhratgarh: Radha Mohan Tripathi
Hindu Yuva Vahini candidates
Gonda Sadar: Mahesh Tiwari
Basti Sadar: Sudha Ojha
Chauri Chaura: Virendra Tiwari
Farendra: Jitendra Sharma
Paniara: Shyam Sunder Das
Khadda: Ajay Govind Rao Shishu
Padrauna: Ajay Kumar Pandey alias Pappu Pandey
Hata:Brijmohan Verma alias Kavi Ji
Rampur Karkhana: Anand Shahi
Madhuban: Devendra Singh Parihar
Edited and translated by Aditya Menon.