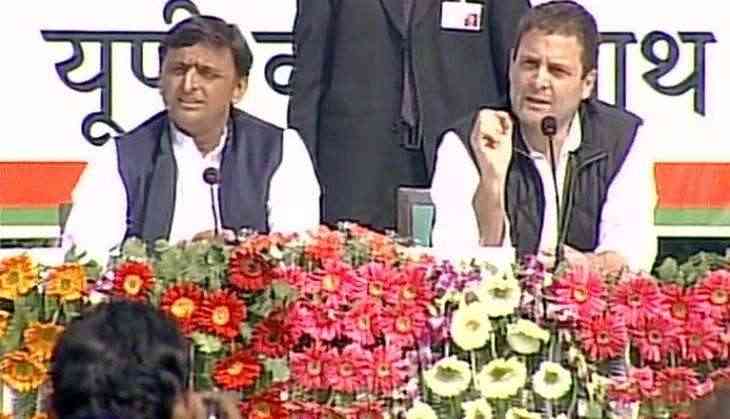 Counter-attacking Prime Minister Narendra Modi over his 'google' jibe, Congress vice-president Rahul Gandhi on Saturday said the Prime Minister loves surfing on Google, reading horoscopes and peeping into people's bathrooms.
Continuing his tirade against Prime Minister Modi, Gandhi said the former resorts to the strategy of 'distraction' when he does not have answers to questions.
"Narendra Modi's strategy is distraction...He uses this strategy when he doesn't have answers. Modi ji has failed cent percent in the past 2.5 years," Rahul Gandhi told media while launching Common Minimum Programme here.
Condemning the Prime Minister for not fulfilling his promises, Gandhi said, "Prime Minister Modi promised employment to two crore people every year. Not even percent has been accomplished."
Refuting the speculations of any rift between the Samajwadi Party (SP) and Congress, Gandhi asserted both the parties are coordinating with each other.
"Saying that there is no coordination in alliance is absolutely wrong," he said.
"SP-Congress is an alliance between two youngsters, ideas. We have come here to transform UP. We will make sure, 5 years from today UP is fundamentally transformed," he added.
The Congress vice-president assured that they will develop Uttar Pradesh and bring about a change in the state.
"We want a government of youth must come to power in UP. The 10 points that we have put forward are the foundation of UP's development," he said.
Rahul Gandhi and Uttar Pradesh Chief Minister Akhilesh Yadav today launched the SP Congress alliance's Common Minimum Programme.
The programme that includes ten points of commitment to the people of Uttar Pradesh, enlists promises such as free smart phones to youth, employment to 20 lakh youth, loan waiver to farmers, reduction of power tariff, pension schemes for poor, better infrastructure, cycle to girls who will fall under merit list, 33 percent reservation to women in government jobs, free residence to Dalits and backward class poor.
Voting in Uttar Pradesh will be done in seven phases - February 11, 15, 19, 23, 27, March 4 and 8. The counting of votes will take place on March 11.
--ANI