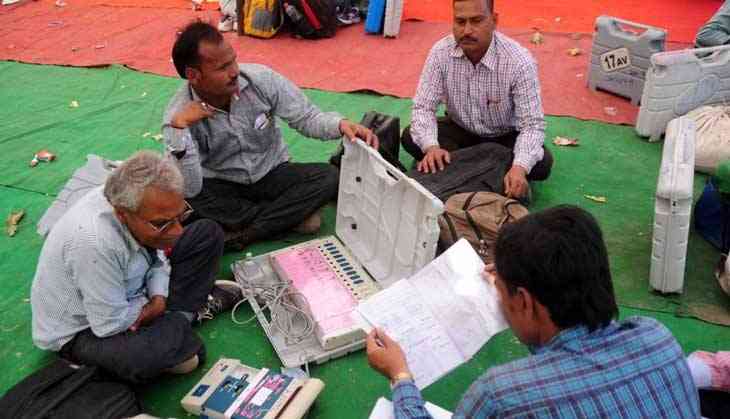 Call it a case of sour grapes or the shock of an unexpectedly heavy drubbing: the BJP's rivals are starting to blame their defeat on "tampering of Electronic Voting Machines".
BSP chief Mayawati was the first to raise the bogey, claiming it "looks like" the EVMs didn't accept votes from any party other than the BJP. Addressing the media after it became clear that the BJP was heading towards a landslide in both states where the BSP is a key player, Uttar Pradesh and Uttarakhand, she alleged, "Either the EVMs did not accept votes other than for the BJP, or the votes of other parties have gone to the BJP through the EVMs."
Mayawati went to the extent of demanding re-polling "with ballot paper and not EVMs".
To support of her allegation, Mayawati claimed that most votes in even Muslim-majority constituencies in Uttar Pradesh have gone to the BJP, "which makes it evident that voting machines were manipulated".
I have written to Election Commission in this regard, people no more have faith in EVM machines: Mayawati,BSP #ElectionResults pic.twitter.com/3EkbRZHf8h

— ANI UP (@ANINewsUP) March 11, 2017
Although the Congress did not officially support Mayawati's demand, its UP chief Raj Babbar told a TV news channel that he too suspected tampering of the EVMs.
Separately, outgoing Uttarakhand chief minister Harish Rawat also hinted that he suspected EVM tampering. In the same breath, however, he thanked EC officials for conducting a fair election.
#ResultsWithNDTV | I also want to congratulate 'Modi kranti' and 'EVM chamatkar', says @harishrawatcmuk pic.twitter.com/2x2uK2FBhp

— NDTV (@ndtv) March 11, 2017
Sources in the Samajwadi Party told Catch that they were contemplating raising the issue as well. This leaves only the Aam Aadmi Party among the major contenders to not complain about EVM tampering, although faulty EVMs and snags in Voter Verifiable Paper Audit Trail machines had been reported in Punjab. On voting day, the state election office got complaints about 150 EVMs not functioning properly in various constituencies.
On 14 February, a delegation of AAP leaders led by Delhi's Deputy Chief Minister Manish Sisodia met the Chief Election Commissioner to press for enquiry into alleged breach of security of EVMs kept in strongrooms in Punjab.
The EC first experimented with EVMs in November 1998, using them in 16 assembly seats across Madhya Pradesh, Rajasthan and Delhi. The machines, manufactured in 1989-90, had been designed by the EC in collaboration with the publicly-owned Bharat Electronics and Electronic Corporation of India.
Claims about the vulnerabilities of EVMs have been made earlier as well. Several petitions have been filed in courts pertaining to the issue. One such plea by the then Janata Party chief Subramanian Swamy eventually led the Supreme Court to order the introduction of paper trails in EVMs. The paper trail, according to the SC, "is an indispensable requirement of free, fair and transparent" elections.