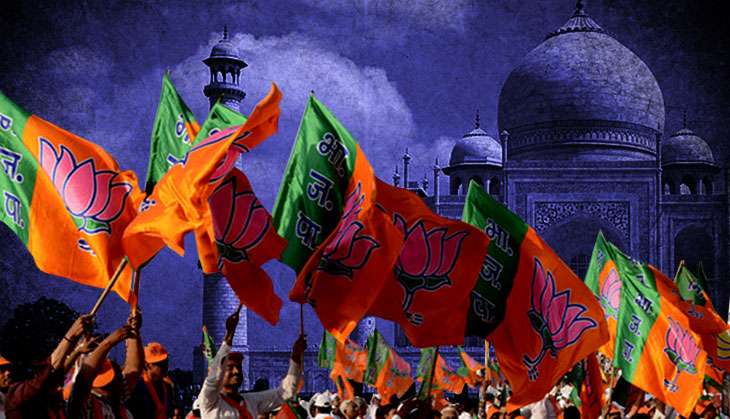 On 11 February, Agra goes to the polls in the first phase of the Uttar Pradesh Assembly elections. The campaign has come to an end, and voters seem to have largely made up their minds about whom to vote for.
And the city of the Taj Mahal seems to be riding on a saffron wave.
Agra district is home to nine Vidhan Sabha constituencies - Etmadpur, Agra Cantt (SC), Agra South, Agra North, Agra Rural (SC), Fatehpur Sikri, Kheragarh, Fatehabad and Bah.
Six of these seats had sitting Bahujan Samaj Party (BSP) MLAs, two had elected the Bharatiya Janata Party (BJP) in 2012, while only one had a Samajwadi Party (SP) representative.
This time around, though, it looks like the BJP is far ahead in terms of popularity. And it doesn't stem from political or ideological affinity either - people seem to be fed up of the SP's rule.
The biggest issue seems to be lawlessness, while some merely feel that it's high time the BJP came to power - after decades of alternating between Mayawati's BSP and Mulayam Singh Yadav's (and now Akhilesh Yadav's) SP.
In the 2014 Lok Sabha elections, BJP candidates Ram Shankar Katheria and Chaudhary Babulal had won from Agra and Fatehpur Sikri respectively - the two Lok Sabha seats in the district.
Key issues
Raju Jain, a leather factory worker in Agra, says that lawlessness is a big problem in Uttar Pradesh. "Safety for women is a big issue. Women are harassed in broad daylight. We hear of rape cases every day. The government hasn't done anything to better the lawless situation. BJP will fare much better in UP," he believes.
Raees Khan, a local business owner in Mantola, feels that in spite of demonetisation and the hardships it brought, the BJP will be good for the state. "So what if I am a Muslim? Religion is my choice. I don't vote on the basis of religion. I feel Narendra Modi is doing a good job in the country and I would want him to come to power in Uttar Pradesh as well."
Agra is an industrial city, and most of the firms here are public sector undertakings. Employment is a big issue that people want addressed.
According to a report in the Economic Times, thousands of people have moved out of Agra in search of work, since it has almost zero opportunities in the service sector, and even for unskilled labour.
Many believe that the BJP will be able to end the problem of unemployment. Raees, for one, believes that Narendra Modi will make of Uttar Pradesh what he made of Gujarat. "Gujarat has prospered so much under Modi ji, we want him to come to UP, and make it prosper too. It is why we need to vote for Modi ji."
The division among Muslims
About 18% of Uttar Pradesh's population is Muslim, and a large chunk of them live in the western part of the state, where the first few phases of voting are to take place. Needless to say, which way the Muslims vote will play a huge part in deciding who wins UP.
Over the last quarter of a century, Muslims have remained firmly in the SP camp, and some in Agra are still of the opinion that Akhilesh deserves their vote, given his clean image and focus on development.
However, there are many others who have changed their minds about the SP, and blame it directly for the lack of justice in the aftermath of the Muzaffarnagar riots and Mohammad Akhlaq's lynching in Dadri.
Feroz Khan, a Muslim resident of Itimad-Ud-Daulah in Agra, says: "Akhilesh Yadav is anti-minorities. The SP government has done nothing to protect us. We will not vote for the SP-Congress alliance. Our vote is with Behenji (Mayawati)."
In August 2016, Muslim residents from Itimad-Ud-Daulah accused SP-backed land grabbers of pressuring them to sell their property. They accused the administration and the police of doing nothing to prevent the land grabbers from harassing them.
Feroz claims that several people have already moved out of Itimad-Ud-Daulah and many more would follow.
In Agra South, a constituency that was tense after the murder of Vishwa Hindu Parishad leader Arun Mahor in 2015, the SP-Congress alliance and the BSP have again fielded Muslim candidates, while the BJP has renominated its sitting MLA Yogendra Upadhyay, a Brahmin, who gained from a divide in the Muslim vote last time.
The population of the constituency includes an estimated 23% Muslims and 17% Dalits, while the BJP will be looking at a consolidation of the 58% Hindu vote.
Among rival parties, the BSP is awake to the prospect of the Muslim vote getting divided once again. At every rally around the state, BSP supremo Mayawati has warned Muslims not to 'waste' their votes on the Samajwadi Party.
What women want
In 2012, for the first time, the female voter turnout in the state was higher than males. In Agra district, there was a 23% increase in female voters, which is likely to grow further this time around.
It is here that the SP might be able to claw back some lost ground, because the women of Agra simply can't stop talking about the charm of 'Akhilesh ki gharwali', the CM's wife Dimple Yadav. Dimple's rally at the Ramlila Ground in Jaitpur Kalan last Wednesday attracted hordes of women and girls from across the district. In all, Dimple campaigned for the SP's three women candidates in the Agra district, and each of the three venues saw good turnouts.
Bharati Yadav, a college student in Agra, says she will vote for the SP because of Dimple. "I wish Rahul Gandhi had a wife as pretty as Dimple," she says.
Meanwhile, some women who used to be BJP voters have turned away because of how demonetisation has impacted their families.
Sheela Devi of Manola says: "We are a Hindu family which has voted for the BJP in the past. But demonetisation left my husband and two sons out of work. They work as labourers in the leather industry. This time, I will not vote for BJP."
All in all, while the BJP seems to have the edge across the board, there are a couple of other key factors that could take Agra district out of the saffron party's hands - namely the division of Muslim and women's votes. And that's going to make this an interesting battle to watch out for.
Edited by Shreyas Sharma