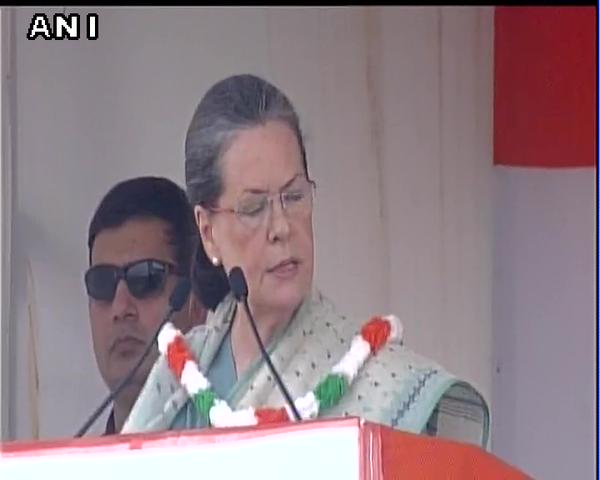 Two weeks after Prime Minister Narendra visited the Sivagiri Mutt and paid homage at the samadhi of social reformer Sree Narayana Guru, Congress President Sonia Gandhi used the same podium to launch a veiled attack at the BJP-led NDA Government at the Centre.
Congress president Sonia Gandhi on Wednesday urged the people to fight against communal forces using Sree Narayana Guru's teaching and said there is a need to eliminate caste discrimination in the country.
The Congress president praised Sree Narayana Guru at the inauguration of annual pilgrimage at Sivagiri Mutt in Kerala.
"It is for us to work hard to eliminate discrimination in our country. We must work hard to ensure that we fully eliminate caste discrimination in our country," said Gandhi in her address.
Gandhi said there can be no more betrayal of Sree Narayana Guru's beliefs than attempts to capture his ideology by those who spread bigotry.
The Congress president further said that Sree Narayana Guru convened the first religious parliament of century in Asia, which was attended by leaders from all religions in Aluva in February 1924.
"Mahatma Gandhi, who also worked for social equality, visited Sivagiri in 1925, discussed caste system with Sree Narayana Guru. Tagore was also a great admirer of Sree Narayana Guru; Nehru, Indira Gandhi were impressed by his personality," she added.
Gandhi pointed out that spirituality meant service of poor and welfare of all humanity for Sree Narayana Guru
"We have to ask ourselves if we have achieved the social reform Sree Narayana Guru wanted," she added.
The Congress president is set to visit the campus of Rajiv Gandhi Institute of Technology (RIT) to be a part of its silver jubilee function.
Sivagiri Mutt will see another high profile visitor today in CPI(M)'s Sitaram Yechury. The reason the place has become a political hot spot is because the Mutt is a major spiritual-cum-pilgrim centre of the backward Ezhava community in Kerala. Ezhava community is the single biggest Hindu community in the state constituting 20 per cent of the population in the state. All the three major parties Congress, BJP and CPM are trying to reach out to the community before the Assembly Elections in 2016.
(With inputs from ANI)