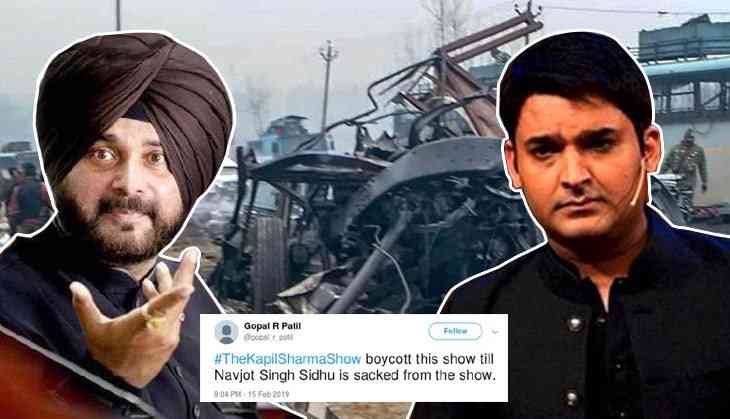 People across the country and beyond are expressing their grief and anger over the deadliest terror attack in Kashmir's Pulwama on Thursday, in which over 40 CRPF men were killed. From celebrities to politicians, all came ahead to pay their condolence on the incident. However, Congress MP from Punjab, Navjot Singh Sidhu has landed into controversy for his controversial comment on Pulwama attack, in which Kapil Sharma is also dragged in.
Following Punjab minister's comment on the recent terror attack in Jammu and Kashmir's Pulwama, in which 40 CRPF soldiers were killed, Boycott #KapilSharmaShow is trending on Twitter. Notably, Punjab Minister Navjot Singh Sidhu is also a member of The Kapil Sharma Show.
On Friday, condemning the attack, he said, "For a handful of people, can you blame the entire nation and can you blame an individual?" news agency PTI reports. "It (the attack) is a cowardly act and I condemn it firmly. Violence is always condemnable and those who did it must be punished," he added.
Congress Minister's statement irked a fresh controversy on social media and Navjot Singh Sidhu and Kapil Sharma is currently trending on Twitter. Netizens on social media are tweeting about boycotting Kapil Sharma's show until Navjot Singh Sidhu is removed.
One of the users tweeted, "Kapil Sharma, remove Sidhu from your show or we will boycott The Kapil Sharma Show." "We all must boycott Kapil Sharma's show as long as Sidhu is there," read another tweet.
Here are some tweets:
@SonyTV @KapilSharmaK9 We request you to expel @sherryontopp from The Kapil Sharma Show & show courtesy to nation where you earn revenue. Removing him would be great tribute to our martyrs of Pulwama,else we would boycott this show henceforth "Kapil Sharma"

— Hitesh Vyas (@vyashit) February 15, 2019
@KapilSharmaK9 remove @sherryontopp from your show. Or we will boycott #TheKapilSharmaShow . I request everyone to start campaign against Siddhu and against The Kapil Sharma Show. @SonyTV

— chandan kumar (@krchandan20) February 15, 2019
Throw Out Sidhu From The Kapil Sharma Show Or Els We #Boycott The Kapil Sharma Show..!!@SonyTV @KapilSharmaK9

— Soumya Roy (@SamRoy_) February 15, 2019
Reacting over one of the deadliest terror attack on security personnel in decades, Prime Minister Narendra Modi said that those responsible for the attack will pay a 'very heavy price.
"Security forces have been given complete freedom, the blood of the people is boiling... Our neighbouring country, which has been isolated internationally, thinks such terror attacks can destabilise us, but their plans will not materialise. My condolences to families of those martyred in Pulwama attack, those behind the terror strike will pay a very heavy price," PM Modi said at an event in Delhi, reports PTI.
Also read: Pulwama Attack: 'Papa is on duty,' says five-year-old son of CRPF jawan killed in the deadly terror attack!