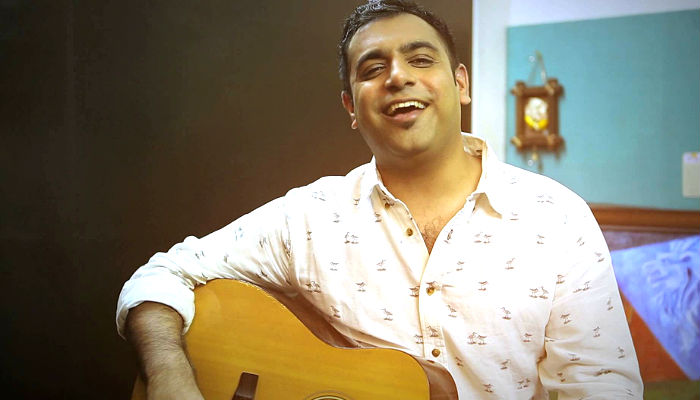 There are many facets of the Indian music industry that are still unknown. Partly because even though it is a part of Bollywood, it doesn't have enough glamour associated with it. However, music director Rochak Kohli feels otherwise.
Kohli, who is known for his compositions in films like Vicky Donor, and Bewakoofiyaan, also recently curated Atrangi Yaariyan for Vidhu Vinod Chopra's Wazir. And he certainly is of the opinion that mixing star aura with music is actually helping the music industry to flourish and see greater growth curves. Catch interacted with Rochak Kohli recently and a discussion about promoting independent artists, latest musicial trends in the industry and music in general, went on. Excerpts from the interview are as follows:
How difficult was it to bring Mr Amitabh Bachchan and Farhan Akhtar on board together for the song? How did the idea behind Atrangi Yaari get conceptualised?
It wasn't difficult because Atrangi is a very good song. And it gets along with the concept of the film. Wazir is about the friendship between a young cop (Farhan Akhtar) and an old wheel-chair driven man who's a very good chess player (Amitabh Bachchan). So this unusual friendship between the two is Atrangi Yaari and this was the only brief given to us.
Also, our challenge was to make it appealing for everybody. Friendship is an emotion and everybody should connect to it. In fact, when we had prepared the song, Mr Bachchan himself said that he would like to sing it.
So, what does this song add to the film?
First, it's not just a promotional song but it is a part of the film. So one will see that it actually fills the gap of conversation between Mr Bachchan and Farhan (Akhtar). Even when there are no dialogues and they are trying to communicate through emotions, the song narrates everything.
What's your take on the trend of independent music videos coming back to mainstream? Is it good or bad for the music industry?
It's actually a progressive thing for the music industry. Because with this trend, an individual identity is being given to a piece of music. They are no more just part of a Bollywood film. One won't associate them with a certain film. Not just this, now there are multiple composers creating music for one film. This trend has also contributed a lot in making an individual identity of music. You don't need a film's name as a tag with its music.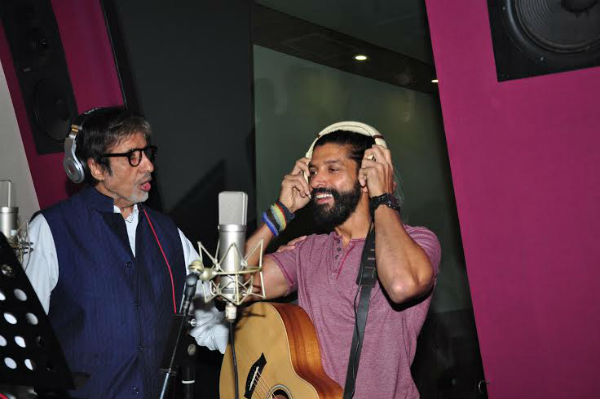 Multiple composers is surely a good trend, but what about multiple singers providing vocals for a single track? We see two versions of a song these days -- one sung by the singer and the other sung by the star. And the version sung by the star becomes so popular that it overshadows the other version. Don't you think it's unfair?
It does sometimes hamper the quality aspect of a composition. But, we'll have to accept that it's a business. You need to survive here, you need to differentiate yourselves from others and then of course, you have to make that song popular. However, every song is constructed in a certain way. There are a few things that only a professional singer can justify but some songs are so character driven that they sound better if the person playing that character sings it.
Also, it's not like that if a star is singing a song, it's less painful because all you want is that popularity driven by the aura of that star. There's a lot of hardwork that goes behind it. No star chooses a song if he/ she thinks that he/ she won't be able to justify it. For example, when Salman Khan sang Main Hoon Hero Tera for Hero, the entire team had to put in a lot of efforts along with Salman himself to make it a hit that it is today.
Most of your compositions in the past have been with Ayushmann Khurrana and people have liked them a lot. How is your chemistry with him?
Ayushmann is a multi-talented guy. Singing comes to him quite naturally. He doesn't need to put in any extra efforts to show that 'look I am a singer.' When he sings, he's not an actor who's singing but an artist who's singing.
Are there more musical projects lined-up with him?
Projects with Ayushmann just happen like that. Yes, we'll come up with more videos in future.
It's an industrial 'norm' that singers do not get paid, at least in Bollywood, because they anyways earn it by doing stage shows and giving out other performances once a song becomes hit. Is it true?
(Laughs). You know there are a number of singers in the industry. And every singer has to have a song in his hand. A song that he's known for. Agar gaana nahi hai to singer nahi hai. Talking about the norm, if a song becomes a hit, it becomes an identity of the singer who has sung it. Singer gets shows after that but a music composer does not. I don't think it makes sense to pay a singer at all.
But is it something which is official in the industry or something which is being carried like a legacy?
No, there's nothing official about it. As I said, it doesn't make sense to pay a singer. I'll explain. For instance, Tum Hi Ho from Aashiqui 2 made Arijit Singh a star overnight. Not that he didn't have talent before. But, that song made him get the kind of fame he deserved for his hard work since always.
Singers, here, or at least, the ones whom I've worked with have always been concerned about getting work and good work in the industry rather than money. Also, the most important thing for a singer should be that who's the composer, which banner is he singing for and making sure at his end that the song gets released. Because, 80 per cent of the songs don't even get released.
If we talk about independent music videos once again, a trend of recreating old Bollywood music and presenting it as one's own has been observed. Do you think it somewhere harms the creative aspect of music?
What I think is that for most of the new generation, even 90s is retro, leave the music of 70s and 80s. So, this trend actually helps us to make such people aware about the kind of music we've had. It's all about packaging an old wonderful thing in a way which is suitable to the 'new' people we are targeting. Having said that, I'd also say that this entire process of recreating old music has to be done with utmost care.
Letting down the ardent fans of that real old music with the modified versions should not be acceptable. It's actually a very difficult space to be in for everyone -- for a composer, banner, singer, and also the audiences.
Do you think that the essence of Bollywood award shows is not same now? If we talk about music being honoured, certainly there are awards for three people in a category which are more or less the same. For instance, Best Song (viewers' choice), Best song (critics' choice), Song of the Year et all. Is it justified? Hasn't this become like a business of pleasing everyone rather than honouring the best talent?
I think the industry has evolved a lot today. It has become really hard to honour one amongst all, because everybody is deserving. So, you've to find a way of honouring the vast talent that our industry has fortunately gotten today. But, one should just not honour an undeserving person. If four people have sung the four most popular songs of the year, why can't all four of them be honoured?