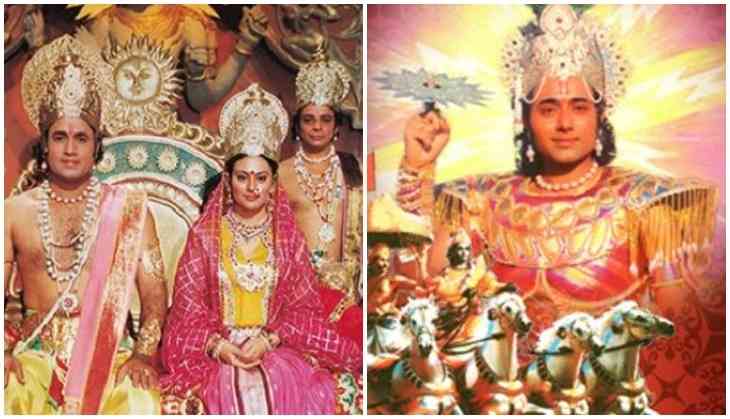 Ramayan, Mahabharat to re-telecast on DD National
As PM Modi has declared 21 days lockdown people are busily suggesting each other as to how to kill the time and what all shows to watch on OTT platforms. So, adding to your list DD National is coming back with its classic shows which is not just going to entertain you but will also educate you about Hindu mythology.
Confirming the news Prakash Javadekar took to his Twitter handle to announce that they are going to retelecast mythological shows Ramayan and Mahabharat from tomorrow i.e 28th March, on DD National. The show will telecast for one hour in the morning from 9 am to 10 am and one hour at night from 9 pm to 10 pm.
Also Read: Naagin 4: Dil Se Dil Tak 'jodi' Rashami Desai, Sidharth Shukla once again to share TV screen?
Happy to announce that on public demand, we are starting retelecast of 'Ramayana' from tomorrow, Saturday March 28 in DD National, One episode in morning 9 am to 10 am, another in the evening 9 pm to 10 pm.@narendramodi
@PIBIndia@DDNational

— Prakash Javadekar (@PrakashJavdekar) March 27, 2020
Well, the demand was made by a Twitter user who requested PM Narendra Modi and Prakash Javdekar to re-telecast the show as it will help people during the quarantine period. He wrote, "Dear @narendramodi ji @PrakashJavdekar ji Please consider asking DD, and advising other channels, to telecast Ramanand Sagar's Ramayana and B R Chopra's Mahabharata daily. Perhaps two episodes a day each. They acted as magnets in quarantining people back then. They still can."
Following this, another user wrote that these mythological shows would help reduce stress at a time when the normal life has become paralysed owing to the Coronavirus lockdown.
As soon as Prakash announced the good news netizens went berserk and started jumping in joy. they thanked the Minister for fulfiling their demands.
Also Read: Amid coronavirus outbreak, Kapil Sharma donates Rs 50 lakh to PM's relief fund
Thank you Sir for all your guidance and support in making this happen at this time https://t.co/Jz4LaGuMTJ

— Shashi Shekhar (@shashidigital) March 27, 2020
Well to refresh your memory then let us tell you that Ramanand Sagar's Ramayan telecasted on DD National from 1987-88. The show featured Arun Govil (Ram), Deepika Chikhalia (Sita), Arvind Trivedi (Raavan) and Dara Singh (Hanuman).
Whereas, BR Chopra's Mahabharat went on air on DD National from 1988-90. The show featured Nitish Bhardwaj (Krishna), Roopa Ganguly (Draupadi), Gajendra Chauhan, Praveen Kuma, Arjun, Sameer Chaitre and Sanjeev Chitre as Pandavar while Punit Issar as Duryodhana.
Also Read: Ranveer Singh's 83 likely to release on the day India lifted World Cup trophy 37 years ago