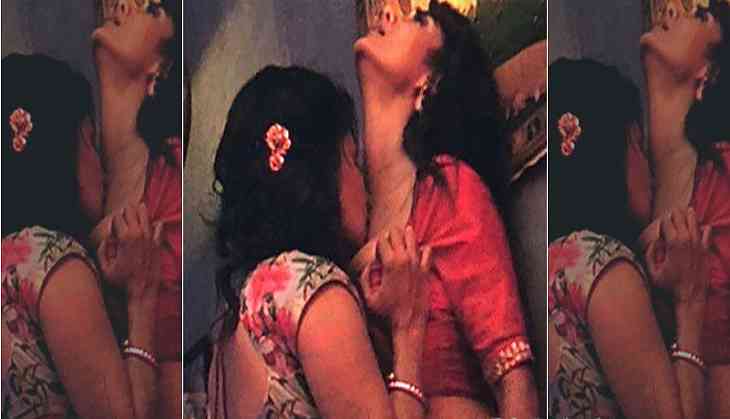 Ekta Kapoor is well known as a bold movie maker and on the digital platform too, she is creating shows that involve a lot of sensuality and sex appeal and some of them include XXX and Gandi Baat and the second season of the show is soon going to come up that will also have Stree actress Flora Saini. The show has a lot of sexual scenes in the show that will raise your eyebrows, one of which has gone viral.
The scene about which we are talking about is between Flora Saini and Anveshi Jain and it is the lesbian sex about which people have gone crazy. In one of the episodes of the show, Flora will be seen playing the role of a maid named Sajili who will have a fling with the brothers of the same house where she works but this scene that has gone viral is with Anveshi.
ALSO READ: Splitsvilla 11: And the winner of Sunny Leone, Ranvijay Singha's show is...
Flora as Stree
As per reports, it is being said that Flora will not only have a fling with the brothers but also with the maalkin (owner) of the house. In an earlier interview, Flora herself opened up about a very steamy scene in the show and we think this is that. Check out the video here:
ALSO READ: Manikarnika actress Ankita Lokhande is getting married to her rumoured boyfriend in 2019 after moving on from Sushant Singh Rajput
Talking about how she shot the scene, she said, "My director Sachin Mohite made me so comfortable. He strictly made sure that the set is locked. No one can enter while we are shooting. All monitors were kept off except the one which was kept in the room we were shooting. He made sure that it was placed in such a way that nobody can stand peeche and watch."
Further, she said, "Only girl crew was allowed on the set and the moment the scene got cut, they were also sent out. The USP of Gandii Baat is the subject is sensuality but you also have a story to it which has emotions. There are a lot of shows where they have shown scenes aesthetically but here we are showing and we are not showing also. And that's the beauty. But I will tell you something. I don't mind doing a nude scene also for Gandii Baat as the environment is such."
ALSO READ: Jab Neha Kakkar met Virat Kohli, you'll be shocked to know what happened!
For more details, stay tuned to us!