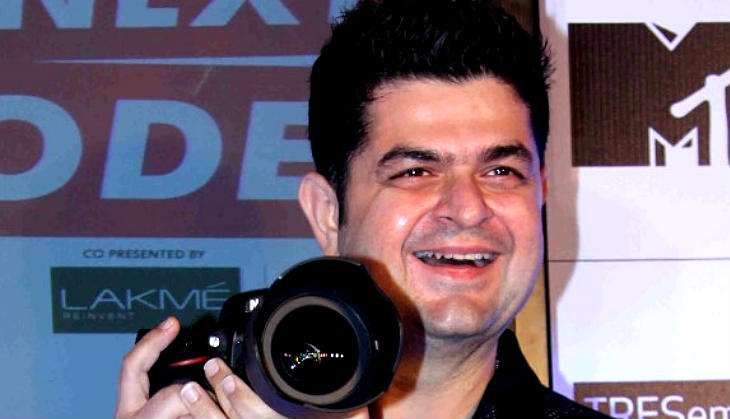 He's one of the most celebrated photographers in Bollywood and is famous for bringing out the most glamorous celebrity calendar every year.
Dabboo Ratnani is now gearing up for the second season of MTV show -- India's Next Top Model, where he is part of the judging panel that includes Lisa Haydon, Anusha Dandekar and Neeraj Gaba.
In a telephonic interview with Catch, Ratnani spoke about supermodels, the new show, his experience while shooting Bollywood superstars and the likes.
Excerpts from the interview:
What is the intent of the show? Do you think it'll provide the global recognition to the participants?
I think it'll give them national recognition. It's in its initial stage. It's India's Next Top Model. In our country, models don't know where to start from. It's a perfect platform for those who are aspiring to be models but don't know where and how to find work in the industry. It's a launch pad and just by being a part of it gives these models an edge over thousands of others in the same world. Also, the ones who watch the show get to know the industry better.
How do you mentor them while being on the show?
I have done two photo shoots with them so far. The first photo shoot was to understand each one of them, to know where they are lacking. We keep giving them challenges and then we have other mentors who give them feedback and make them understand the expectations. We are constantly judging the graphs of our models.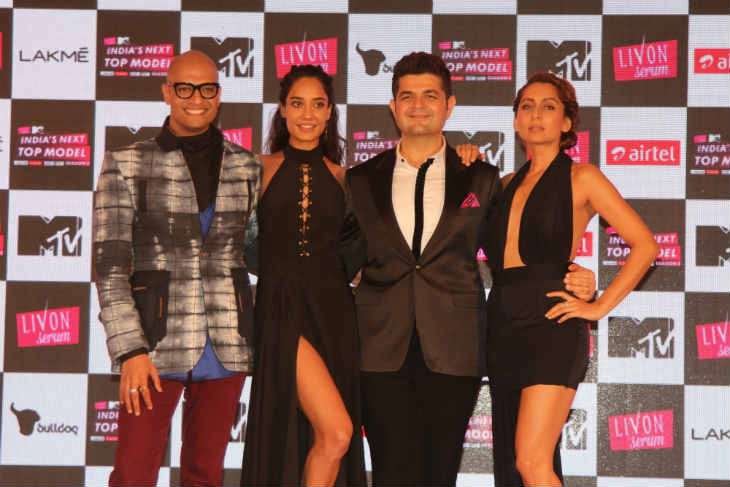 Neeraj Gaba, Lisa Haydon, Dabboo Ratnani and Anushka Dandekar (IANS)
What does it take to be a supermodel, both on your show and in the outside world?
On the show, first and foremost, the candidates should harbour the desire to be a supermodel. Then there are some physical requirements -- the minimum height requirement from a top model is 5'7.
And generally speaking, I think they are required to know how to act a little bit. They need to understand the photographer's instructions. The world can be the director and tell them how to pose, how to give expressions but it is up to only them to comprehend all of these instructions in their final take. A model's world is quite a diverse one; they need to be able to act in ad films, do photoshoots, walk on ramps.
What is your take on the fact that being a model makes it easier for one to enter Bollywood?
Of course, it does. There's no doubt about that.
But, there's always a perception that models can't act in films
That was the perception but now I think it has changed. We have enough examples of models who have become successful actors. And then, there are so many people who start modelling after acting. For example Anil Kapoor -- he is a man who did ads after he became an actor. Even Hrithik, Shah Rukh -- they acted first and then started modelling.
And talking about a bunch of models who made it big with acting as well, we have Lisa Haydon, Arjun Rampal, Jacqueline Fernandez, John Abraham, and the list goes on.
Is there a possibility that you'd come out with a calendar featuring these participants anytime soon?
(Laughs). When I do a calendar, it's only with the top actors. So yes, if any one of the 13 contestants becomes a superstar, then probably she would be featured in my calendar. Though I would be happy making a calendar with them if MTV wants me to.
The first season turned out to be a big TRP churner. What is new about this new season?
I think the challenges this time are much bigger. I think in season one, we were a bit conservative while giving them challenges. Also, for all of us as well, it was a new exposure. We weren't sure how people were going to respond to it. I would say that we have started season two from where we left the season one in terms of the tasks that we had given to the participants.
Having shot most of the Bollywood personalities by now, who do you think can carry any look with equal amount of ease?
I think most of the big actors. Mr Amitabh Bachchan or Shah Rukh Khan, all of them are very easy to work with. With them, there're no apprehensions. I have shot Mr Bachchan in an auto rickshaw and at a barber's shop and there's so much ease around the shoot. With Shah Rukh as well, I can ask him to go inside the pool and pose, and he won't ask any questions. He would take off his shoes, wear a chappal (slipper) and get into the pool.
That's why I go so much crazy about my calendars while shooting with all of them. For example, I had shot Lisa Haydon for this year's calendar. It's a shot of her sitting on a pot in a loo. And it went off so well.
I love this about these actors and models. Once they are convinced that you're going to make them look good, they'll do anything for a great shot.
Lisa haydon on a pot, Shah Rukh Khan in a pool -- how do you conceptualises these concepts?
I plan an year in advance about what I am going to do in my next calendar. I keep on thinking about the ideas and writing them down. Then I narrate it to people around. Sometimes, it happens quite impromptu. You go to a location, something strikes you and you immediately think of a concept. For example, that lake shot with Shah Rukh Khan -- he told me that 'I am shooting in Wai (a town in Satara district of Maharashtra), can you come here and shoot for the calendar here?' I went there and I saw the beautiful sunset behind. And we did the shot there.
There was a shot with Hrithik Roshan where he's wearing a suit and reading a newspaper while falling into a pool. And it was a planned one, we had worked on it, we wanted the fall to be a perfect 90 degree one and we got it in the first shot itself.
In one of your very popular calendar shots, you had shot Akshay Kumar while he was shaving. How did you think of that idea?
It came up when I was sitting in his van one day and chatting with him. He comes really early for the shoots and he was shaving while talking to me. He was looking so cool sporting a ganji and I told him, "Let's do a shot like that." He said 'kya baat kar raha hai'. I said yeah, let's do it. It was impromptu. We shot for it the next day and it was done.
As a photographer, you need to be aware of things, you should be inspired by life. It's all about inspiration.
Which is your most memorable photoshoot out of all you have done so far?
It was my first photoshoot ever -- with Sanjay Dutt in Mauritius, where he was fishing in the sea. He torso was bare and completely muscled up and he was intently fishing. He was wearing cool sunglasses, his hair was flying, and the flare of the ocean was reflecting on his glasses. That one shot launched me in Bollywood.