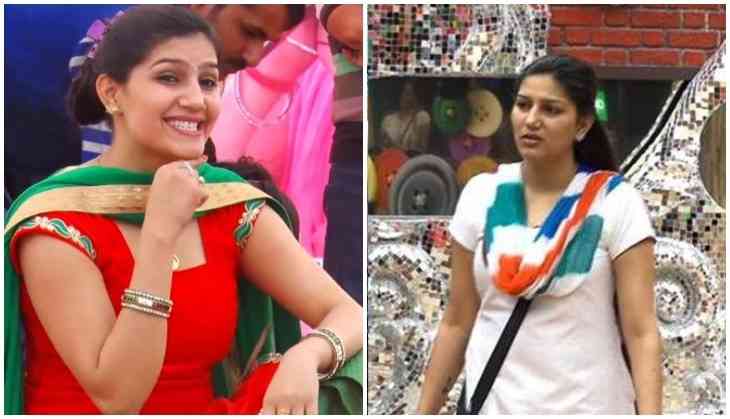 Bigg Boss 11: What! Sapna Choudhary doesn't know anything about 'condoms'?
If it is not shocking what we have seen on camera in Bigg Boss house, then surely there is something more to watch. Recently, the Bigg Boss makers have released a video in which Hina Khan, Shilpa Shinde, and Sapna Chaudhary can be seen discussing safe sex. In the midst of this safe sex discussions, you will get to know that the Haryana sensational dancer Sapna Chaudhary doesn't know anything about 'condom'.

The revelation came as a surprise to other two ladies, Shilpa and Hina Khan. Shilpa asked Hina, did she really don't know about 'Condom'.
It is Hina Khan who started the conversation and told Sapna that condom is an important thing in a relationship for safe sex. Actually, the Haryana dancer got amused when Hina discussed her about male and female condoms. Then Sapna asked Hina how one can wear it, on this Hina got totally speechless. It is clearly shown that Sapna is totally amused with this lack of knowledge.
Also Read - Did Priyanka Chopra just called her 'ex-boyfriend' Shah Rukh Khan 'MF'?
Then to make it clear Shilpa Shinde asks Sapna, how old is she and where does she live? Well, Sapna said I live in Delhi and stays with family. Taking it forward Shilpa asks her, Is she has any friend and or go out with anyone?
The innocent Sapna replied, No I just love to read books then Shilpa Shinde the much-outspoken trolls her, how would you know about these things when you are mostly busy in reading Donald duck books.
Also Read - OMG! It's Akshay vs Akshay on Republic Day weekend 2018: Padman to clash with 2.0
In a while, Sapna asks Hina what she is learning in the house? Hina told her not to use the word 'condom' openly in the house. However, after the whole conversation, Benafsha Soonawalla is amused how a celebrity like Sapna is unaware of condoms. Even we are also amused?
Watch the whole conersation here on this link - Bigg Boss footage