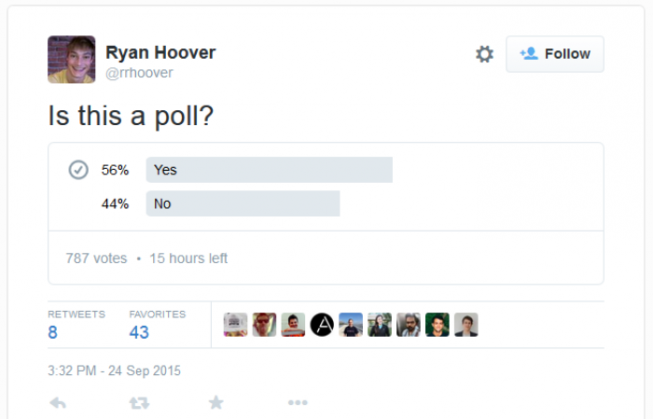 Twitter Polls have been no secret to some users for the past month or so. The feature is now set to be made available to public over the next few days. The days of asking your followers to "favorite or retweet" your tweets to record their preferences will soon be a thing of the past. Over the next few weeks, all Twitter users will be able to bombard you with their questions and two options for responses.
Why only two options? No one has an answer to this. The options will presumably be expanded in the near future.
Twitter Polls comes with the assurance that your data is not going to be tracked. Not everyone's participation is made public and the data is not shared with marketing firms or brands.
Todd Sherman, product manager on Polls had this to say:
"Previously, we've offered a few ways to participate in polls - Tweeting questions and tracking replies, tallying hashtag votes, or asking followers to favorite or Retweet to vote. Now, you'll be able to create your own two-choice poll right from the compose box and it will remain live for 24 hours. You can vote on any poll, and how you voted is not shared publicly. When the poll closes, we'll send a push notification to everyone who participated to check out the final results."
The Polls feature seems to be an easy way to drive brand engagement. You vote and when the poll closes after being live for 24 hours, each person who voted gets a notification to go back to the app and check the results.
Coming soon! We're rolling out the ability for everyone to create polls on Twitter: https://t.co/pH5a8q9Ujz pic.twitter.com/ijAKEMUdf1

— Twitter (@twitter) October 21, 2015
One limitation so far is that these polls only appear in the official Twitter app on the web version. Popular third-party apps and even Tweetdeck are excluded for the time being. They will be able to see the questions but they will not be able to log their response.
Are you about to go to bed? #TestingTwitterPolls

— Raheel Khursheed (@Raheelk) September 24, 2015
can u see this twitter poll

— ಠ_ಠ (@MikeIsaac) September 24, 2015
Which player will be tougher for the Cowboys to replace?

— Dallas Cowboys (@dallascowboys) September 24, 2015
Honestly, how often do you shower/bathe?

— Farhad Manjoo (@fmanjoo) October 6, 2015