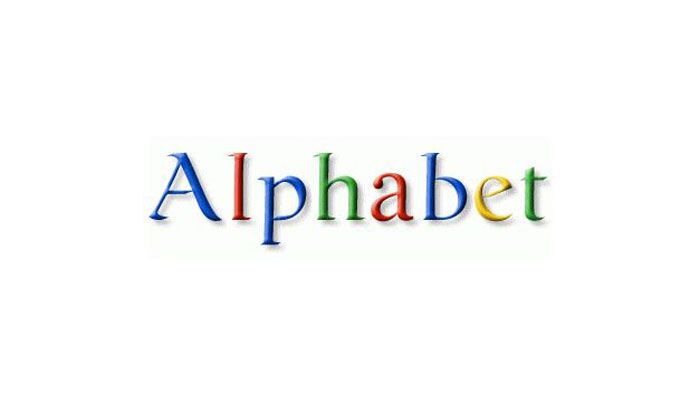 On 10 August, Google announced the launch of a new company: Alphabet. At the same time, it announced a major overhaul of its business.
What does this mean? Simply that the company which was called Google will now become new company called Alphabet, which will act as the holding company for Google and other businesses.
Google revealed these big developments in a blogpost, stating: "We did a lot of things that seemed crazy at the time. Many of those crazy things now have over a billion users, like Google Maps, YouTube, Chrome, and Android. And we haven't stopped there. We are still trying to do things other people think are crazy but we are super excited about. We've long believed that over time companies tend to get comfortable doing the same thing, just making incremental changes. But in the technology industry, where revolutionary ideas drive the next big growth areas, you need to be a bit uncomfortable to stay relevant."
The blog post, by Google co-founder Larry Page, continued: "Our company is operating well today, but we think we can make it cleaner and more accountable. So we are creating a new company, called Alphabet (http://abc.xyz). I am really excited to be running Alphabet as CEO with help from my capable partner, Sergey, as President."
What is Alphabet?
In Google's words, "Alphabet is mostly a collection of companies. The largest of which, of course, is Google. This newer Google is a bit slimmed down, with the companies that are pretty far afield of our main Internet products contained in Alphabet instead. What do we mean by far afield? Good examples are our health efforts: Life Sciences (that works on the glucose-sensing contact lens), and Calico (focused on longevity)."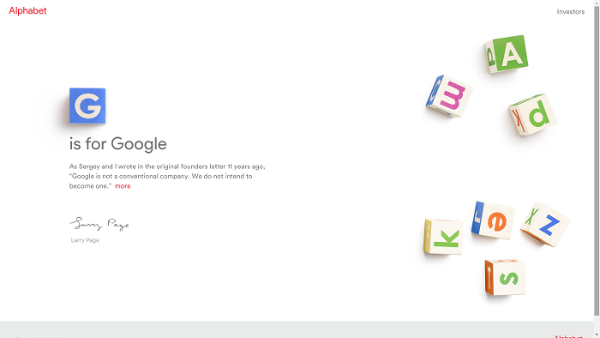 It further added, "Fundamentally, we believe this allows us more management scale, as we can run things independently that aren't very related. Alphabet is about businesses prospering through strong leaders and independence. In general, our model is to have a strong CEO who runs each business, with Sergey and me in service to them as needed. We will rigorously handle capital allocation and work to make sure each business is executing well. We'll also make sure we have a great CEO for each business, and we'll determine their compensation. In addition, with this new structure we plan to implement segment reporting for our Q4 results, where Google financials will be provided separately than those for the rest of Alphabet businesses as a whole."
How will the restructuring help Google?
It will help Google focus on other business areas and "extraordinary opportunities" which prevail within the company. Sundar Pichai will play a key role in this restructuring. The blogpost says that Pichai has "really stepped up since October of last year, when he took on product and engineering responsibility for our Internet businesses. Sergey and I have been super excited about his progress and dedication to the company. And it is clear to us and our board that it is time for Sundar to be CEO of Google. I feel very fortunate to have someone as talented as he is to run the slightly slimmed down Google and this frees up time for me to continue to scale our aspirations."
What will Alphabet include?
The parent company Alphabet will include many existing companies and sub-companies of Google. It will comprise X lab, which incubates new efforts like Wing, the drone delivery effort. Google is also stoked about growing its investment arms, Ventures and Capital, as part of this new structure.
Alphabet Inc will replace Google Inc as the publicly-traded entity and all shares of Google will automatically convert into the same number of shares of Alphabet, with all of the same rights. Google will become a wholly-owned subsidiary of Alphabet. The two classes of shares will continue to trade on NASDAQ as GOOGL and GOOG.
Shareholders will get one each share of Alphabet for every Google share they owned earlier.
The executives in charge of Alphabet will be the same executives who control Google today -- CEO Larry Page, President Sergey Brin, Executive Chairman Eric Schmidt, CFO Ruth Porat, and chief counsel David Drummond.
Why was the name Alphabet chosen?
Google CEO, Larry Page said in the blogpost: "We liked the name Alphabet because it means a collection of letters that represent language, one of humanity's most important innovations, and is the core of how we index with Google search! We also like that it means alpha-bet (alpha is investment return above benchmark), which we strive for! I should add that we are not intending for this to be a big consumer brand with related products - the whole point is that Alphabet companies should have independence and develop their own brands."