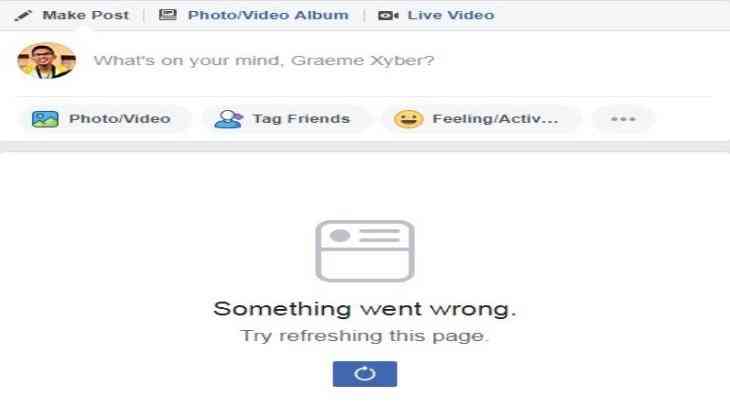 Social networking website Facebook went down on Sunday morning. Users across the world have been facing trouble on the Facebook news feed. With Facebook, Down, users were not able to see their updated news feeds.
However, users were able to see their profile. But unable to see their Facebook status and photos or even video on their wall. Following Facebook down, users took Twitter to confirm the issues and complained about the error.
Most Facebook users' news feed page unable to open. An arrow message appeared on the desktop screen. While opening Facebook, 'something went wrong' and 'Try Refreshing the Page' message popped up.
The Facebook has been not only reported from India alone but across the world. Let us tell you that last month also there was a problem with Facebook Down. During that time Facebook was down for a while and users were not able to do any kind of activities on Facebook.
Is something wrong with your Facebook news feed too? #FacebookDown pic.twitter.com/MdN2zyfb0J

— Rappler (@rapplerdotcom) November 18, 2018
Is anyone else having trouble with #facebook

— lee mcvay (@leemcvay1) November 18, 2018
Here we go again.. #FacebookDown #Facebook

WHO ELSE IS SEEING THIS ON THEIR PERSONAL PAGE? pic.twitter.com/ZqTiyNXqvJ

— Jason Asselin (@DaRogueReporter) November 18, 2018
Facebook you okay? pic.twitter.com/Zkpb3RpqMU

— 𝕹𝖆𝖙𝖍𝖆𝖓 (@Naaaaaaaythaaan) November 18, 2018
The Facebook down reports come a day after Facebook investors demanded Mark Zuckerberg to step down as Chairman and CEO over data breach reports.
Also read: iPhone sales in India faces downfall for first time in four years, claims reports