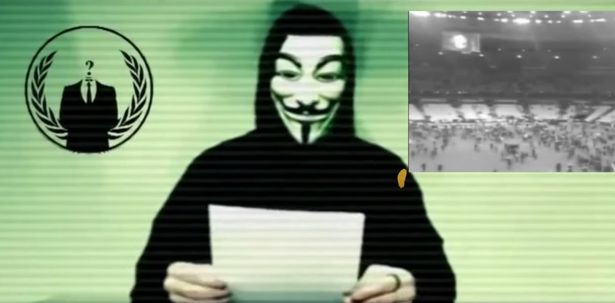 The Islamic State has responded in kind to the hackers collective Anonymous' global call for online warriors to take on the terror outfit.
While the Islamic State have dismissed the hacktivists' cyberwar, and have termed the collective as "idiots," it would seem that Anonymous may have ruffled a few feathers. The terror outfit was quick to issue a set of instructions to its followers on how best to avoid being detected by the Anonymous group and their followers.
Khilafah News, a channel affiliated with the Islamic State on the secret messaging app Telegram, on 17 November, put out an instructional message to counter the cyberwar that Anonymous declared on 15 November. The hacktivist group also released a guide to how people can use the time they spend online to find and take down websites and accounts affiliated to the Islamic State.
Khilafah News posted a message listing precautionary measures against Anonymous, which claims to have taken down as many as 5000 IS-affiliated Twitter accounts since they first called for action after the 13 November attacks on Paris.
The message begins by addressing "brothers of tawheed" (tawheed meaning the indivisible oneness of god) and goes into bullet points of cyber-security measures but not without referring to Anonymous as "idiots".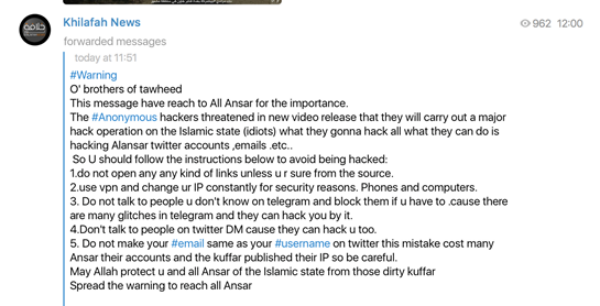 It warns against opening links from unknown sources, recommends frequently changing VPN and IP on mobile and computer devices, cautions from talking to unknown people on Telegram via message or direct message (DM) and refrains from having similar usernames and email IDs on Twitter. Referring to the accounts that fell prey to Anonymous' offensive, it adds, "this mistake cost many Ansar [helpers] their accounts and the kuffar [non-believers] published their IP so be careful."
The message signs off with an appeal to warn fellow Ansars.
The memo was brought to light by London-based International Centre for the Study of Radicalisation.
The Khilafah News channel has since been taken down by Telegram. The app allows encrypted messages to be disseminated to groups of up to 200 members, making it ideal for covert communication.
NBC News reports Middle East Media Research Institute findings claiming that the terrorist group used Telegram to share "tutorials on manufacturing weapons and launching cyberattacks" and "calls for targeted killing and lone-wolf attacks."
After the message was circulated, the app began its clampdown on IS-related accounts. Over 78 accounts in 12 languages on the Telegram were disabled on 18 November, for suspected links with the IS.