Google users have noticed something new about the search giant. Users noted that overnight, Google was displaying the search results in black instead of the iconic blue.
The search engine giant is reportedly testing the feature. And users are dissappointed to say the least. Take a look: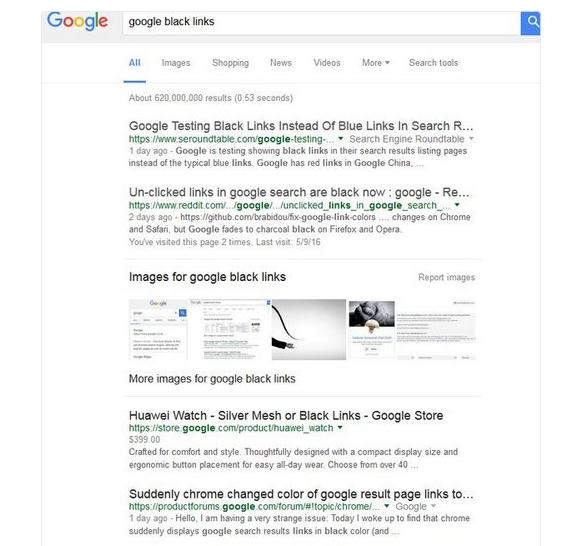 Hoping that @google change the colour of links back to blue soon. These black links are making me sad. ☹️😖 #Google pic.twitter.com/yH4SRJbbpj

— D-J Gordon (@iamdjgordon) May 8, 2016
My google links have turned black, They look horrible. Please turn them back to blue #google pic.twitter.com/hbF5lSkRpS

— facelessloser (@facelessloser) May 8, 2016
@google Google! The black unclicked links look terrible and are not very functional! #BringBackTheBlue pic.twitter.com/mkKsrar3B3

— Joseph Madden (@Hyper200) May 9, 2016
In the test, the traditional blue links of the Google search titles have been changed to black. The body text and link address are unchanged - black and green respectively.
Over the years, Google has put a lot of thought in picking the colours for its services.
A few years ago, Google carried out a split testing or A/B test of different shades of blue - nicknamed "50 shades of blue".
While it earned the company extra $200 million, Google designers could not decide between two shades of blue. The tech giant decided to test the 41 shades of blue to find out which one the users preferred. The result of the test showed that people preferred the blue with a hint of purple.