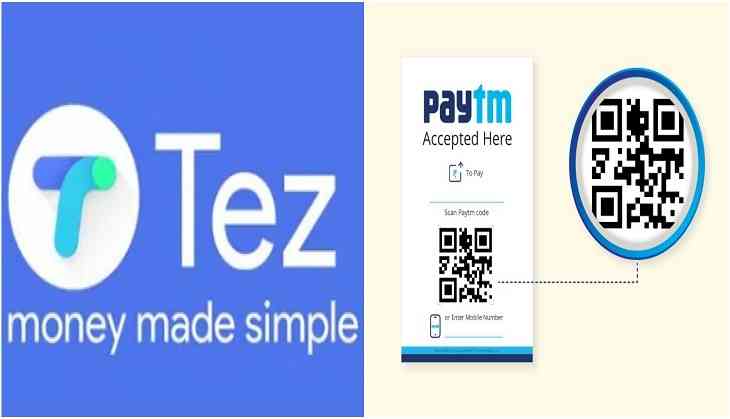 When Paytm was launched in the Indian markets, it acted as a blessing and made life so much easier with the help of e-payments. And now the tech giant Google has launched its new app Google Tez on Monday. Paytm was currently ruling in the market of epayments in India and it seems as if Google wants a share in the same. But for the consumers of such apps, the big question that arose was which is better amongst the two? Is Google Tez reliable or should we stick to Paytm is the question that everyone has in their minds. And to answer these questions we are here for you!

Below is a quick look at what these apps are and which one should you use.
1. Google Tez uses UPI whereas Paytm is an e-wallet
Google Tez is a platform which will not store your money but will connect you to your bank account using Indian government Unified Payment Interface (UPI). UPI is an interface which allows money to be transferred from any bank account in India to any other account immediately. There are a lot of banks that also includes big banks like SBI, HDFC and ICICI. With the help of Google Tez app, you can get connected to these accounts and make your payment easily.

Paytm on the other hand primarily uses UPI. When you install the app, you will have to create a Paytm account which then becomes an e-wallet where you can save your money. Once your money gets finish, you have to recharge using a debit card, credit or through Paytm recharge points. Your money can then be moved to your bank account but a Paytm user has to follow a separate procedure for that.
2. Advantages of Google Tez and Paytm
Google Tez has a number of advantages. It uses a simpler user interface and lets you connect directly to bank accounts and so you don't have to recharge your e-wallet again and again. There is another interesting Goole Tez feature; the cash mode that lets you use sound and proximity to move your money without needing a bank account number or phone number.

Paytm rely on UPI and third-party service. Paytm has first-mover advantage and was widely known and accepted in our country. Whether it's a shopkeeper or a sabziwallah, everyone accepts payments via Paytm nowadays. You can also win various credit points and money when you buy different products from the market. A user can also use his credit card with Paytm. Not only this you can borrow money from anyone and use it through Paytm.
3. Which one is better: Google Tez or Paytm
Both apps Tez and Paytm work very differently and it's only you who have to decide which is more useful and convenient for you. On one hand Paytm helps in maintaining e-wallets whereas on other Google Tez makes payment from the bank account directly. For some people the UPI method, making payments directly, is going to work better. For others, the e-wallet option will be better. Since Google Tez is new to the market it will have to work hard to make its place in the market where Paytm is currently ruling. It is accepted at more places and is really convenient.

But on the other hand, if you simple want to share money with friends or want to transfer money from bank accounts to other accounts, Google Tez app will work better. UPI, however is the future of e-payments in India. So we think Google Tez will make it's position in the e-payments app business.