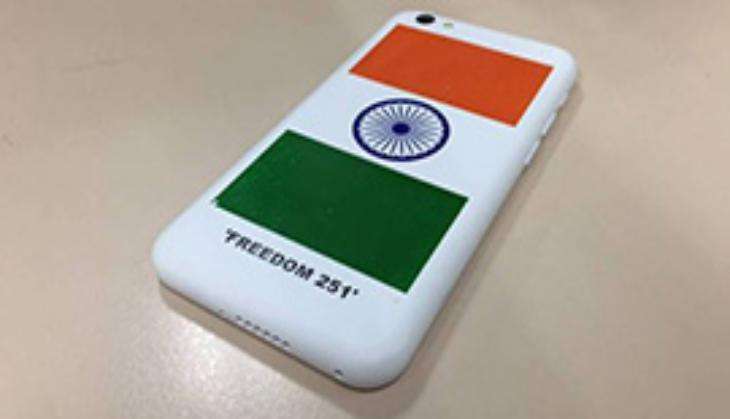 Freedom 251, touted to be the world's cheapest smartphone, made waves when it was announced a few months ago.
The Rs 251 phone, from Ringing Bells Pvt Ltd, a Noida-based startup, came under heavy scrutiny for its claims.In February, the company announced that it planned to deliver 25 lakh units of the cheapest smartphone before 30 June. However, it received over seven crore registrations before its payment gateway crashed within three days.
Also Read: Freedom 251: World's cheapest smartphone is cheap, but not quite smart
In March 2016, the police registered the case under Section 420 (cheating) of IPC and the IT Act. The owner of Ringing Bells Mohit Goel and company president Ashok Chaddha have been named in the FIR, police said.
And now, just days before the deadline, the company has announced that almost two lakh of the units are ready to be shipped.
"We are ready with nearly two lakh 'Freedom 251' handsets. We will start delivery from June 30," Goel told IANS. Goel said that registration for the phone would be thrown open again soon.
"We learned from our mistakes and decided to go silent till we come out with the product. Now we have a 4-inch, dual-SIM phone ready for delivery. I feel vindicated," he told IANS.
Goel also told the news agency that the company is facing a loss of Rs 140-150 per unit. "We will have a loss, but I am happy that the dream of connecting rural and poor Indians as part of the 'Digital India' and 'Make in India' initiatives has been fulfilled with 'Freedom 251'," Goel said.
Also Read:5 facts about Ringing Bells' Mohit Goel, the man behind Freedom 251
Interestingly, Ringing Bells also plans to launch a 32-inch high-definition LED television - also called 'Freedom' - in the first week of July.
"These will be the cheapest television sets in India and will be available for less than Rs 10,000. Within two days, the delivery would be made and we will sell them online," Goel said, adding that the company currently has one lakh such pieces in stock.
Freedom 251 smartphone: Too good to be true?
The company claims that the Freedom 251 smartphone is a 3G device with a 1.3GHz quad-core processor, 1GB of RAM and 8GB of internal storage which also supports external memory cards of up to 32GB.
It also promises to offer an 8-megapixel primary camera with flash, a 3.2-megapixel front camera for selfie, an 1800mAh battery. The device runs on Android 5.1 (Lollipop).
"Our devices are completely 'Make in India' and were manufactured at our Haridwar-based manufacturing unit. We plan to sell two lakh devices every month," he said.
Also Read:Want to buy the Ringing Bells' Freedom 251? Read this first!