Facebook Inc.'s quarterly revenue rose over 50 per cent, smashing Wall Street expectations as its popular mobile app and push into Live video lured advertisers, both old and new.
Facebook's shares rose 9.5 per cent in after-hours trading on 27 April to $118.39, setting it on track to open at a new high today, at nearly triple its initial public offering four years ago.
Facebook CEO Mark Zuckerberg shared a post on his wall:
"We just released our quarterly results and gave an update on our community's progress to connect the world."
"Our community now has 1.65 billion people. In the last few months, we launched Reactions, rolled out Live video, built Messenger into a platform, shipped Oculus Rift and have now connected 25 million people to the internet. We've also worked day after day on lots of small improvements to make your experience better."
This is how Facebook grew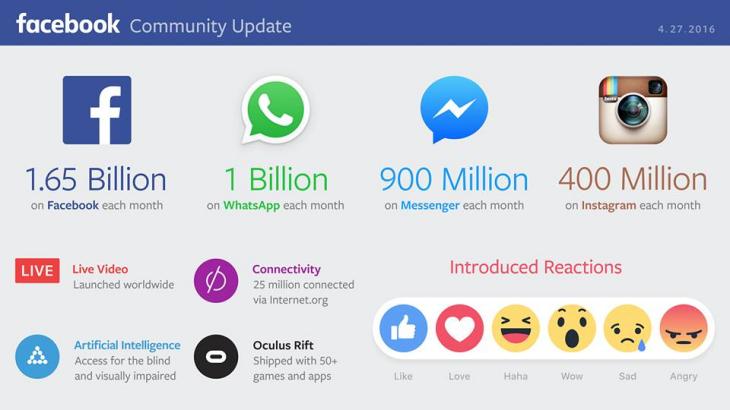 Around 1.65 billion people used Facebook monthly as of 31 March, up from 1.44 billion a year earlier. Zuckerberg said users were spending more than 50 minutes per day on Facebook, Instagram and Messenger, a huge amount of time given the millions of apps available to users.
Advertisers are now moving from television to web and mobile ad platforms, and this makes Facebook one of the biggest gainers. Snapchat and YouTube are Facebook's biggest competitors as they have a massive views share.
Facebook's foray into Live and making it a prominent product by adding more features added to its growth.
Facebook pulls a Google
The social media giant announced a new class of non-voting shares - a move aimed at letting Zuckerberg give away his wealth without relinquishing control of the social media juggernaut he founded.
A note from Zuckerberg read:
"To maintain our focus on this mission, we have always been a founder-led company. This structure has helped us resist the short term pressures that often hurt companies. It has helped us grow our community, build our business and create shareholder value. It has given us the freedom to prioritize your product experience and invest in new apps like Instagram - decisions that don't always pay off right away, but that we believe help us serve our community and our shareholders."
"....That means investing in areas like spreading connectivity, building artificial intelligence and developing virtual and augmented reality. I am committed to our mission and to leading Facebook there over the long term.... Facebook's board of directors is announcing a proposal to create a new class of stock that will allow us to achieve both goals. I'll be able to keep founder control of Facebook so we can continue to build for the long term, and Priscilla and I will be able to give our money to fund important work sooner. Right now, there are amazing scientists, educators and doctors around the world doing incredible work. We want to help them make a bigger difference today, not 30 or 40 years down the road."
This is similar to what Google did back in 2014. Alphabet, Google's newly created parent company, ensured its founders' control by creating new non-voting shares.
After disappointing results from Silicon Valley giants including Apple, IBM and Twitter, Facebook's earnings are by far the best numbers in technology.