No smartphone, no opinion. Does PM Modi's app survey result represent the real India?
Prime Minister Narendra Modi's 8 November announcement of demonetisation of Rs 500 and Rs 1,000 notes has basically drawn two reactions: gushing love and praise for being a nationalist or major hate and allegations of being a supporter of black money.
Opposition leaders have joined hands to protest the move, which has also been linked to at least 60 deaths across the country. The BJP is of course saying that the Opposition supports black marketing and is thus opposing the move.
Read more:What do you think of PM Modi's demonetisation move? Tell him via this appSo to 'actually' gauge what the common is undergoing, PM Modi asked citizens to provide feedback about the scheme via the Narendra Modi app. Among the questions asked on the app are:
"Do you have any suggestions/ideas or insights you would like to share with PM Narendra Modi?"
"Do you think black money exists in India?"
"Do you think the evil of corruption and black money need to be fought and eliminated?"
"What do you think of government's move of banning old Rs 500 and Rs 1000 notes?"
The survey has thrown up some interesting facts.

In just over 24 hours, around 5 lakh respondents took part in the exercise.

As per the data released by narendramodi.in, 90% of the respondents feel that the government's move to curb black money deserves an above 4-star rating.

About 73% gave it five stars. On the overall fight against corruption, 92% participants gave rated the government as 'very good' or 'good'. Almost 57% of them responded rating the measure as 'very good'.

Narendramodi.in also shared the following infographic on survey results: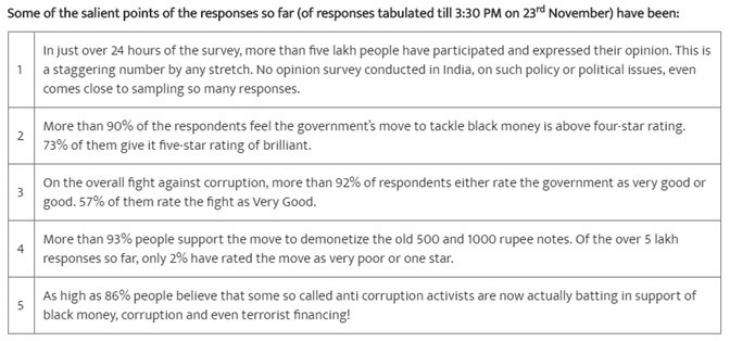 The Prime Minister's website has released an official statement on the findings, while also asserting that only 2% of the total participants viewed demonetisation negatively.