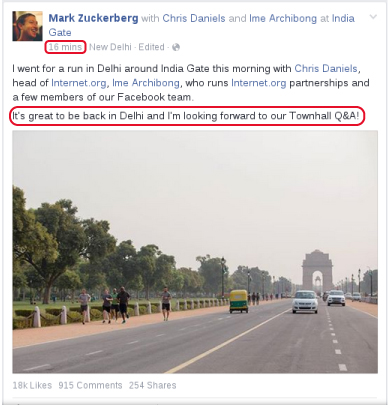 Mark Zuckerberg just completed his first Townhall in India today, on 28 October, same day as the 3rd phase voting is happening in the Bihar elections. The event took place in the Dogra Hall at the Indian Institute of Technology in Delhi where over 1,000 people attended.
While the event ended at around 1:05 PM, Zuckerberg seems to have woken up to it on his Facebook page about 12 minute later at 1:17 PM.
And what makes it funnier is that he announced it in a manner that makes it seem a bit far in the future. (Don't miss the edited post)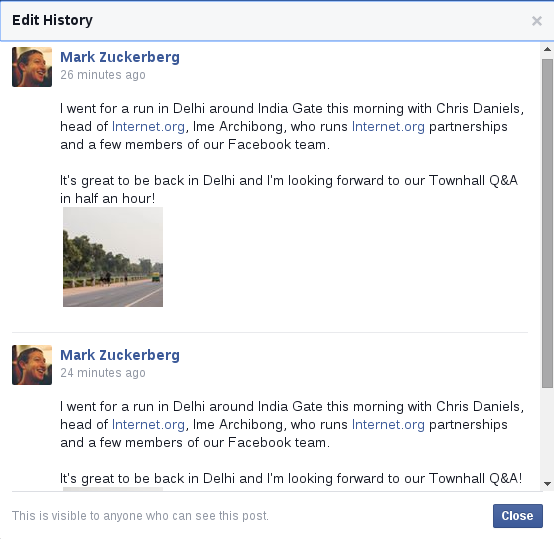 The post originally read, "It's great to be back in Delhi and I'm looking forward to our Townhall Q&A in half an hour!" That was a minute later modified to, "It's great to be back in Delhi and I'm looking forward to our Townhall Q&A!"
The Facebook post has garnered upwards of 36,000 likes, 1,400 comments and 500 shares so far.
Zuckerberg did indeed go for a run near India Gate with Chris Daniels, head of Internet.org, Ime Archibong, who runs Internet.org partnerships and a few others from the Facebook team. Later, Facebook founder and CEO, Mark Zuckerberg addressed the Townhall at IIT, Delhi.
1. Was it just a case of slow Internet for the FB CEO?
That can't be the case as Facebook managed to flawlessly livestream the Townhall on Zuckerberg's profile page, which was watched by many, as could be seen by the multiple tweets and Facebook posts surrounding it. Yes, the same page on which this 'announcement' appeared later.
2. Or was it just an intern trolling him?
Possibly, because if the CEO of Facebook himself doesn't know what order the posts appear in or when a post goes up, then no one would. Zuckerberg is the man behind the most popular social networking site out there in the world and therefore that puts him in the forefront of knowing how things work.
3. Perhaps there's a better explanation? Like time travel jazz
Like Zuckerberg could be operating in a parallel universe where the Townhall gets replayed in its entirety. He did talk about Artificial Intelligence, didn't he?
4. Or did he just hire a poor PR team for his India visit?
It could be one of the "Indian Silicon Valley" leftovers handling his account for the visit. Because all of India's best talent has been schlepped off across the border and international waters to Silicon Valley in San Francisco with big fat paychecks in their hands.
Either way, it seems Zuckerberg needs to be updated on the current status of Facebook.
*Goes back to scheduling posts*