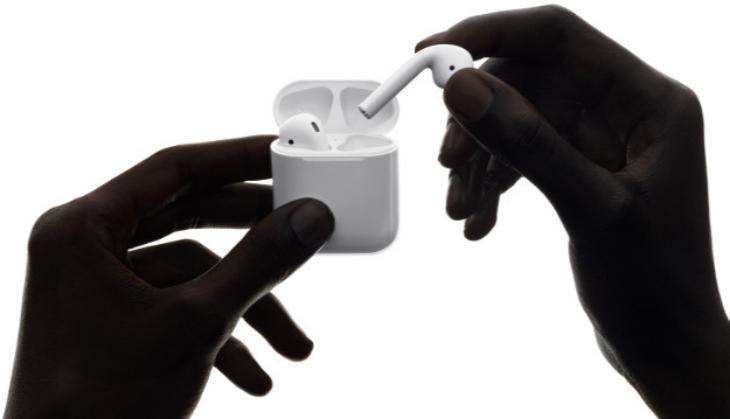 At the much-awaited event held yesterday in San Francisco, Apple unveiled the Apple iPhone 7, iPhone 7 Plus, Apple Watch 2, and AirPods. Yes, it killed the headphone jack to make the iPhone slimmer and more aesthetically pleasing (which eventually happened).
Now, there are two reasons people are going gaga about the latest iPhones. One, the Jet Black iPhone variant, which looks out of this world. Two, the AirPods. In a nutshell, people are losing their mind over the AirPods.
Just as Apple announced 'AirPods', their new wireless headphones, (big reason there is no headphone jack), Twitter went nuts with hilarious tweets.
Why? Because how will people manage to keep the AirPods intact? Plus, the fear of losing a $159 device is greater than losing earrings secured through pierced earlobes.
Take a look at some hand-picked hilarious tweets:
#AppleEvent yall already know everyone's gonna loose those damn ear buds

— am (@huebum) September 7, 2016
To those of you who drop your phones but have it saved by the headphone wire, good luck in the future. 😋 #AppleEvent

— Dillon Patel (@DillonPatel23) September 7, 2016
#AppleEvent you have removed the headphone jack & are forcing users to wear highly expensive cotton bud??

— Pam (@TumshiePam) September 7, 2016
I don't own an iPhone7 yet, but I've already lost one of those wireless headphones.#AppleEvent

— Tom Taylor (@TomTaylorMade) September 7, 2016
The new #AirPods were modeled after electronic toothbrush heads, no? #AppleEvent pic.twitter.com/DYee6znn0G

— Kathleen French (@kateloveswords) September 7, 2016
Tutorial of How create your own wireless earphones. #AppleEvent  Step 1: #AirPods pic.twitter.com/U5y25gvVTE

— Diego (@Polipolar_) September 7, 2016
When Apple fans worry about the new model with no headphone jack, but you an android boy #AppleEvent pic.twitter.com/BOyy4OstOm

— Nitin Gopinath (@The_NitDawg) September 7, 2016
"160$ the headphones " #AppleEvent @arianagrande pic.twitter.com/AretlgFmPp

— mc (@mathyldeuh) September 7, 2016
Ok, the design is amazing, the camera seems awesome...But the headphones!? I can't even remember where I leave my car sometimes #AppleEvent

— Esther B. (@esther_brhe) September 7, 2016
Did they really pay a designer to simply cut the cable of the #AirPods? Small, weird and expensive #AppleEvent https://t.co/pQt9lrhCvw

— Olivier Miss (@olivierfroggy) September 7, 2016
Damn! We just love Twitter. Don't we?