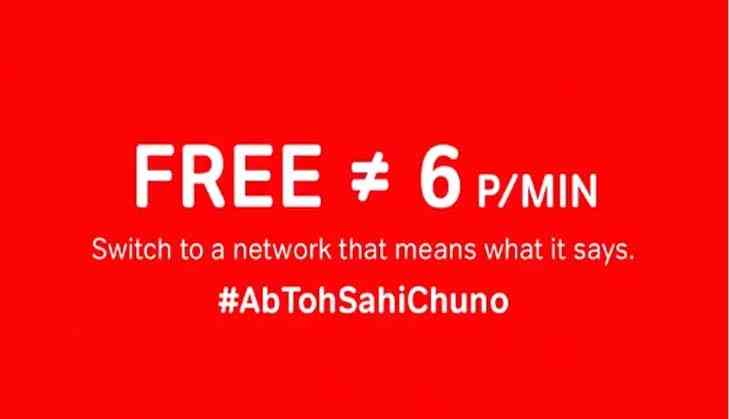 A day after Reliance Jio announced that it would charge Interconnect Usage Charge (IUC) to its users, Bharti Airtel on Thursday launched 'Ab toh Sahi Chuno' campaign on social media network.

Taking to Twitter, Airtel said: For some, unlimited means something else. For us, unlimited voice calls have always meant truly unlimited voice calls. Switch to Airtel now, followed by #AbTohSahiChuno.

Notably, Billionaire Mukesh Ambani's Reliance Jio on Wednesday said it would charge 6 paise per minute for voice calls made by its users to mobile phones networks of rivals like Airtel, BSNL and Vodafone-Idea after indications that call connect charge may not end by the previously mooted deadline of December 31.
Jio, in a statement, said the charge would last till such time that regulations require payments to rival networks for completing calls but added that it will compensate the users by giving free data of equivalent amount.
Jio, which charges users on its 4G telecom network only for data usage, whereas voice calls to anywhere in the country are free, said the new charge would not be applicable on calls made by its users to other Jio phones and to landline phones as well as on calls made using WhatsApp, FaceTime, and other such platforms. Incoming calls from all networks will continue to be free.
It is worth mentioning here that TRAI in 2017 had slashed IUC to 6 paise per minute from 14 paise and had proposed to end the regime on December 31, 2019, after considering various factors. But it has now floated a consultation paper to review whether the timeline needs to be extended.
(With Inputs From Agencies)