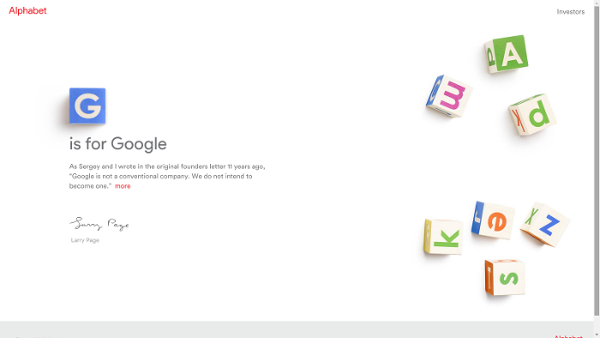 Alphabet, Google's holding company, did not receive a warm welcome in China on the day of its launch. The website of Alphabet was blocked in China within 24 hours after going live on 11 August. Alphabet's website is an addition to the long list of websites and services from the California-based technology firm which are blocked in China.
Corporate overhaul
In a drastic corporate overhaul, Google's Larry Page announced the metamorphosis of Google into Alphabet. Alphabet is the parent body and Google, will now function under it.
Sundar Pichai, who was previously overlooking product and engineering for Google's internet business has been appointed as the new CEO of Google. However, he will report to Larry Page as he is the CEO of Alphabet.
Larry Page said, "Alphabet is mostly a collection of companies. The largest of which, of course, is Google. This newer Google is a bit slimmed down, with the companies that are pretty far afield of our main Internet products contained in Alphabet instead."
Alphabet now controls all the companies which were previously under Google, including Google. Google X, a semi-secret research facility, Calico, and Google Ventures.
What does blocking the website mean?
It simply means that Alphabet is not welcomed with open arms in China just like other products and services by Google. Alphabet's website is not exciting presently. It only consists of a letter from Larry Page and a link to investor relations page.
China has always actively blocked Google content. In 2014, the country completely blocked Google's Gmail service. Google search and YouTube are already blocked there.