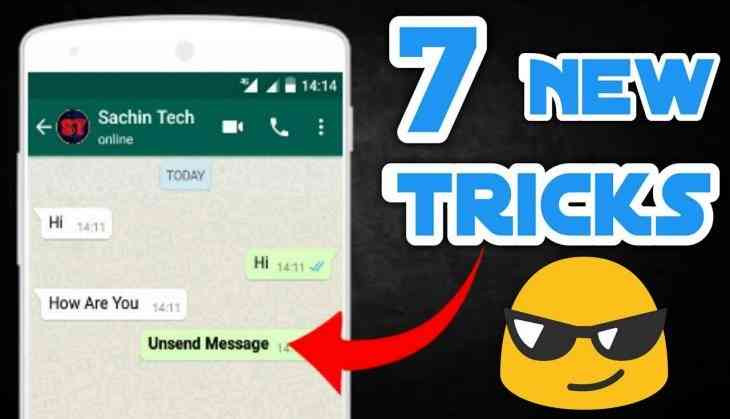 What if somebody can track with whom you are chatting the most? There are many hidden feature in WhatsApp that you may don't know. Here are the key points which you should know.
View status, without knowing
There are times when you want to read your ex-girlfriend status posted on WhatsApp without coming in the notice. So, there is a very simple trick by which you can see someone status and your name will not appear in 'viewed by' list. Go to, settings > privacy > Read receipts and uncheck the read receipts option. After that, you can read anyone status without coming in the notice.
Delete message after 7 min.
Recently WhatsApp launched its new feature to delete the sent messages, but there was a limitation of 7 minutes. But even after 7 minutes if you want to delete an older message then it is possible. This is how,
- First, exist your WhatsApp and close the network connection of your mobile,
- Goto App settings > WhatsApp > Force stop
- Goto data&time settings, uncheck the automatic time zone and change the date manually to the date and time when the message was sent. Keep the time 2 or 3 minutes late compared to the sent message timing while date should be same. Now, open the WhatsApp and "delete for everyone" the message you want to delete. Exist the WhatsApp and reset the data & time setting.
How to check, if someone has blocked you
If you want to check that somebody has blocked you or not and you are not able to see his DP, status etc. This is how you can do it.
- the trick is simple, first, try to create a new group
- try to add the person to the group,
if the person doesn't add in the group that means he/she has blocked you.
Number save or not
If you want to check the other person has saved your number or not. Then,
-If any status by the person is not broadcasting or displaying in your status list, Sorry bro, that means he/she has not saved your number.
Most contacted person
If you want to check with whom or your friend has most of your conversation then
- Setting > storage > storage usage
You will see the list with whom you do chat most of the time..
Status privacy
If you want that a person in your friend list cannot read your stories and status posted by you, then goto
- Status> Status privacy ( in top right corner),
- three options will appear my contacts, my contacts except and only share with
- select the option and add selected people in your desire list, with whom you want to share, with whom you want to hide.
Live location
If any relative and friend is coming to your place and you want to send him your address then,
- goto > attachment in typing box> touch the location