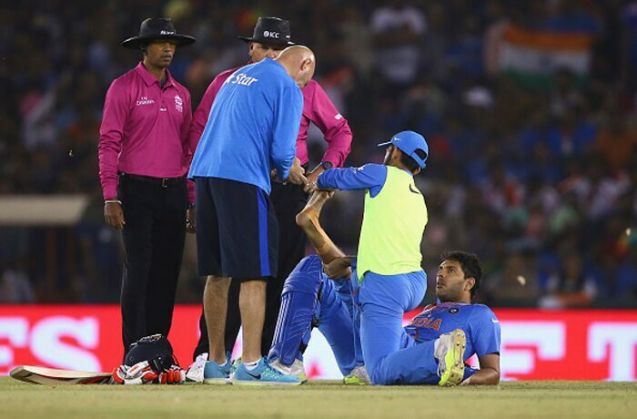 The year was 2014 and Liverpool Football Club were trying to come to terms with their heartbreaking but failed pursuit of the Premier League title the year before. Captain Steven Gerrard was one of the talismans of that 'nearly there' season but was now finding it hard to cope up with the weekly rigours of the Premier League, with age taking a toll on his body.
Ardent supporters of the club might baulk at this suggestion, but Gerrard was the elephant in the room. The team was not performing as well as they were with him on their side as they were without him, and maybe it was time to move on for both parties. It was, however, hard to question his place in the team with emotion, history and reputation picking him rather than his form.
Towards the end of the season, Gerrard announced his decision to leave the club and join MLS team LA Galaxy. The following season, Liverpool seem to perform better without the club legend.
Cut to 2016. A different sport, a different team, and maybe even a different reputation, but a similar situation. The Indian cricket team is in hot pursuit of the T20 World Cup on home soil, playing a virtual knock-out match against Australia for a spot in the semi-final. Chasing 161, the run rate is on an incline for the men in blue, and Yuvraj Singh makes his entry.
This is the same Yuvraj Singh who was responsible for arguably the greatest advert for T20 cricket when he dispatched Stuart Broad for six sixes in an over in the inaugural edition of the T20 World Cup in South Africa. Though he has not been performing at that same level of consistency since then, with his progress blighted by injuries, he is still capable of winning matches single-handedly.
But Yuvraj can't seem to get into his stride in this match, struggling with his timing. The run rate climbs even more, and then in an inopportune moment, he twists his ankle. However, like the fighter he is, he decides to keep on playing after some light strapping.
But there is one problem, he cannot run. So the shots that were supposed to earn India two or three runs end up earning only one run, with Yuvraj's partner Virat Kohli`doing a good job of not showing his frustration at the other end. Yes, he hits a couple of boundaries but clearly more is needed.
Soon, Yuvraj loses his wicket to a clever slower delivery, and MS Dhoni walks in to bat. Suddenly the whole tempo of the chase changes, with Dhoni and Kohli sprinting like gazelles and putting the fielders under pressure. Kohli plays the best innings of his life to lead India to victory, and he is hailed a hero across the country.
But the victory is blighted by a slight concern. No one knows the extent of Yuvraj's injury, and in the days following the match, news emerges that the ace batsman has been ruled out of the rest of the tournament. One matchwinner less in the team. But no one seems overly disappointed. Sure, it would have been a different case if it was Kohli who had gotten injured, but there is a general retrospective belief that the team may just do fine without him.
So, is this a blessing in disguise? Was Yuvraj the Gerrard-esque elephant in the room? This can certainly be argued.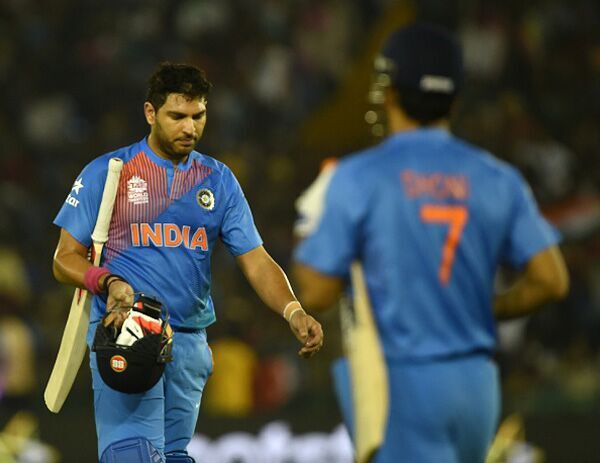 Make no mistake about the fact that Yuvraj Singh is a proven matchwinner. But he hasn't been winning India many matches, off late. Add to that fact that Yuvraj's replacement Manish Pandey scored a century in his last match for India against Australia, and one immediately gets the impression that maybe Yuvraj wouldn't be missed so much after all.
It is hard to admit, but Yuvraj is just a shadow of his former self. There was a time when Yuvraj Singh at the crease meant assurance, but that is simply not the case anymore. He looks ill at ease at the crease, and the pressure situations he used to once thrive in seem to get to him more than spur him on these days.
Pandey, on the other hand, represents the young breed of Indian cricket, and Yuvraj would be the first to admit that it is important to give youth a chance, having made his debut for India under Sourav Ganguly at the age of 19.
His stats in the ongoing World T20 are nothing to write home about either, having failed to make an impact with any of his innings.
And all of this points to just one fact - that maybe Yuvraj Singh's injury is more of a boon than a bane. Time for a change of guard? Perhaps.